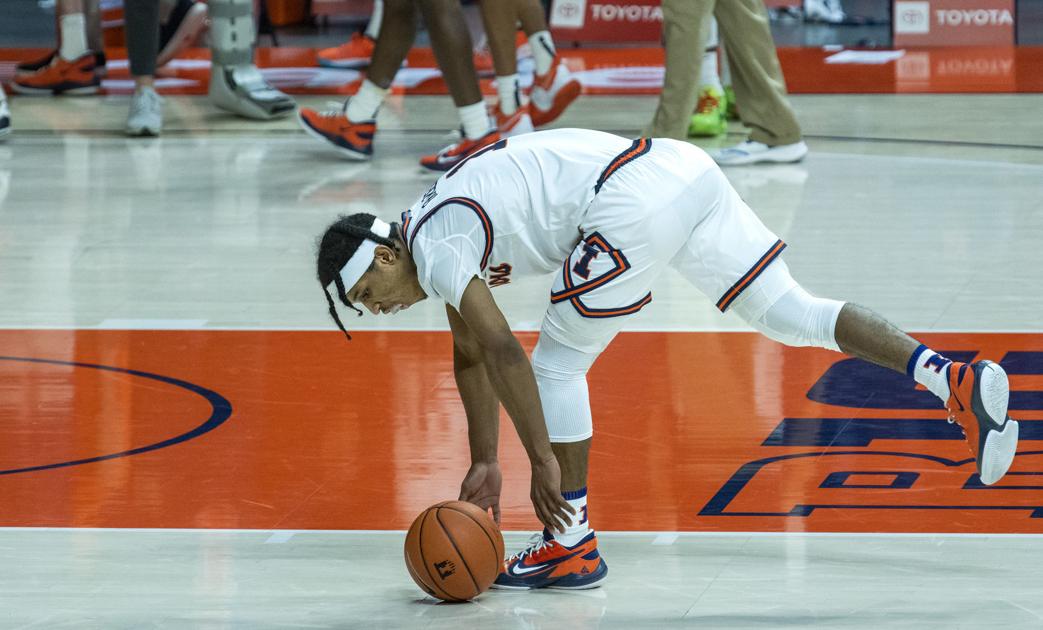 CHAMPAIGN — The Illinois basketball team will gather at Ubben Basketball Complex Sunday morning. The short turnaround for Tuesday's game against Penn State necessitates jumping right back into game prep.
But first will come a rather important meeting. Perhaps some grievances will be aired. Issues worked out. It will be the proverbial come to Jesus moment.
Oh, to be a fly on that wall.
The way Saturday's 87-81 loss to No. 21 Ohio State played out left Illinois coach Brad Underwood at a loss for why his team continues to stumble at the start of games. It left him questioning his team's toughness. Questioning just how competitive the No. 14 Illini want to be.
Let's count the ways. There was this:
"I'm getting really frustrated with really poor, lack of emotion, non-competitive starts," Underwood said. "You can't come out of a locker room and can't come out of a pregame huddle and start and be down 10-2."
And this.
«You can't have guys not show up and not be assignment sound and not be dialed in mentally,» Underwood said. «Right now we have that."
Then there was this.
"We've got to put five guys on the floor who will be competitive, not ride the emotional waves of good and bad,» Underwood said, «but just play."
And this.
"We can't just keep taking body blows, and we can't just keep coming out flat and lifeless and emotionless and with no spirit,» Underwood said. «It's almost a blasé start. We can't do that."
And finally this.
"I see the potential, and I see the upside,» Underwood said. «How we haven't taken that next step is very frustrating."
The narrative was a familiar one Saturday at State Farm Center. Illinois (9-5, 5-3 Big Ten) has found itself facing early deficits repeatedly this season. Double-digit runs — like the 15-0 streak Ohio State (11-3, 5-3) put together in the first half — have become commonplace.
Enough so that Buckeyes' coach Chris Holtmann hammered that point home to his team before the game. Wild shifts of momentum are the norm, not the exception, for the Illini.
"They've been down in a lot of games and won almost all of them," Holtmann said. "They just can overwhelm you with their length, their athleticism and their size. … They're very explosive. They can score it, really, at any moment, and they're tremendous in transition. Ayo (Dosunmu) is the best transition guard in the country. That leads to some scoring runs, so we kept telling our guys we had to understand to keep the foot on the gas and stay aggressive."
Illinois followed up its 15-point halftime deficit with one of those runs. The Illini cut their deficit to single digits by the first media timeout in the second half thanks to three-pointers from Dosunmu and Da'Monte Williams.
The ebb and flow of Saturday's game, though, saw Ohio State respond in kind and regain its double-digit advantage. Illinois made a game of it in the final 90 seconds with multiple Dosunmu free throws sandwiched between three-pointers from Jacob Grandison and Adam Miller, but it wasn't enough.
The hole the Illini dug themselves in the first half was too deep.
"The second half, as you can see, when we turn it on we're a great team," Miller said. "We're unstoppable. When we turn it on, nobody can really keep up with us. We ran them a lot. We got them in foul trouble early in the second half. When we turn it on, it's good, but we can't have a turn on and turn off button."
The search for a full 40 minutes of effort continues. A full 40 minutes, Miller said, of being nasty on the boards and nasty on the defensive end. It's something the Illini have only done in spurts most games this season.
Miller was ultimately a bit more positive about where Illinois stood after Saturday's loss than his coach.
"I feel like a loss is a lesson," he said. "We're going to come back in practice and go hard. We're going to put in the work. … I know we can do it. You guys are going to see it very soon. It's that one last step for us to be that great team. I feel like we're building what a championship team needs right now. We're seeing the problems, and we're going to get better."