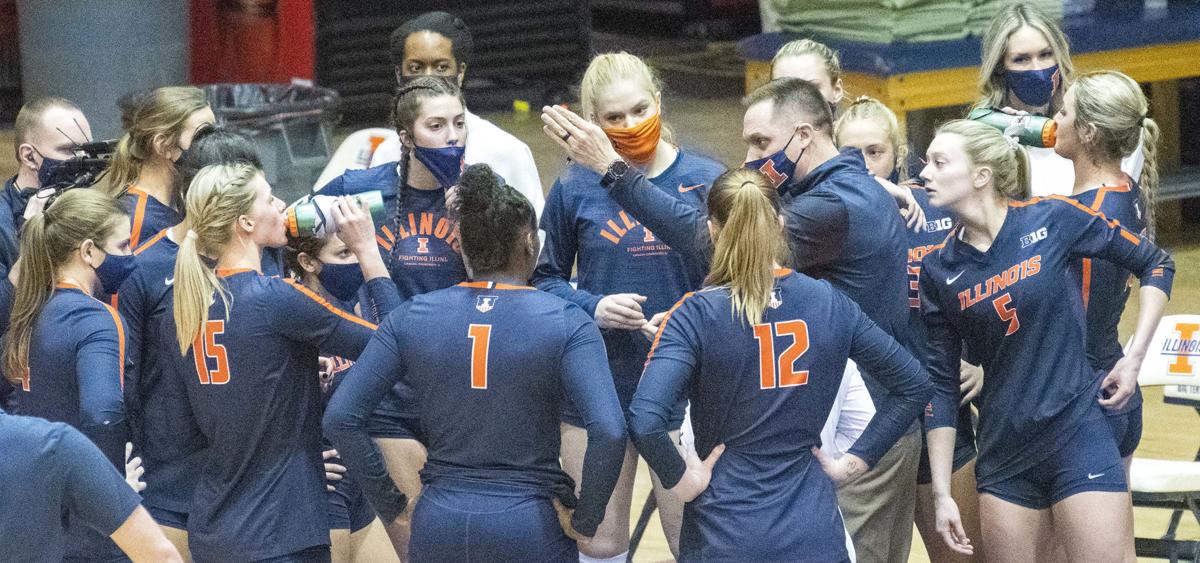 Illinois volleyball received bonus time in the practice gym last week after its two matches against Northwestern were postponed because of COVID-19 issues in the Wildcats' program. The Illini (2-4) host Ohio State (7-0) twice this weekend — 5 p.m. Friday and 3 p.m. Saturday — at Huff Hall.
Beat writer Scott Richey breaks down the Big Ten matchup:
Injury update
Ellie Holzman spent nearly 20 months away from competitive volleyball after stress fractures in her left leg necessitated intramedullary nailing surgery. Her return this season was short-lived, however, with the redshirt freshman outside hitter suffering a torn ACL against Wisconsin on Jan. 30. Surgery is scheduled next week for the 6-foot-2 redshirt freshman, who had 35 kills in four matches this season.
"It's been a tough couple weeks for her to kind of realize she's going through this again," Illinois coach Chris Tamas said. "I also told her and said if there's anyone that can handle it it's her. It's just a bummer she's back sidelined again. It's a fast, dynamic sport, and it's an unfortunate injury. She'll go for surgery next week and continue her recovery after that."
Filling in
Raina Terry made her Illinois debut at opposite in the Illini's season-opening weekend at Iowa and totaled six kills in each match against the Hawkeyes. The 6-1 freshman has since moved back to her natural position at outside hitter with Holzman sidelined. The Marengo, Ohio, native set successive career-highs with eight and then 13 kills against Penn State two weeks ago.
"It's really hard to just come in and play six rotations in our conference," Tamas said. That's a necessity for Illinois' outside hitters while running a 6-2 system. "Both Ellie and now Raina are showing they have the mental fortitude and the physical to do it. Really proud of her development."
Practice time
The postponement of both matches against Northwestern last week wasn't necessarily bad for Illinois. The Illini had just played Top-10 teams — No. 1 Wisconsin and then-No. 9 Penn State — on consecutive weekends and lost all four matches. Tamas spent the bonus open week instructing his team to play a bit more free.
"We have to figure out how to unlock that a little bit," he said. "That's part of dealing with a maybe younger team and a team that's not used to playing with each other much. We were able to point out a lot of issues that we could have cleaned up with communication. Let's worry about making the good play and not worry about making the perfect play every time."
Scouting Ohio State
The Buckeyes are still unbeaten to start the season and secured a signature victory Wednesday at home against now-No. 8 Penn State. First-year coach Jen Flynn Oldenburg, an Ohio State grad and former Illinois assistant under both Don Hardin and Kevin Hambly, is relying on a pair of young outside hitters, including freshman kills leader Emily Londot, a club teammate of Terry's.
"They had a nice start, but I think we match up well against them," Tamas said. "If we can just kind of go out and maybe execute a little bit better — it always matters — but when we get down to the red zone, the final five points, I think we'll come better than the previous few weeks."