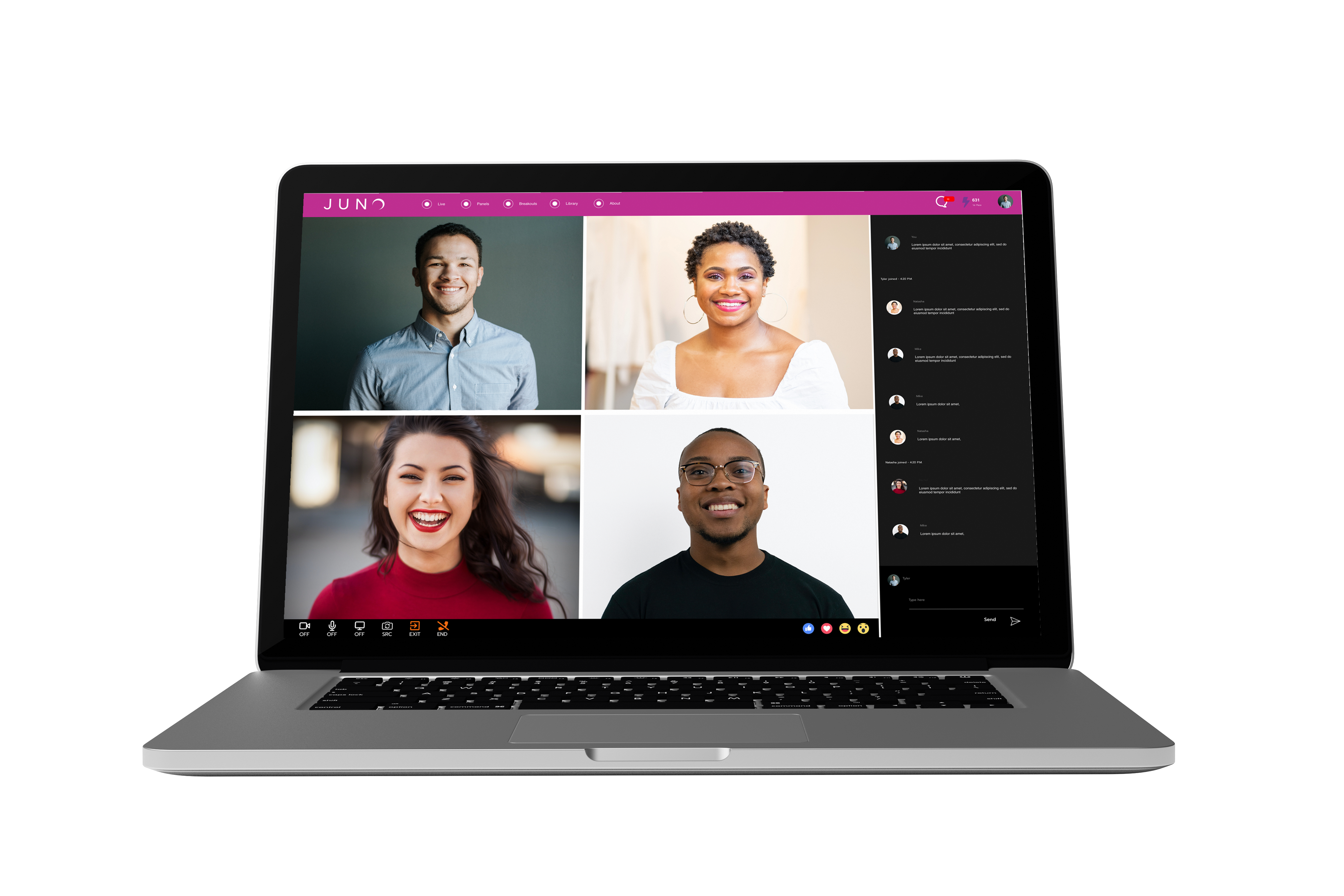 Tech News: New JUNO Release; Frameable and Shindig Enhancements; Intrado-Encore Alliance

Virtual and hybrid events continue to transform the industry at warp speed, with companies reshaping the way attendees interact and share information and the way event organizers plan truly engaging events. Check out some of the latest developments that are moving event tech forward.
JUNO
Creating lasting community ecosystems is at the core of digital experience platform JUNO. The company has just come full circle with the release of "From Here to 365," a new guide to assist organizations with digitally transforming their events and driving year-round audience engagement.
«From Here to 365 specifies activities and lists technology needs so that associations and other organizations will have a blueprint for connecting and educating their people year-round," said Dana Freker Doody, JUNO vice president, marketing and communications. "JUNO was born from a community software company, so when our team lays out a guide for 365 engagement, it comes from a decade of experience in human connection.»
Since the company launched in mid-2020, it has been dedicated to creating digital communities that live well beyond a single virtual or hybrid event.
"JUNO itself was built to connect people to networking, education and experiences," said Josh Hotsenpiller, JUNO co-founder and CEO. "Digital transformation means peaks can come more often and engagement stays up year-round."
One thing should be clear, he added: "No one wants to connect just three days a year."
Particularly as associations combat declines in membership, rethinking engagement is imperative, according to JUNO officials. A recent study by Marketing General, which helps membership organizations grow, showed 85 percent of associations are seeking virtual solutions, and 70 percent are taking action with tactical plans to increase engagement.
The "From Here to 365" ebook, available for complimentary download here, shares specific guideposts for organizers to reach throughout a year and includes a checklist of technology features that enable online 365 engagement. The ebook is designed to be a template from which organizations can refine their activities to achieve specific objectives.
Creating an ongoing community ecosystem is the fifth pillar of JUNO's previous publication, 5 Pillars of Community: Connecting Humans for Organizational Growth. From Here to 365 is designed to make it more achievable.
Driving those five pillars into action, JUNO works to connect, engage and grow communities year-round with live and on-demand content capabilities, personal engagement tools and rich analytics that are aimed at reducing friction and complexity.
Frameable
Who doesn't like an interesting way to network and connect socially? Through Frameable, a productivity software company creating remote-first digital experiences for groups and teams through various platforms, it can now be done virtually.
Frameable recently introduced self-serve access for all its paid service tiers to one of Social hour, a fully customizable platform that the company designed to host engaging professional and personal virtual events in spaces built for social connection and quality face-to-face time.
"A virtual event needs to be more than 10 hours of video, which attendees passively consume," said Adam Riggs, CEO of Frameable. "It has to be elegant and at least partially interactive for everyone involved."
With Social hour's advanced features and room configurations, event planners can now build fun, flexible and fully branded virtual conferences, trade shows and professional networking events on their own, including complex multi-room or multi-track event experiences.
Social hour also enables attendees to break into more intimate and accessible groups at «tables» or «lounges» before or after content presentations, awards, announcements or other shared viewing experiences. The thoughtfully designed features aim to maximize the commercial value of the event for the host, while strengthening social connections and networking opportunities for attendees.
Shindig
Meeting in virtual and hybrid settings just got more spontaneous and serendipitous. Event platform Shindig recently launched its Virtual Lobby, designed to give attendees a place to mingle, network and conduct private business in a more authentic, engaging way.
"While many platforms claim that one-on-one appointments, speed dating or text interactions are the same as networking, those just don't compare to the real-life behavior people want," said Steve Gottlieb, CEO and founder of Shindig. "Working the room, running into an old friend, being casually introduced to a mutual contact or opportunistically pulling someone aside who has a free moment are the types of in-person networking encounters that Shindig now recreates online."
Shindig's Virtual Lobby is designed for both virtual events and hybrid events.
For virtual events, it provides a meeting place where all those attending individual sessions, panels, tracks or exhibit booths can navigate to a single shared experience and meet up, just as they might if the event were in-person. One of the other highlights of this feature is that private conversations can take place, and the participants are also able to peruse and interact with the conference program directory, discussing with friends and colleagues what session, panel, track or booth they might attend together next.
For hybrid events, the function adds two critical new elements. First, it provides a venue for in-person guests to engage with online participants freely and in private conversations through their mobile phones. Second, it helps event hosts avoid dead air in their livestreams by providing opportunities for the online audience to engage with the in-person audience during the in-person breakout sessions.
Shindig's Virtual Lobby allows free-form interactions just like those at any in-person event. Every participant in the Virtual Lobby can see who is talking to whom and who is free for conversation. Conversations can merge, and individuals can easily move from conversation to conversation to work the room.
Additionally, just like an in-person event lobby, Shindig's Virtual Lobby was created to be an ideal place for sponsor messaging, video displays, dynamic CTA's and other features.
Intrado and Encore
Intrado, specializing in cloud-based global technology, and Encore, a global event production company, are among the latest entities to partner in order to help clients deliver innovative, fully integrated events and eliminate the need for them to manage multiple vendors for hybrid solutions.
The newly formed strategic alliance between Intrado Digital Media and Encore allows the companies' collective clients to leverage vast event technology and production capabilities with a proven technology platform to provide engaging experiences for in-person and virtual audiences, according to Ben Chodor, president of Intrado Digital Media.
"The expansion into virtual channels has had a profound impact on the business events industry. Our partnership with Encore will propel the industry forward by providing fully immersive hybrid events at scale," he said.
Encore sought a partner that could combine cutting-edge, emerging technology with a creative, consistent and measurable experience for attendees, according to Ben Erwin, president and CEO of Encore.
"Our team is eager to leverage its unique offering for the benefit of those planning multi-faceted events," he said, pointing to Intrado Digital Media as a top high-end production category. "We're thrilled to offer our joint customers a single, integrated solution for their most complex needs."
Intrado Digital Media and Encore have a combined 100 years of experience in the industry, with more than 1.8 million events produced annually.