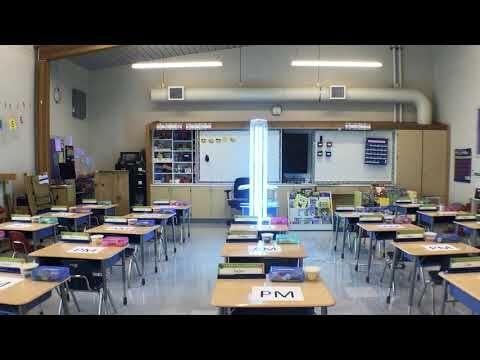 The South San Francisco Unified School District introduced ultraviolet C (UV-C) technology to sanitize surfaces as some students return to in-person learning on Monday.
Arc UV-C machines are hospital-grade, mobile disinfection units that emit a 360-degree span of ultraviolet rays to disinfect entire rooms.
The machines can destroy 99.9% of viruses and pathogens, like the coronavirus, from the air and physical surfaces in seven minutes, according to biosafety company R-Zero.
In March, the district purchased 30 Arc UV-C machines from R-Zero for over $500,000. Funding came from the Coronavirus Aid, Relief, and Economic Security (CARES) Act.
District spokesperson Peter Feng said the machines have been used over the past week as schools prepared for in-person learning to resume for transitional kindergarten to fifth grade students.
The machines can be wheeled from room to room and will be used to disinfect classrooms, common areas and restrooms.
As parents now have the option to bring TK through fifth grade students to campus from Monday through May 28, Superintendent Dr. Shawnterra Moore said that it was a crucial time for the district.
"We are aware of the new coronavirus variants, and we are committed to ensuring the health and welfare of our students and staff, which is why we've engaged in a process of meticulous planning that includes the use of new technologies to keep everyone safe," Moore said in a statement.
Middle school and high school students will remain in distance learning for the rest of the school year as 63 percent of parents surveyed in March said that they preferred to remain in distance learning. However, 45% of elementary school parents said they would consider participating in an afternoon session of in-person instruction.
To accommodate student and parent needs, the district will look for opportunities to expand learning hubs and other ways to support students who are struggling with distance learning.
The South San Francisco school district serves the communities of Daly City, South San Francisco and San Bruno. The district comprises 15 schools at the elementary, middle and high school levels and one adult education school.