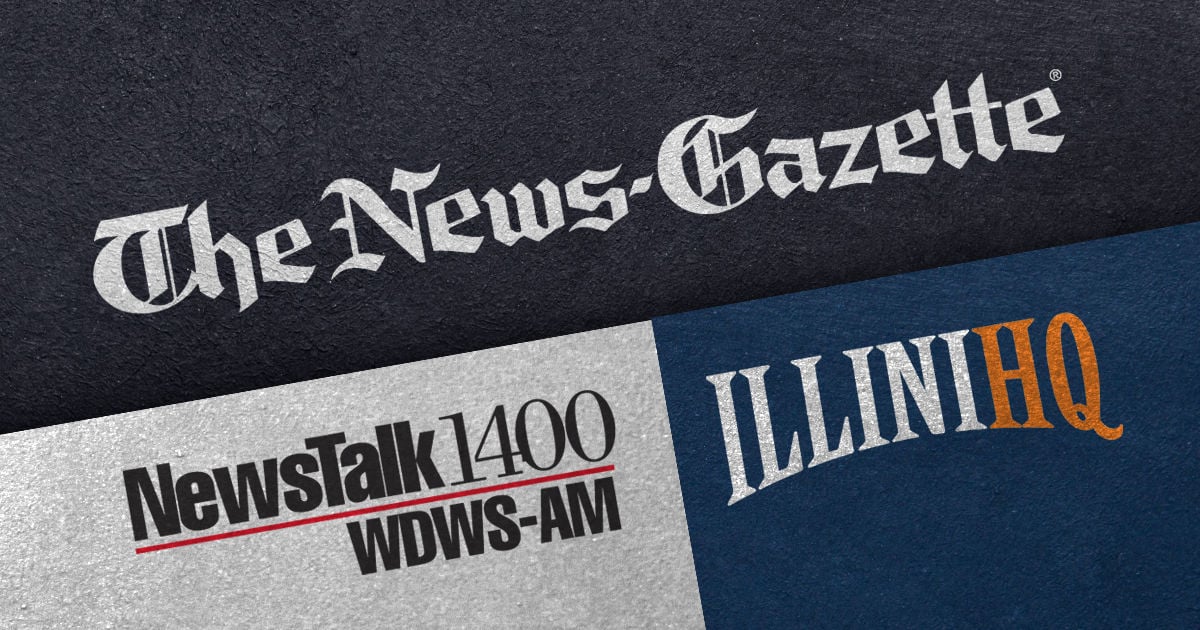 CHAMPAIGN — Brad Dancer backtracked from saying he "blacked out" after the Illinois men's tennis team pulled off its come-from-behind victory to beat Ohio State and claim the Big Ten tournament championship Sunday afternoon in Lincoln, Neb.
It wasn't quite that bad, but Dancer was in a bit of a fog after watching his team rally and seniors Noe Khlif and Zeke Clark pull off must-win singles matches to secure the victory against the Buckeyes. Dancer's first thought after the win sort of illustrated just how stunned he was.
"The end of the match happened, our trainer was right there next to me and I said, 'Hug me, Megan,'" the Illinois men's tennis coach said Monday evening. "I didn't even know what to do. It hit me right soon after that, 'Hey, how did golf do?' I don't know why that was one of the first things that popped into my head.
"I'm so used to us playing on that same day. It just happens all the time. She was like, 'They just won.' I was so naive I figured they had won by 20 strokes or something like that. It wasn't for a couple hours later I found out they had their own drama over there."
The drama 650 miles to the east came in the form of the Illinois men's golf team giving up a two-stroke lead heading into the final round of the Big Ten championship at Crooked Stick Golf Club in Carmel, Ind., and falling behind by double-digit strokes to Iowa almost immediately. Seniors led the charge for coach Mike Small's team, too, with Giovanni Tadiotto and Michael Feagles coming through in the clutch.
The nearly simultaneous Big Ten titles were celebrated on the 18th green. Illinois' men's golf and men's tennis teams are close and have spent a lot of time together the past four years.
"The word circulated quickly they won," Small said about the tennis team's triumph. "It was exciting, the guys were excited, and then we went about our business of doing the ceremony. When we got in the SUV, they were all texting the guys and wanting to know what happened."
Both Dancer and Small credited the Illinois athletic department for making Sunday's double championship happen. Dancer pointed to the COVID-19 protocols spearheaded by associate athletic director and director of sports medicine Randy Ballard that got the team through the season.
"Just a couple months ago we were 50-50 at best if we were going to have a season — if we were going to make it through this season," Dancer said.
Small pointed out the fact the seniors that helped clinch both championships wouldn't have been around had the athletic department not funded extra scholarships for them to return for a fifth year after the majority of their first crack at a senior season was wiped out by the pandemic. The seniors were a key part of the golf victory. Tadiotto had the low round Sunday with a 71 for the Illini, and Feagles outdueled Iowa's Alex Schaake down the stretch to secure the program's most recent Big Ten title.
"(Feagles) wanted to come back and leave a legacy," Small said. "He wanted to win four Big Ten championships. We've had a number of guys do that. Him and Gio wanted their class to to do the same. They'd been talking about it all year.
"I think that added maybe a little bit to the tension (Sunday) as well. On the back nine when we started building some momentum there and went around and told everybody what they needed to do, Michael told me, 'I'm going to pick this back nine apart, and we're doing to do it.'"
Both teams now turn their attention to the next stage of postseason play. Men's tennis will host an NCAA regional this upcoming weekend at Atkins Tennis Center in Urbana, starting at 4 p.m. Friday against DePaul.
Men's golf will be on the road, and Small is pushing for more out of his team.
"We have to realize, yeah we won, but there's some things we have to clean up," he said. "You go to NCAA regionals and have a bad nine holes like that, it could cost you a trip to the finals. I think this will continue to beat home that point to these guys."