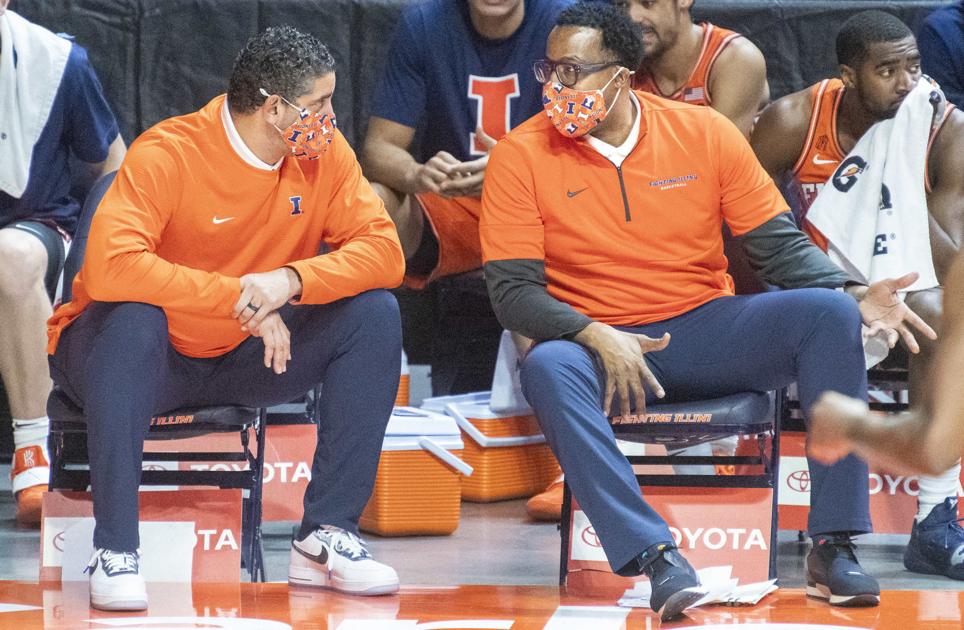 CHAMPAIGN — The 2021-22 Illinois basketball season was never going to be maintaining the status quo.
A breakout year before COVID-19 wiped away the 2020 NCAA tournament was just the start.
Illinois reestablished itself among college basketball's relevant programs during the 2020-21 season, winning a Big Ten tournament title, finishing at No. 2 in the final Associated Press Top 25 poll of the season and earning a top seed in the NCAA tournament.
Running it all back once more, though, was never going to be on the table.
Ayo Dosunmu came back twice and wasn't going to do it again after solidifying his NBA draft stock as a legitimate first-round pick. Kofi Cockburn could (should?) follow him down that path given his stock may never get higher.
Avoiding transfer portal losses was a nonstarter given the sheer number of players in the portal and the changing NCAA regulations that grant underclassmen a one-time, penalty-free transfer.
All expected.
What should also probably have been expected was the coaching carousel spinning its way through Champaign.
Staff changes at Kentucky opened the door for Illinois assistant coach Orlando Antigua to return to Lexington, Ky., and work for John Calipari again — a move reported as likely by multiple national college basketball reporters in the last 36 hours. That Chin Coleman might be on the move, too, has only sent Illini fans more quickly into a high-speed wobble.
Nothing is official — or even certain considering Illinois has reportedly provided some financial incentives for Antigua to stay — but the Illini faithful have been deep in their feelings this week about the possible ramifications.
But it's simply the nature of the sport.
And certainly not something that has caught Illinois coach Brad Underwood by surprise.
The Illini's success in 2020-21 was a credit both to the players and coaching staff. That the latter might reap some reward for that is how this whole thing works.
"They should have opportunities to move their career along — no different than I did it or anybody else in this profession," Underwood said earlier this week. "You very seldom skip a step in this profession. There's steps to take and kind of move along. Getting jobs is not easy. It's really, really hard. Yet, as we continue to have success, you've always got to have a few things in mind in case you encounter those things.
"We'll be no different at some point, but in the meantime, I've got the best staff in the country. I'm going to keep helping them grow and giving them added responsibilities. I think that's what we should do as leaders. I'm blessed. These guys are incredible with what they do."
Both Antigua and Coleman helped jumpstart Illinois' rise to relevancy after Underwood hired the duo in April 2017.
That's particularly true on the recruiting front. Antigua was instrumental in landing guys like Andres Feliz, Andre Curbelo and Cockburn. Coleman was the conduit to Champaign for players like Dosunmu and Adam Miller.
Their involvement in player development can't be overlooked, either. Antigua helped Cockburn blossom from Big Ten Freshman of the Year to a consensus Second Team All-American. Coleman's work with the Illinois guards saw Dosunmu steadily improve to the point he was a consensus First Team All-American and USA Today's National Player of the Year this past season.
Should their time in Champaign be complete, their replacements will have rather sizable shoes to fill. That will be Underwood's task this spring, with the extended recruiting dead period set to end June 1. He's done it before, crafting his first Illinois staff with a trio of assistants he had never worked with previously and creating a foundation for what's now a completed rebuild that must be maintained.
The expectation is full support from athletic director Josh Whitman to do so.
"We're a top-10 program," Underwood said. "We should act like it. I've said it since they day we got here. We can't just talk about it and want to be and have a good season and say, 'Oh, Illinois is great,' and then not be supportive. We've done it for two years in a row now. We've got to continue to build on that momentum. We've got to continue to act like the Dukes and whoever you want to talk about.
"That's my goal. That's why I wanted to be here. I'm very familiar with the history. I've brought it up many times. It's the 11th-ranked program in the history of college basketball. We've got to continue to be like that and think like that. Josh has done nothing but be supportive of that. That's the growth of this program. We are thinking along those lines."
Scott Richey is a reporter covering college basketball at The News-Gazette. His email is srichey@news-gazette.com, and you can follow him on Twitter (@srrichey).