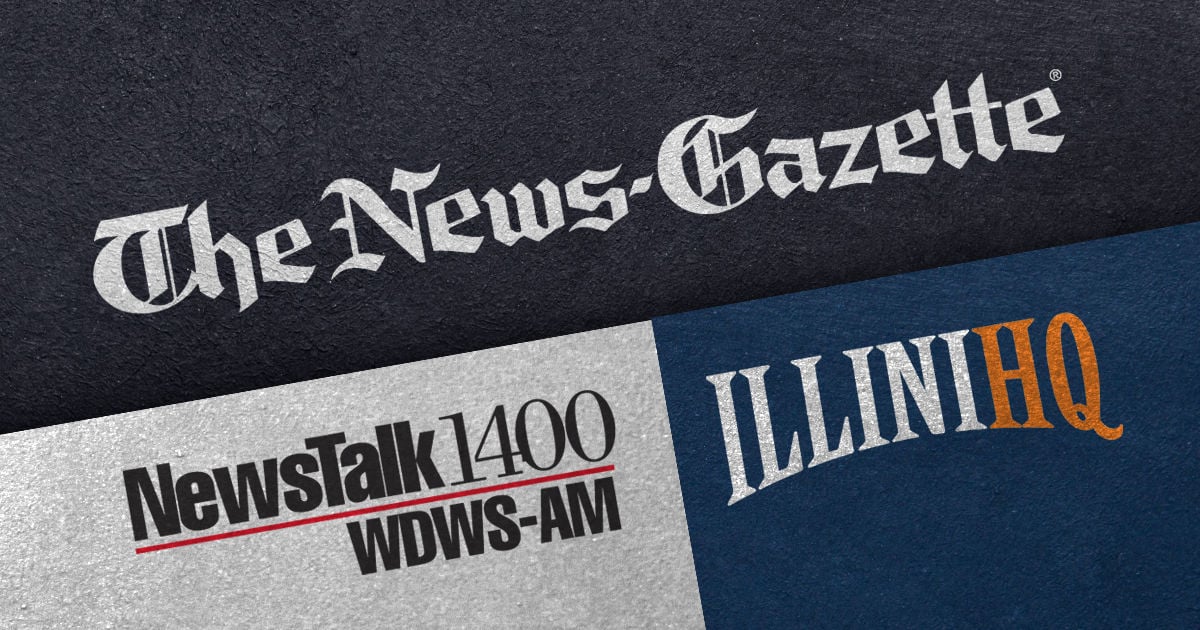 Less than a year ago, the Illinois women's gymnastics season ended abruptly amid the COVID-19 pandemic. Now, 10 months later, the Illini have a chance to return to action with Nadalie Walsh's team set to begin its season Friday at Nebraska. Sports copy editor Joe Vozzelli Jr.
checks in with five preseason storylines:
Long offseason
As the COVID-19 pandemic took hold throughout the country last March leading to the stoppage of professional and college sports, the Illinois women's gymnastics team was nearing the most consequential part of its season.
The Illini, instead, had their final regular-season meet at Oregon State canceled. The Big Ten championships and NCAA regionals, super regionals and national meet also met the same fate.
That fact, plus a later-than-usual start to the 2021 season amid the ever-challenging pandemic, means Illinois will have endured a 10-plus month period without any competitions.
"I think it was one of those things where you don't recognize you're having the stress of not having a schedule until you get the schedule and then this really big, invisible weight kind of just falls off you," Illini fourth-year coach Nadalie Walsh said of this offseason's waiting game, which will end at 4 p.m. Friday when Illinois opens the 2021 season at Nebraska. "When they had the schedule released (on Jan. 4), it just alleviated a lot of those questions and gave the team a more refined focus."
Scheduling mattersThe 2021 regular season will be an all-conference affair for Illinois.
With a twist.
Technically, the Illini's first meet at Nebraska is considered a nonconference event.
Illinois' final two meets (March 6 at Iowa and March 13 at Huff Hall in Champaign against Minnesota) are also considered nonconference events.
That, according to Walsh, allows for contingency plans should COVID-19 affect the Big Ten schedule.
"We have a really great plan in place for if a team has to cancel due to any unforeseen circumstance or any COVID-related reason, we can make up that conference meet that last weekend or the second to last weekend of the (regular) season," the Illini coach said. "I'm really grateful to be in the Big Ten. I feel like we're amongst the best of the best in terms of the way we're approaching the plan. Even though the plan took a little time to get released to us, I feel confident with it."
The postseason portion of Illinois' schedule begins March 20 with the Big Ten championships at a location that has yet to be announced.
Mamma Mia
The key to Mia Takekawa's standout freshman season? Confidence.
Which — believe or not — wasn't something that the Sacramento, Calif., native had an abundance of when she arrived on campus as a freshman.
"I had always been a nervous gymnast throughout high school, not that I didn't believe in myself, but I always kind of let the nerves and the doubts get to me, especially in competition," Takekawa said, "and having the team in practice and competition back me up (last season) and have that support … to practice that confidence in every routine, and to be able to use that in competition, I think was really helpful.
"The pressure sets, the key words and confidence words that we use during practice, I was able to put to use in competition and that allowed me to hit routine after routine and that helped my confidence even more."
The result? Takekawa became the first Illini to ever earn a perfect 10.0 on beam. The first team All-Big Ten performer also claimed 10 event titles, the most by an Illinois freshman since Allison Buckley won 19 titles in 2008.
Talented roster
Beyond Takekawa's exploits, Walsh's Illini also return two other all-conference athletes from last season's team: sophomore Arayah Simons and junior Shaylah Scott.
Both all-around gymnasts were All-Big Ten second-team selections last season.
"I'm very excited for (Scott) to get to go out and do a new floor routine with a new level of music and a new level of disclosing more of her personality," Walsh said of the Plano, Texas, native. "But then, when it comes down to her skills, her routines and her consistency, she's exactly the same in that aspect.
"She's constantly a 9.9-plus (scorer) and so I think that Shaylah is going to be exactly what she's been for us the last two years with a lot more spice and pizazz because of her new floor routine."
Walsh also pointed to senior Nicole Biondi, a team captain from Townsend, Mass., sophomore Mia Townes (Pflugerville, Texas) and freshmen Amelia Knight (Bristol, United Kingdom) and Kaitlyn Ewald (Newburgh, Ind.) as other athletes she expects to make key contributions to the Illini's cause this upcoming season.
Practice perfect
Since returning to campus in August, Illinois has been building to what the Illini hope will be a "normal" 2021 season.
One that ends with a full postseason.
Takekawa made it clear this past Wednesday that she is setting the bar high for her sophomore campaign.
"I'm most looking forward to the postseason because that's what I didn't get to experience last year," she said. "To ride those highs at the postseason level and the championships, so hopefully get to Big Ten championships, win some rings and get some titles under my belt, and then head to regionals and nationals, that's the biggest goal for this season."
Again, that's where confidence plays a role, especially with an atypical offseason due to the pandemic.
"I think the mental game has changed, taking so much time off throughout the summer, throughout the quarantine that we were under after the season ended," Takekawa said. "It's not about the numbers or how many routines we've done this preseason, but it's about … how much can we believe in ourselves to be confident when we step out there on that competition floor."