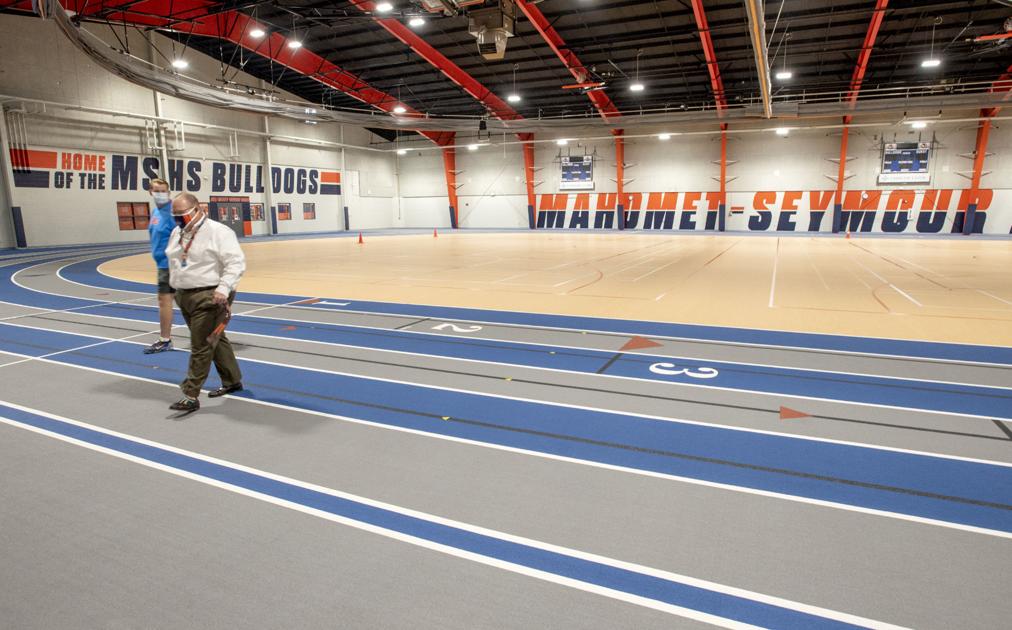 No IHSA-sanctioned high school sports competitions have happened since October.
All prep athletics activities were put on hold in mid-November. This reality is a result of the COVID-19 pandemic and the response to it by state and IHSA officials.
The status quo largely has remained in place for nearly two months. A meeting last week among representatives of the IHSA, IESA, office of Gov. J.B. Pritzker and Illinois Department of Public Health didn't offer up any changes.
Changes, though, might happen during Wednesday's regularly scheduled IHSA Board of Directors meeting.
The organization's 2020-21 winter, spring and summer sports seasons have yet to be contested, and IHSA officials have spent a sizeable portion of the pandemic expressing a commitment to offering as many sports as possible.
But skepticism still remains about how many sports will actually get the chance to play during the next six to seven months.
"The longer we push this back, the less likely we're going to be able to have everything," Salt Fork athletic director Dustin Dees said. "The time is now. … We're running out of time to do all the things we want to do."
The aforementioned meeting between IHSA and IESA officials and state officials transpired last Wednesday after multiple requests from the IHSA board for such a meeting to take place.
IHSA Executive Director Craig Anderson, IDPH Director Dr. Ngozi Ezike, Deputy Gov. Jesse Ruiz and IDPH chief of staff Justin DeWitt were among those present for the meeting.
"Our Board of Directors is going to have difficult decisions to make," Anderson said in a statement released after the meeting. "With no specific IDPH timeline or statistical benchmarks established for the return of sports and the calendar shrinking, putting together a puzzle that allows for all sports to be played becomes increasingly improbable."
The following local sports still are on the docket for this school year: boys' basketball, girls' basketball, boys' swimming and diving, football, volleyball, boys' soccer, baseball, softball, girls' soccer, boys' track and field, girls' track and field, boys' tennis and wrestling.
Boys' basketball and girls' basketball, along with boys' swimming and diving, were supposed to take place in a condensed season that stretched from Nov. 16 through Feb. 13. That, obviously, has not transpired.
Football, volleyball and boys' soccer are set for a new spring season that is scheduled to run from Feb. 15 through May 1, while baseball, softball, girls' soccer, boys' track and field, girls' track and field, boys' tennis and wrestling are supposed to have a new summer season from April 19 through June 26.
Of course, this is all in doubt while the pandemic continues and the state shows no signs of being willing to ease restrictions placed upon high school sports.
"As every day ticks off the calendar, (having all three seasons) becomes less and less easy to do," Mahomet-Seymour athletic director Matt Hensley said. "I think what kind of the vision was coming out of the new year … you could cobble together three seven-week seasons. At this point in time, now you're suddenly down to, 'OK, now we're looking at five, five and five perhaps.'"
Dees is among those who have spoken out on social media about the lack of prep sports in Illinois while surrounding states host both their own high school association-sponsored events and independent showcases — especially in basketball. The latter events are drawing athletes from Illinois who can't compete in their home state.
"If time had been spent on sitting down to come up with a plan, we could've come up with a plan for athletics to be done in a safe way," said Dees, who cited Salt Fork and other schools conducting in-person learning with few hiccups. "As ADs, we haven't really been able to give much input thus far."
To Dees' former point, last Wednesday's meeting allowed the IHSA to reintroduce its Sports Medicine Advisory Committee's pandemic mitigations. These were set to be in place for the previously scheduled basketball and boys' swimming and diving seasons.
"We believe that there is both data and science that validates the idea that we can safely conduct sports," Anderson said. "We have seen it work in other states and believe it can in Illinois if we utilize the mitigations provided by IDPH and the IHSA SMAC."
Regardless of what comes from the IHSA board's impending meeting, schools are likely to face issues with scheduling of events and facility usage, acquiring services of officials and asking athletes to balance or pick between sports.
Hensley said he and other Apollo Conference ADs have established basketball schedules that last seven, six and five weeks in preparation for a variety of different IHSA announcements.
"I could work a wrestling meet or a baseball game every single day this summer if I wanted to," said Hensley, also an IHSA-certified official.
Hensley also said he doesn't see junior varsity teams being kicked to the curb to prioritize varsity programs since "the IHSA has been pretty honest about wanting to protect all their sports seasons."
"I could see (ADs) trying to get multiple teams together and playing a round robin," Hensley said. "People are going to have to be very creative."
Dees and other small-school ADs will have to coordinate with coaches who direct multiple programs that might wind up with overlapping seasons.
"There's just a lot of pieces to that puzzle," Dees said. "Do I think we can get through it? Yes, if there's a manageable amount of athletics going on."
Hensley feels the meeting last Wednesday is a positive development for future relations among all parties, and as "a first step on what could be a very, very long journey."
But it's hard for Hensley and other ADs to stay completely upbeat as the school year's conclusion inches closer and athletes stay sidelined from high school sports.
"That prevailing sense of doom is starting to set in — mainly across our kids, most importantly," Hensley said. "I've had a half-dozen kids asking me what I thought was going to happen. It's frustrating not to be able to give them some sense of hope or a dose of reality."
In a development less than 24 hours before the IHSA board's latest meeting, multiple Illinois coaches showed support for the state's high school athletes via Twitter.
Illini football coach Bret Bielema, men's basketball coach Brad Underwood and baseball coach Dan Hartleb all posted messages Tuesday night regarding the IHSA, with Bielema and Underwood both writing that they spoke with IHSA leadership earlier in the day.
"I had an incredible playing experience in multiple ILL HS sports," Bielema wrote, "and hopefully all involved can agree on a safe path forward for current HS students to create similar memories. Illini FB is here to help."