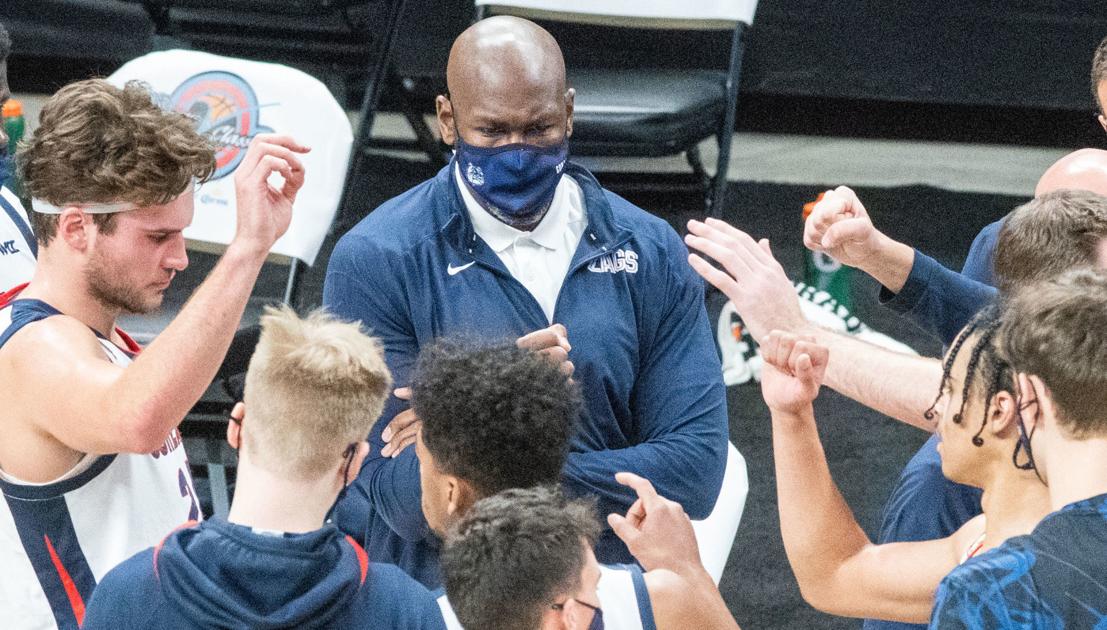 CHAMPAIGN — Roger Powell Jr. just completed his 10th season as a college basketball coach. Five seasons at Valparaiso followed by three at Vanderbilt and the last two at Gonzaga.
The 10-year mark is significant for Powell. It's the point in his coaching career where the 38-year-old told himself he'd be ready to take the next step and be a head coach. The way the former Illinois forward sees it, it's only a matter of time.
"I've had some opportunities over my 10-year span, but I just feel like the places I've coached, the coaches I've coached for, the games I've played in and coached in, now I would feel comfortable if the opportunity presented itself," Powell said in a recent appearance on Saturday SportsTalk on WDWS 1400-AM. "I'm not in a rush, and I don't take leading a program lightly. I want to make sure I continue to improve and learn and grow.
"When the opportunity presents itself that I feel like is a great place for my family and think I could do a good job and represent the university well, I'll do it. I definitely think it will be sooner rather than later. I'm still young. I'm still very excited about the possibly."
Powell is pleased this offseason has featured a number of assistant coaches getting opportunities to lead programs and a number of Black coaches hired, including some at high-profile jobs like Mike Woodson at Indiana and Hubert Davis at North Carolina.
"Thankfully now there's some African-American coaches getting opportunities," Powell said. "I think it's great. But I don't think these programs are just hiring guys because they're African-Americans. I think they're hiring qualified coaches, and I think there are a lot of qualified African-American coaches out there that can do a good job. It's awesome to see those opportunities happening.
"It's good to see assistants getting jobs, but I know some coaches want to hire coaches who have head coaching experience. I think it just varies on what the program is looking for. I believe when that time comes — I've been an assistant coach at some great places for some great coaches — I believe the university and athletic director will give me a shot."
For the time being, Powell is enjoying his time in Spokane, Wash., working for longtime Gonzaga coach Mark Few. The Bulldogs went 31-1 this season with their only loss coming in the NCAA tournament championship game to Baylor on April 5, and they're 62-3 overall and 30-1 in the West Coast Conference during Powell's two seasons on staff.
Powell's time at Gonzaga was the first time he branched out in another coaching tree. He spent his first eight seasons as a coach working for Bryce Drew, first at Valparaiso and then Vanderbilt before Drew was fired. It didn't take long for Powell to get a shot with the Bulldogs.
"It's a special place," Powell said. "I think a lot of people are always like, 'What makes Gonzaga different?' I think it's everything. It's the city. Obviously, Coach Few, I think, is one of the best college coaches of all time. It's our culture. It's the staff I work with. It's the players. It's the past players. It's a special place."
The national championship loss earlier this month was Powell's second. He now has one as a player after starting for the 2004-05 national runners-up at Illinois and one as a coach.
"I'm just so thankful to God that I was able to be a part of such special teams," Powell said. "These are once-in-a-lifetime experiences when you think about college basketball. Every year there's only two teams who can play in the championship game. I've been very fortunate to be a part of two of those special teams."
Baylor jumped all over Gonzaga in this year's title game en route to an 86-70 victory. The Bulldogs were coming off the emotional high of Jalen Suggs' overtime game-winner against to beat UCLA 93-90 in the national semifinals on April 3, and didn't match that level two nights later against the Bears.
"I don't think we had that pop we had all year," Powell said. "With that being said, to their credit, they there were our Achilles heel. They had a bunch of guards who could make tough shots, score one-on-one and they were really physical. They got up early on us, and we just couldn't, couldn't quite recover from that slow start.
"Early in the second half we started having a couple runs and felt good that we would go on that run we were used to going on and get back in the game. Then those guards would come down and make a tough three here and there. It was one game out of 32 that we played this year that the other team got the best of us."