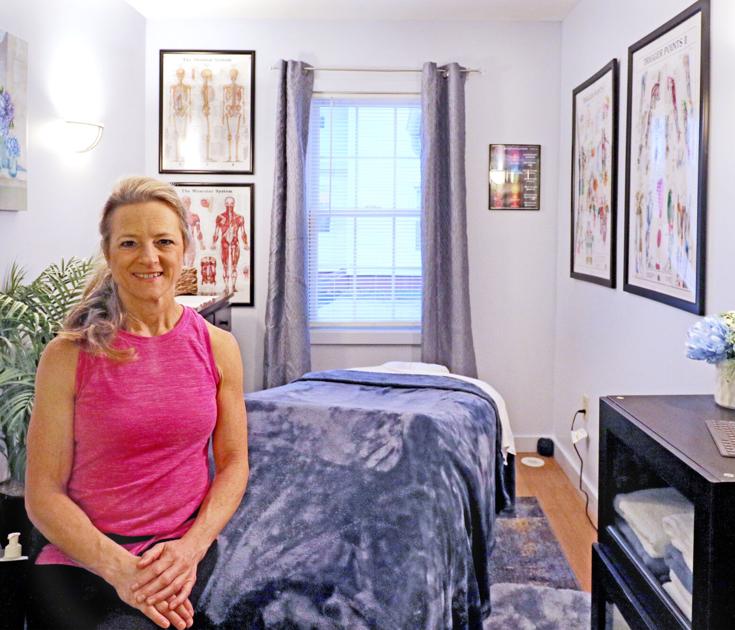 MYSTIC — Linda Kennedy always loved to dance.
From a young age, the Mystic native was enrolled in dance classes, and she continued pursuing her passion through her college years until she landed in New York City.
But in a competitive Broadway scene, Kennedy struggled to find the success she dreamed of as a child. She said she was a "starving artist," and knew it was time for a change.
In 1993, Kennedy decided to pursue a career in personal training, and her level of success was much different.
"As a dancer, you have to think about every muscle in your body," she said. "I found my dance training really came to help me."
For the past 26 years, her personal training and massage therapy businesses have thrived. But with her parents getting older, she's brought her talents back to her hometown.
One passion led to others
Kennedy graduated from the University of New Hampshire in 1988 with a degree in therapeutic recreation and psychology. She moved to Boston before settling in New York City in 1991 to pursue her dance career.
After two years, Kennedy was struggling to find success, but she discovered a new passion that stemmed from her experience in dance.
"I've always loved science and biology. Between those two things, I have such a fascination with the body. I just wanted to learn more about it," Kennedy said.
It was then that she decided it was time to seek other avenues in her career, according to her father, John Kennedy.
"She did a lot of auditioning, but of course it was a very tough environment to break into the New York theatric scene," he said. "Eventually [she] went into personal training, joined a health club and became quite successful in her own right."
Kennedy's first business, Get Lean, now known as LEANPower, helps people develop exercise and nutrition programs that promote lifestyle changes and "spring from taking care of yourself," she said. Kennedy wanted her clients to have the opportunity to be fit while also living their lives happily.
LEANPower's motto is "Be. Do. Have."
"Be your best self, so that you can do what you want and have the things that are important to you," Kennedy said. "It's really about breaking down barriers."
After six years of personal training experience, Kennedy noticed clients would occasionally come to a training session with pain or tightness somewhere in their body. She was no stranger to injuries. While dancing in New York, she sustained two cases of severe tendinitis, first in her left Achilles and then in her left hip flexor, that were attributed to overworking her body.
She had to take a "frustrating and disappointing" break from dancing to go through physical therapy, but the process turned out to be a valuable experience. Kennedy learned a lot from her physical therapist.
"She was highly skilled, and I was learning as she was working on me. I saw what a difference it made," Kennedy said. "I learned a ton about my body and the reasons for my injuries, and how to correct them."
She applied what she learned to her own personal training. When clients would come in with pain, Kennedy thought it didn't make sense to add more load to their workouts. She wanted to take a different approach.
She got them on a treatment table and tried to release the muscle tightness by massaging the area experiencing pain.
"With the combination of the soft tissue work and the stretching, they'll get off the table and they'll be able to perform the movement that they couldn't perform before with pain. I wanted to release the muscles, and that's when I knew I had a gift," she said.
This discovery opened a new door. She already had clients for personal training who could benefit from massage therapy. It seemed like the perfect combination of skills.
She set out to achieve all the necessary certifications to become a massage therapist, and soon started her second business: Kennedy Therapeutics Massage.
"I was sold on the value of massage therapy and that healing process, and to take it a step further with optimum performance," Kennedy said.
She now has 20 years of experience working in massage therapy, attributing her injuries as inspiration to add to her "toolbox."
"It has allowed me to take better care of myself, which is what I want for all my clients, and everyone really," she said.
After 11 years in New York, she tired of the relentless lifestyle and moved her businesses to San Diego, where she became much better, she said, at balancing work and play. She even took up a new hobby: surfing.
"I really grew so much as a person in terms of my ability to have balance between work and play," she said. "The people out there are so positive. It was a really wonderful experience."
Kennedy stayed in San Diego for 15 years. But three years ago, she decided it was time to move back to the East Coast. She opened a new location for Kennedy Massage Therapeutics in Stamford, Conn., the third time she had to start her business "from scratch" with a fresh clientele. Kennedy said that has been the most difficult part of being a small business owner.
But her parents were certainly never worried about their daughter moving her business to new locations.
"We've both had massages by Linda; we know how talented she is," John Kennedy said with a laugh. "We had no concern at all that she would not be successful."
Returning home
It was Kennedy's parents who ultimately inspired her to move back to her hometown of Mystic. Her father is 89, and her mother, Barbara, is 81. Kennedy said she is "very, very close" with her parents, and as they reached their elder years, it was essential to be near them.
"It just became apparent to me that they were going to start needing more help," she said. "It was something I really wanted to do and needed to do, both for myself and for them."
She opened her newest location of Kennedy Massage Therapeutics at 27 Broadway Ave. in Mystic on Oct. 3. Although it is her fourth time starting up in a different location, Kennedy said the COVID-19 pandemic has made this the most difficult transition.
Not only is there still hesitation among the general public to return to in-person activities, but Kennedy has also been taking time away from the gym scene to keep herself and her parents safe.
Since reopening, however, Kennedy was proud to say she's had zero positive cases connected to her business.
"I think the biggest advantage someone like me has with my business is that I'm a private office. … I am 100% in control of my own space and who comes in and goes out," she said.
As the pandemic looms over her latest opening, Kennedy is still thrilled to be back in Mystic. She's been able to reconnect with old friends, and she loves the community.
"Mystic is a very special place. I love the energy here. It's got a lot of heart and a lot of charm, and people are really wonderful to help," she said.
Her parents are thrilled as well.
"When she decided to move back to Mystic, that was the icing on the cake," John Kennedy said, adding that his daughter was able to take a week off from work recently as Barbara convalesced from knee surgery.
"She's here with us, which is wonderful. We're of that age where we can use all the help we can get," he said.
Linda Kennedy is happy to pay it forward, both with her parents and her clients.
"I continue to be inspired by the people who come in and are in a lot of pain or discomfort, and I work with them … and they walk out pain-free and fully free to do the things they love to do," she said. "That's what keeps me loving what I do and excited to come to work everyday."