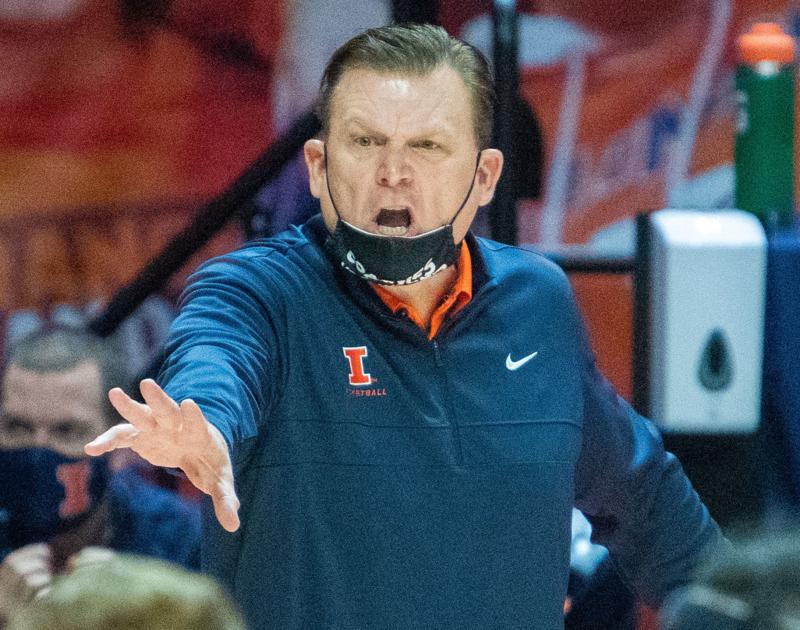 CHAMPAIGN — Illinois signed a pair of high school recruits Wednesday. A day later NCAA legislation was passed — pending board of governors approval — that would officially incorporate a new wrinkle into how rosters are built moving forward.
That one-time, penalty-free transfer for underclassmen has the chance to make signing periods in November and April significantly different in future years. It's left Illinois coach Brad Underwood and his Division I coaching colleagues reevaluating the status quo recruiting model.
"When it comes to putting a roster together, it's going to be season by season," Underwood said. "I think we're all sitting out there and wondering whether we'll ever sign a freshman again and what's the value in that. I think there's a ton of that going on right now when we could all take upperclassmen and they can't transfer again. We would be remiss if we didn't keep every option open and keep looking at them."
Bailing on high school recruiting entirely is probably a step too far.
At least for Underwood.
The idea of bringing in 18- or 19-year-olds and developing them is still a priority, but it's not the only program-building avenue anymore.
Underwood is keeping every option open.
As of Friday afternoon, nearly 1,400 players are in the transfer portal — double the rate of a year ago at this time. The bonus year of eligibility given to all players because of the pandemic that created "super seniors" has inflated that number. Underwood doesn't envision the number of transfers being as high in future seasons, but they're not going away entirely either.
"You've got to look at every item on the menu today," Underwood said. "I don't know what that will look like eventually, but we're not going to quit recruiting high school players and freshmen. I believe in them, but there's obviously a new menu item you've got to pay attention to as well."
The roster additions Illinois announced Wednesday will probably become the norm. Underwood has only signed four players in the fall in his time at Illinois in Ayo Dosunmu, Andre Curbelo, Coleman Hawkins and Luke Goode. Wednesday's newcomers are incoming freshmen RJ Melendez and Brandin Podziemski and Florida transfer Omar Payne. A freshmen/transfer combination signing in the spring is arguably the future.
"It's amazing how things have changed," Underwood said. "You used to sign two or three kids in the fall and be done. You knew what your team was and could start planning. Really diving in to making your team better from an Xs and Os standpoint and start putting pieces of the puzzle together and conducting workouts and growing. Those situations are obviously not going to happen."
The change in the NCAA's transfer rules seemed inevitable. It doesn't come without some unintended consequences, however, in Underwood's opinion.
"I think we understand — or I've taken the approach — that the toothpaste is out of the tube," Underwood said. "I don't know how we get it back in with this. I think it will take it a while to settle in. Every time something like this happens, there's always a list of things that happen that are unplanned for.
"We all have to figure in academic responsibilities at each institution. We have to figure in graduation rates, which the way this thing is looking right now, I don't know how we do that. You've got 720-plus athletes in the portal who are upperclassmen. … It's complicated. It's not as simple as go in the portal and get somebody."
The first offseason with free transfers is one thing. Players that can find a new college basketball home will. But what happens in future seasons when rosters are laden with transfers?
Underwood is already considering such a scenario.
"Think about the coach who takes another job and/or gets fired, and all the players in that program, we're two or three years in it, and they've got eight or nine transfers in their program," he said. "Those coaches probably had a lot to do with getting those student-athletes there. Those kids can't transfer. You don't think that won't cause some problems? That scenario is going to happen. I feel bad this year for the student-athletes where that situation has happened.
"It will all get challenged. … There's some unintended consequences we'll have to deal with. But do I think it's going away? No, I do not."