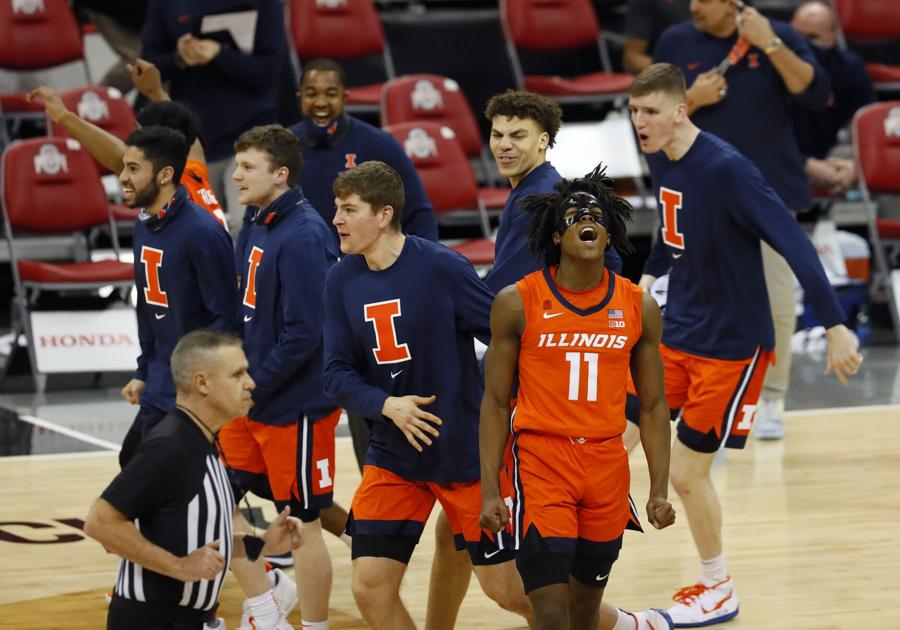 COLUMBUS, Ohio — Ayo Dosunmu tried out a few different masks as he prepared to make his return following a broken nose and concussion suffered Feb. 23 at Michigan State. Presented with several options, there was really only one choice.
Dosunmu debuted his black mask Saturday, making his return at Ohio State after missing the last three games. He has a clear mask as a backup — the one he showed off in a video released two days after his injury — but the black mask was the winner.
That Kobe Bryant and LeBron James wore similar masks didn't hurt. Nor did Dosunmu's interest in comic books.
"I feel like a superhero with a black mask on," he said.
Dosunmu played like it, too, coming through in the clutch for No. 4 Illinois in its 73-68 win against No. 7 Ohio State while putting up 19 points, four rebounds and three assists.
Da'Monte Williams dubbed the masked Dosunmu "Mamba Dos."
"I know he watched LeBron play with that thing on a few years ago," Williams said. "That boy Dos back, man."
★ ★ ★
How Dosunmu would respond to wearing a mask was something Illinois coach Brad Underwood said was a point of curiosity as the junior guard worked his way slowly back into practice this week.
"As soon as he got the mask, he wore it around his apartment constantly just to get used to the vision," Underwood said. "It wasn't just, 'I hate it. It's uncomfortable. I'm just going to wear it in practice.' He adapted to it in his everyday life. I called it a Catwoman mask. I don't know what else you call it. Batman. It didn't seem to bother him too much."
★ ★ ★
Dosunmu watched his teammates win three games without him, including two on the road against Associated Press Top 25 teams. Freshman guard Andre Curbelo stepped into the primary playmaking role with Dosunmu sidelined and thrived.
That didn't change Saturday with Dosunmu back in the fold. Curbelo took control of the Illinois offense in the first half, scoring 11 of his 19 points to jumpstart the Illini against Ohio State.
"He's been playing with so much confidence," Dosunmu said of Curbelo. "It's been a joy to see him out there playing like that, playing freely. … One thing about Dre is he has a knack for listening. He has a knack for picking your brain. He has that 'it' factor. He has that playmaking ability. He's hungry. He's getting extra shots up. He's competing. He's being more aggressive."
Curbelo's growth this season — and in the past few games alone — has stood out to Underwood. Curbelo had to take on more responsibility with Dosunmu out, but he also had the wherewithal to do so.
"He's always been one of the best players and most dominant players on the court every time he steps on it," Underwood said. "New system, new all of that being a freshman in college impacts him, but, man, he's not playing like a freshman anymore."
Having a two-headed playmaking monster in Dosunmu and Curbelo has Underwood feeling pretty good about his team's chances as postseason play approaches.
"It gives us a pretty good selection at the guard spots to go pick on the other team's weakness," Underwood said. "It's a rare thing to have guards that good that aren't afraid. They all follow Ayo there, but Belo's done that for his whole career."
★ ★ ★
The photo of Williams, Jacob Grandison, Giorgi Bezhanishvili and Curbelo arm in arm while Trent Frazier shot a pair of technical free throws in Tuesday's win at Michigan brought plenty of attention the rest of this week.
Bezhanishvili called it one of his "favorite moments this season."
Underwood said it was a photo that "won't easily be forgotten."
That photo perfectly encapsulated what Underwood wants his program to be. It's a visualization of the culture the Illini — coaches, players and staff together — have built.
"If you guys understand anything about me, that's our culture right there," Underwood said. "That's our culture. Then to have Andre Curbelo jump in your lap, that's our culture. Those are moments you strive for as a coach. The scoreboard can say a lot of things, but that's Illinois basketball right there. That's what I want it to be."
Curbelo jumping in Underwood's lap needs an explainer. The freshman point guard's high-five attempt with his coach was missed. Left hanging, Curbelo gave himself the self five and then caught Underwood's attention by jumping into his arms in the closing moments of the win at Michigan.
The level of connectivity shown in that photo is something that Bezhanishvili treasures. He's the energy guy for the Illini and has played a significant role in the cultural growth of the program.
"We all kind of looked at each other and interlocked our arms," Bezhanishvili said. "I felt so, so great in that moment because I felt so much connectivity to those guys and to the whole team. It's just naturally happened with all the time we spent together and all the work we put in. It's such a great feeling."
★ ★ ★
Getting through Saturday's game at Ohio State meant Illinois played its full complement of 20 Big Ten games amid the COVID-19 pandemic. Underwood always considered that a likely outcome given the conference's discussions dating back to July. It's also what he wanted for his team.
"It hasn't been easy, but nothing about this year has been easy," Underwood said. "For me, it was about playing as many games so our guys felt as fulfilled about having a season as possible. We knew there would be hiccups. I think the league put a plan together that was very workable. We did a great job with the officials, putting them in a bubble. I'm just glad we're in a position to play 20 games."
★ ★ ★
With the conclusion of Sunday's four-game slate, the Big Ten will have completed 97.1 percent of its revised (several times) conference schedule. That's the highest percentage from the top seven conferences, with the Pac-12 projected in a close second at 96.7 percent. It's safe to assume that both conferences mandating daily antigen testing for COVID-19 played a role in that.
"Kudos to the league office and putting a plan together that worked and that was safe," Underwood said. "I don't think we ever ventured from what our plan was, and that was to do it safely and in the best way possible. The everyday testing was fabulous — a pain in the butt at times — but it was one of those things that was mandatory."
★ ★ ★
The Naismith Coach of the Year semifinalists were announced Friday. Included in that group were Drake's Darian DeVries, Baylor's Scott Drew, Gonzaga's Mark Few, Florida State's Leonard Hamilton, Ohio State's Chris Holtmann, Michigan's Juwan Howard, West Virginia's Bob Huggins, Loyola Chicago's Porter Moser, Arkansas' Eric Musselman and Alabama's Nate Oats.
A somewhat surprising omission? The coach of the No. 4 team in the country.
Bezhanishvili admitted he didn't know what the process was in naming a national coach of the year. But just like Underwood has championed his players for various awards — including Dosunmu as national player of the year and Frazier for any and all defensive awards — the Illini junior forward took up his coach's cause.
"Obviously, it has to be recognized coming from where we were at my freshman year," Bezhanishvili said. " Obviously, it's been the same coaches. For the coaches to get us here where we're at right now, what other coach has done that in the whole entire country? That really has to be looked at. I really don't know how that stuff works or goes — I don't really follow that stuff — but that has to be really looked at. Where we were two years ago and where we're at now, come on now, that has to be looked at."
SCOTT RICHEY