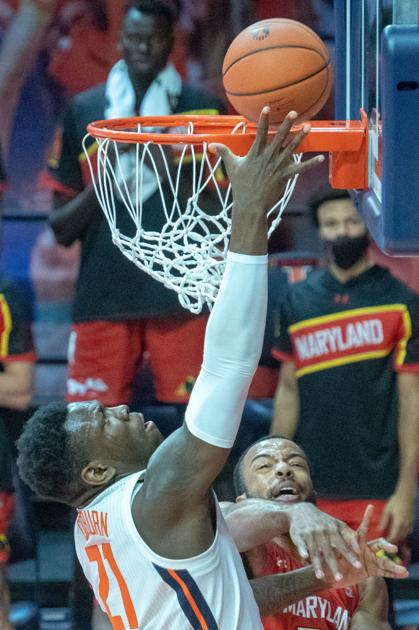 CHAMPAIGN — Trent Frazier had to be helped to the Illinois bench and then ultimately back to the locker room by athletic trainer Paul Schmidt in the closing minutes of the first half of Sunday's game against Maryland.
Frazier was favoring his left arm after taking an inadvertent elbow to the shoulder from Terrapins' forward Galin Smith on a rebound attempt. Frazier was in audible pain, and while he didn't join his team for halftime warmups he was back on the bench when the second half started.
Frazier ultimately got the go ahead to get back in the game, but played just 6 minutes. A missed three-pointer — and it missed by a lot — was the sign his injured shoulder wasn't quite right.
"He was sore," Illinois coach Brad Underwood said about Frazier after the game. "We'll have a little more knowledge (Monday) as to what it was. He wanted to try and go, but obviously we saw his jump shot that wasn't very close."
Underwood said Frazier's presence on the court was missed. Frazier is one of Illinois' top perimeter defenders, and the senior guard also makes energy plays and can change the game at both ends with his speed.
"He's a competitor," Illinois junior guard Ayo Dosunmu said. "He's been through so many fight. We missed him down the stretch just being out there making winning plays.»
Frazier just couldn't go with his shooting arm not 100 percent.
"He was padded up pretty good and taped up," Underwood said. "If a guy feels like it's bothering him, it won't take long for the other bench to figure that out and just not guard him."
***
Frazier's injury also had an effect on how much Dosunmu played Sunday night. The Illini's preseason All-American played the full 40 minutes, which is something Underwood doesn't like to do.
Sunday's game was just the second time in now 2 1/2 seasons where Dosunmu didn't get a breather on the bench. The last time was the 2019-20 regular season finale win against Iowa. Dosunmu also played 40 minutes in the 2018-19 season against Florida Atlantic, but that was an overtime loss for the Illini.
"I usually get him out in the first half," Underwood said. "There were some moments in there I thought the pace was OK. He's pretty well conditioned. I usually don't like to do that — play guys 40 minutes — but (Sunday) with Trent's situation it was a little more needed."
***
Dosunmu led Illinois with 23 points, but needed 23 shots to get it. His struggles finishing around the rim — and he had them going 9 of 23 from the floor — were shared with his teammates. The Illini were 1 of 1 on dunks (a first half slam from Kofi Cockburn), but just 9 of 20 on layups.
"It was just one of those nights the rim it just feels like it gets smaller," Dosunmu said. "Late game, the rim got smaller. I take ownership there. I definitely have to do a better job of just making plays down the stretch. Not just scoring, but making plays.
"I turned one over. One I think I got fouled, but they didn't call it. I missed an open three. Me being a leader, late game, I should have done a better job of either getting a better shot and being tough enough to step up there and make it or get a great shot for my teammates. I take the ownership there."
That the Illini struggled to finish at the rim, though, didn't exactly surprise Underwood. It's exactly what he saw from his team in Saturday's practice.
"We didn't finish anything in practice," Underwood said. "Nothing. Nothing. We were just as bad (Saturday) in practice as what everybody saw (Sunday) in finishing. I've got to reexamine what we're doing in practice and how we're going about it."
***
Most of Illinois' points in the paint came from Cockburn. The 7-foot sophomore center was 8 of 10 from the field to finish with 21 points and 10 rebounds for his NCAA-leading ninth double-double of the season.
Cockburn took just two shots in the second half, however, and didn't get many more touches beyond that.
"We definitely should have done a better job trying to get him more looks," Dosunmu said. "He was 8 of 10 — very efficient — and 5 of 6 on free throws. Every time he got it, if he got a shot off, it was a great shot. Definitely, we should have tried to get him more shots.»
Maryland came with more consistent defensive pressure in the final 20 minutes, and Cockburn struggled. While he wasn't officially charged with any second half turnovers, that's not the way Underwood saw it.
"It was frustrating," Underwood said. "We didn't get the ball to Kofi enough in the second half. I've got to do a better job of that. Yet, when he gets doubled and tripled he can't turn it over. He had two turnovers passing it out. That's just being sloppy and not sharp."
***
Darryl Morsell got his first start Sunday since suffering a facial fracture Dec. 31 against Michigan. Maryland's senior guard wound up leading the team with 19 points, four rebounds and three assists. That performance took on even more meaning with fellow guard — and the Terrapins' leading scorer — Eric Ayala unavailable because of a groin injury.
"As so often happens, when you lose a good player you rally," Underwood said. "He changed positions and changed spots and took on the job of guarding Ayo. It was what a senior does.
"We were inconsistent in our ball screen coverages with him. He played on the ball a lot. With his size and strength, that was effective. He made some hard shots. He's not known as a three-point shooter, and he hit a couple of those as well."
Morsell was 8 of 16 from the field overall. While he made just a single three-pointer in three attempts, he did knock down a couple other long jumpshots.
"I just think he made some tough shots," said Dosunmu, who drew the defensive assignment on Morsell.
***
Giorgi Bezhanishvili was visibly frustrated when he went back to the Illinois bench with 6:28 remaining in the first half. The 6-9 Illini junior had just been whistled for a foul on Maryland's Donta Scott, who made both free throws to tie the game at 25-25.
Underwood got Bezhanishvili almost in a bear hug trying to calm him down on the bench.
"The official came over and said he completely missed the call after halftime after he watched it," Underwood said after the game. "We all know Giorgi gets emotional. … It doesn't help in that moment. We keep trying to get Giorgi to move on to the next play. He's been much, much better at that, but (Sunday) for whatever the reason he wasn't."
Bezhanishvili missed both shots he attempted was held scoreless in 8 minutes of action against Maryland. He's scored just three total points in the past three games.
"I needed to get him on the court more in the last two," Underwood said. "I've got to slide him over at the 4 a little more. I was a little concerned (Sunday) just because of the small lineup that they played, but probably should have countered a little bit with a big lineup. Giorgi's going to be just fine."