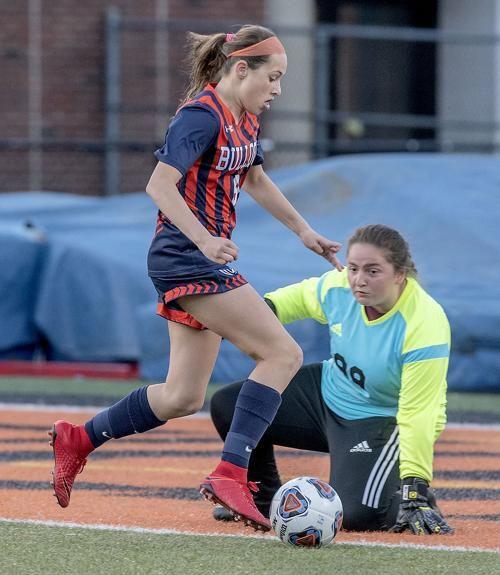 RK., TEAM REC. COMMENT
1. Mahomet-Seymour 3-1 Cayla Koerner (far left) and Bulldogs have won their last three ahead of Saturday tilt with Morton.
2. Champaign Central 1-1 Maroons presently are on a COVID-19 pause, picked up their first victory on April 21 against Mattoon.
3. St. Thomas More 1-0 Sabers began season by outlasting Olympia but stumbled versus Bloomington Central Catholic next.
4. Arthur Christian School 1-0-2 Conquering Riders handled bigger school Charleston before tying with Monticello and Judah Christian.
5. Uni High 0-0 Illineks lone local program still waiting for first match, which comes Monday against Decatur Lutheran.
6. Danville 1-1 Vikings overcame early deficit to knock off Urbana for first win, visit Champaign Central next week.
7. Monticello 1-2-2 Sages trumped Decatur Lutheran after difficult start, can get back to .500 against Urbana on Saturday.
8. Judah Christian 0-0-1 Tribe's only result is aforementioned draw to Arthur Christian. A visit to Monticello awaits next week.
9. Urbana 0-3 Tigers came up short in Big 12 meetings with Bloomington and Danville, visit Monticello on Saturday.
10. Centennial 0-3 Chargers still are looking for first goal of the season, hope to get it Saturday versus visiting St. Teresa.