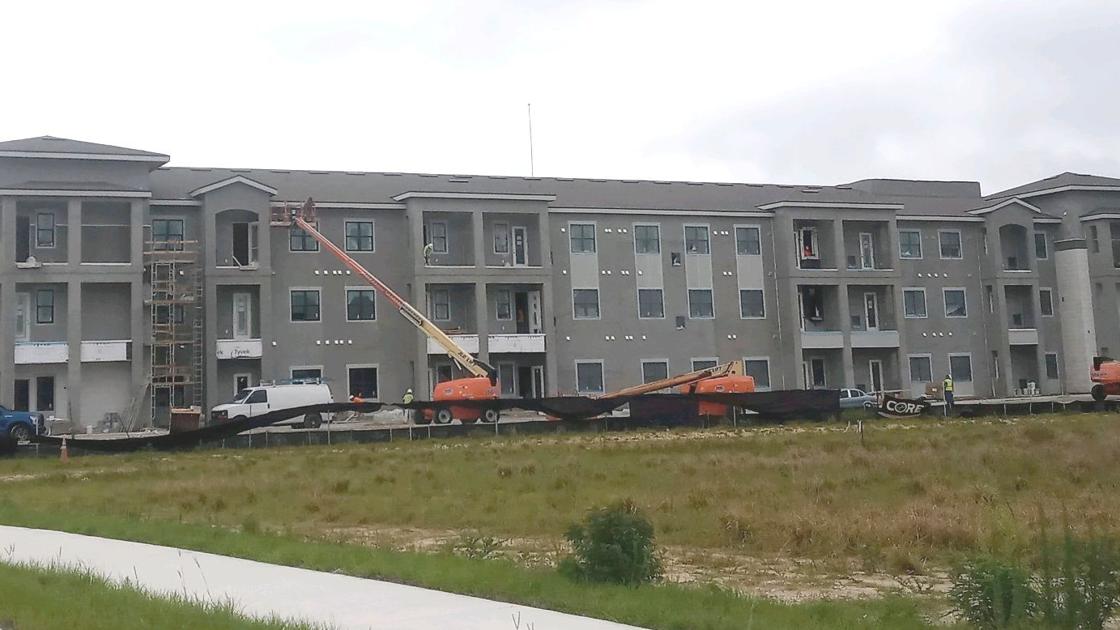 Have you noticed the many new businesses that have been popping up all over North Port over the past few months?
Residents have more options now when it comes to where they dine, shop, get health care or even wash their cars.
Here are some new business that have opened in North Port — or will be coming to the city soon.
Flats at Sundown
Construction is underway at Flats at Sundown Apartments, a new $45 million apartment community located near the intersection of Price Boulevard and Toledo Blade Boulevard.
Kittle Property Group, Inc. is pleased to announce the grand opening of this 224-unit development. The plan is to construct six 3-story and two 4-story buildings with a total of 224 apartments homes on 18 acres.
«We are very excited to bring a beautiful new housing opportunity to the residents of Sarasota County," said Jeffrey Kittle, President & CEO of Kittle Property Group. «We know the area is growing and that additional housing choices are needed to serve those living and working in the area.»
All apartment homes will be available for lease by the summer of 2021.
For more information on leasing or to schedule a tour, you can visit the Flats at Sundown website or call (855) 201-8420.
Cocoa Yoga Cafe
Cocoa Yoga Cafe studio and juice bar will offer yoga for first time students of any age as well as classes for seasoned practitioners. Owner Whitney Zora Stetler said she named the business after her love of chocolate.
«The raw part of cacao (seeds from a small tropical American evergreen tree) is actually very healthy for you when eaten in moderation,» Stetler said. «I believe the beauty of everything is moderation.»
Stetler is waiting on her final permit before she can offer classes in the new studio, which should be open soon. Cocoa Yoga Cafe at 13843 Tamiami Trail in North Port.
Lots more here, on the way
The Gallery senior living facility in North Port is moving forward at a fast pace. The facility, going up now at 1322 N. Main St., near City Hall and the intersection of Sumter and Price boulevards, is expected to open during the summer of 2021. The new residential development will offer independent living, memory care.
Simply Susan's is a completely gluten free-cafe offering ready-to-eat meals, family-style take out trays and delicious desserts. Catering is also available. The cafe is at 1093 N. Toledo Blade Blvd in Shoppes North Port. Call 941-300-6100.
A new Firestone Tire and Auto store is planned for the southeast corner of Toledo Blade and Sundown Lane.
A new O'Reilly Auto Parts store is opening behind Aldi's food market on Tamiami Trail. Aldi's recently received a major renovation last year, adding hundreds of square feet for the fast-growing retail chain.
Tommy's Express Car Wash is open for business at 1141 Front Place, near the corner of Sumter and Price. The club offers a membership with a recurring subscription that allows you to wash an unlimited amount of times every month as well as individual washes.
A new Dollar Tree retail store has opened at 1001 Gateway Ave. and Toledo Blade Boulevard near Imagine School. The chain offers a mix of household items, beauty products, food and more at discount prices.
A new cancer treatment center is on track to open by October in North Port. The North Port Cancer Center, owned by Florida Cancer Specialists, is under construction at 1390 Grand Venture Drive, near Sumter and Price boulevards and close to city hall. Optimal Outcomes of St. Petersburg is responsible for overseeing all phases and development of the project. The facility will be a little more than 20,000 square feet and will accommodate 16 exam rooms and 45 infusion chairs for residents in the community.