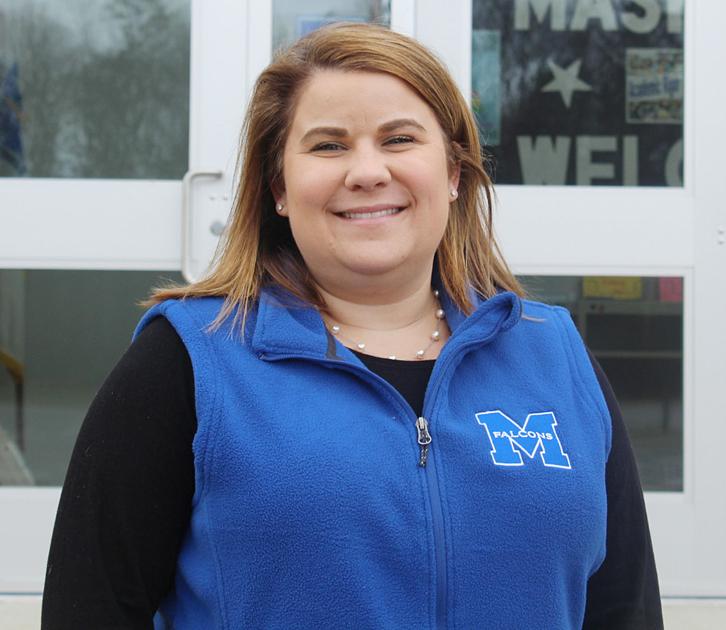 Falmouth native Ashley Lopes started as the director of finance for the Mashpee Public Schools on September 1 in the midst of a global pandemic.
"Luckily for me, the whole state, the whole country, the whole world is going through COVID, so no matter where I'm doing this job we're all facing the same challenges," Ms. Lopes said. "One of the positive things about coming to Mashpee during the pandemic is that the administration is so wonderful. The school committee is so welcoming. We're all going through changes, so adding a business manager to that can be difficult, but we're all just rolling with the punches."
Ms. Lopes referred to her new role as "sort of like a homecoming."
"I grew up in Falmouth, so coming back to work in Mashpee is nice because I can see my family more and during the pandemic. If I wasn't in this position, I wouldn't see them nearly as often," Ms. Lopes said.
She splits half of her time at her home in Bellingham and spends the rest of her time at her family's home on the Cape.
"My mom was a high school math teacher while I was growing up, and my dad owned small businesses until he passed away in 2019, so that local feeling of giving back was something I wanted to do," she said.
Her mother, Lisa Lopes, was previously a math teacher at Falmouth High School but moved to New Hampshire in 2015 and is now teaching there.
"A lot of people normally take on the business administrator role as a second career—they've been in a classroom or higher education or on the town side of business," Ms. Lopes said. "I just made that switch a lot earlier in my twenties."
Ms. Lopes said she wanted the opportunity to help kids, but not necessarily directly in the classroom as her mother did.
"I didn't ever think I could be a classroom teacher," Ms. Lopes said. "The thought of it being my responsibility for kids to learn was a very stressful thing for me, but being able to work and think creatively to be able to pay for initiatives for the students is super-cool to me. That's the highlight of my day when they say we want to do this, how're we going to pay for it, what kind of strategic thinking can we do. I'm all for it."
Before starting at Mashpee, Ms. Lopes was the finance director at Freetown Lakeville Regional School District.
"That was my first position as a director of finance," Ms. Lopes said.
She was also a budget analyst for Weston Public Schools.
After graduating with a bachelor's degree in accounting, Ms. Lopes worked for Ernst & Young in Connecticut and Boston as a tax accountant.
"I did public taxes for five years, and then I made the switch into education," Ms. Lopes said.
Ms. Lopes said she loves her new role at Mashpee.
"We're in the midst of FY22 budgeting," she said. "We submitted our superintendent budget to the town in October, and our school committee has been reviewing the budget and asking questions. In December we go and have the big kind of conversations with the town and go over our budget and what our initiatives are for FY22."
In January, the Mashpee School Committee will either make changes or approve the Fiscal Year 2022 budget, then the budget will be presented to the town again so that they can approve it before it is presented at Town Meeting.
"In my last district we didn't present the budget until February, so having to have a budget done within the first 30 days of starting a new job was a little crazy, but I've had tons of support in the process, which has been awesome," Ms. Lopes said.
The district hired more teachers, so Ms. Lopes said they need to find funding through the town and other sources.
"We're still waiting to see what happens in the federal government," she said. "A lot of the budgets across the state have been in shortfall, but right now we're able to support the budget we have."
In addition to tackling the FY22 budget, Ms. Lopes has been handling COVID-19 funding and budgeting.
The federal government gave Mashpee Public Schools two grants equaling about $500,000, and the money is set to run out on December 30.
"The town of Mashpee also received federal money, and they're allocating a portion for us," Ms. Lopes said, noting that the town has been "more than willing to pick up the cost for us for certain things we've needed to fund."
The Mashpee Department of Public Works was responsible for setting up ventilation and personal protective equipment at the schools.
"The team has been so great," Ms. Lopes said. "Unfortunately, coming into the position the office lost Paul Funk, which was absolutely devastating, but it's so nice to hear all the women talk about him and all the wonderful things he did for the district and did for them personally in their careers."
Mr. Funk died from illness shortly after his retirement from Mashpee on October 5.
"I never got the opportunity to meet him in person, which was so sad," Ms. Lopes said.
The superintendent's office has created a memorial scholarship fund in honor of Mr. Funk.