With Brazilian goalkeeper Alisson on compassionate leave following the death of his father this week, Adrian took over between the posts for Liverpool but it was Blades keeper Aaron Ramsdale who shone in the first half with some excellent saves.
There was little he could do to stop Jones early in the second half, however, as he blasted home Roberto Firmino's backheel three minutes into the second half, and the Brazilian's 64th-minute shot took a heavy deflection off Bryan before flying into the net to make it 2-0.
Liverpool's first league win since beating West Ham United 3-1 on the last day of January leaves them in sixth position in the table on 43 points, one behind their next opponents Chelsea. Sheffield United remain bottom on 11 points.
Leicester's week goes from bad to worse
The Foxes produced another poor performance against Arsenal after Thursday's 2-0 home defeat by Slavia Prague sent them crashing out of Europe's second-tier competition.
Lacazette said two successive wins would boost Arsenal's confidence in their bid to climb higher up the standings.
"We want to go as high as possible in the league and the reaction today after the goal we conceded was really good," the French striker told BT Sport.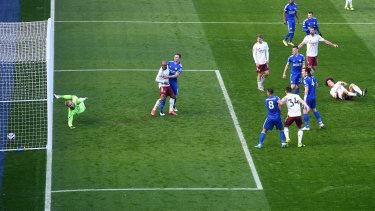 "We know it's really important now, we have March, April and May to finish well. Comeback wins in two successive games will be a massive confidence boost."
Leicester took a sixth-minute lead at King Power stadium as Youri Tielemans robbed two Arsenal players of the ball on the right flank and cut inside the area before he fired a low shot into the far corner.
The Gunners equalised in the 39th when Luiz headed a Willian cross into the bottom right corner and Lacazette turned the tide in first-half stoppage time as he drilled in a penalty after a VAR check showed Wilfred Ndidi had handled the ball in the area.
Poor defending cost Leicester again in the 52nd minute as they allowed the visitors to break through the middle before Willian slipped the ball to Pepe and the Ivorian forward tucked it into an empty net from two metres.
Premier League table
Manchester City (26 games, +36 goal difference) 62 points
Manchester United (26, +21) 50
Leicester City (26, +15) 49
West Ham (26, +9) 45
Chelsea (26, +16) 44
Liverpool (26, +13) 43
Everton (24, +4) 40
Tottenham (25, +14) 39
Aston Villa (24, +12) 39
Arsenal (26, +7) 37
Leeds United (26, -1) 35
Wolves (26, -6) 34
Crystal Palace (26, -14) 33
Southampton (25, -12) 30
Burnley (26, -16) 28
Brighton (26, -7) 26
Newcastle (26, -17) 26
Fulham (26, -11) 23
West Brom (26, -35) 17
Sheffield United (26, -28) 11
Arsenal held on comfortably in the closing stages and missed chances to win by a bigger margin as Kieran Tierney volleyed just wide from 20 metres and Pierre-Emerick Aubameyang came close with a fizzing low shot.
Kelechi Iheanacho summed up Leicester's afternoon in the last minute of stoppage time when he blazed the ball over the bar with the goal at his mercy.
United title challenge falls away
An unexpected but burgeoning title challenge for Manchester United has fallen apart in just a few weeks.
Their 0-0 draw with Chelsea was drab but consequential.
It was the fifth time United have been held in the nine Premier League matches since Ole Gunnar Solskjaer's side went top 47 days earlier.
No wonder Solskjaer downplayed the elevated status, even after the January 12 victory over Burnley gave United a glimmer of hope of ending an eight-year title drought.
With only three wins since then, United have allowed Manchester City to take control. Little wonder when City are showing the attacking strength completely lacking in United's display at Stamford Bridge.
"We were both quite sort of safe," United defender Luke Shaw said. "I don't think we created too many chances. So a bit disappointed with that. We needed to win because obviously the gap's getting bigger."
United remain second in the standings, but City have now been able to extend their lead to 12 points after beating West Ham on Saturday.
It is fourth-place West Ham in Chelsea's sights.
Drawing a blank against United kept Chelsea unbeaten in the two months under Thomas Tuchel but the west London club remained a point behind West Ham in the pursuit of Champions League qualification.
Manchester United want to be achieving more than just top-four finishes but their record against the biggest six teams has been dismal.
Not a single goal has been scored all season by United from open play in the league against City, Arsenal, Tottenham, Liverpool and, of course, Chelsea.
"We are not scoring enough," Solskjaer said. "The next step for this team is to win these games."
Bale runs riot over Burnley
Bale was in full control as he scored twice in Tottenham Hotspur's 4-0 win over Burnley.
The Welshman continued his recent resurgence by marking only his third league start of the season with the opening goal after only two minutes, prodding in from close range.
He then set up Harry Kane for Tottenham's second after 15 minutes before Lucas Moura made it 3-0 before half-time.
Bale then claimed his second of the game with a clinical finish after 55 minutes as Tottenham returned to form in the league having lost five of their previous six games.
Loading
Bale's lack of Premier League game time has been something of an anti-climax after the club's former talisman returned in October on loan from Real Madrid having left in 2013.
He has now scored four times in his last four appearances in all competitions and although he did not register in the loss by West Ham United last week, he was eye-catching as a second-half substitute.
Looking fit and sharp, Bale linked up superbly with Kane and Son Heung-min as manager Jose Mourinho unleashed the trio together, albeit against a Burnley side there for the taking.
"It's not just about scoring. It's about our all-round play and helping the team. I'm delighted with the goals and the assist and whatever I can do for the team," Bale said.
"I've been happy all season. In the dressing room I feel comfortable and I'm having fun. I'm happy and I'm sure it's showing on the pitch."
Reuters, AP