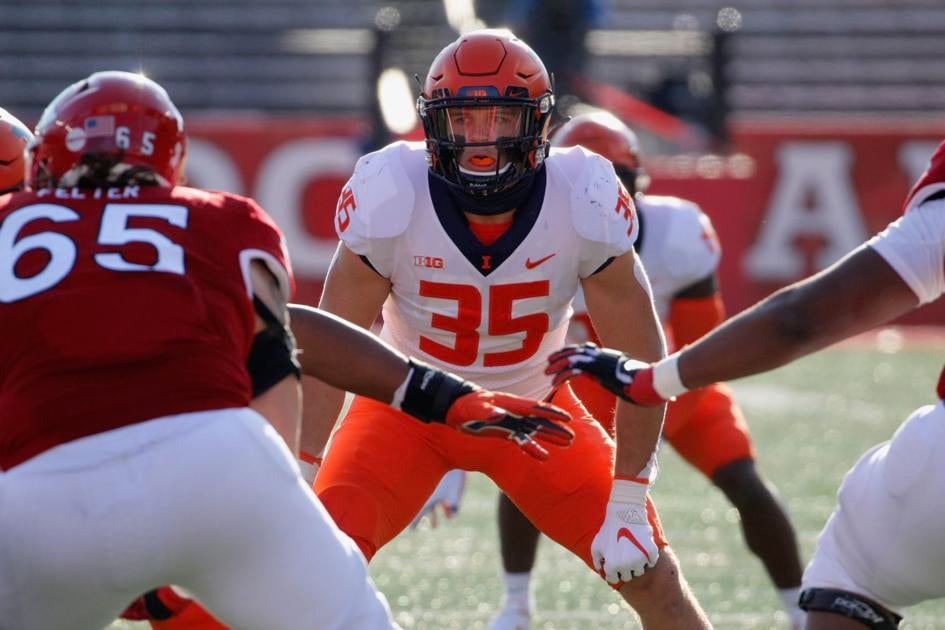 CHAMPAIGN — Bret Bielema tweeted late Monday morning about «unexpected good news coming,» capping the post with Illinois football's new «#famILLy» hashtag.
Mere minutes later, that good news revealed itself.
Linebacker Jake Hansen is returning to the Illini for a sixth season of college football, he announced Monday through the Illinois football Twitter account. Hansen in December 2020 declared for the NFL draft.
«The 2020 football season wasn't exactly how I imagined my time at Illinois to end,» Hansen said in a video clip. «After extensive talks with Coach Bielema and the University of Illinois staff, I've decided that I have unfinished business in the orange and blue. I'm excited to get back up to Champaign and get to work with my teammates and my new coaches. Go Illini.»
Hansen is the second Illini upperclassman to reverse course after announcing a departure from the program this offseason. Defensive lineman Owen Carney Jr. announced in December that he was entering the transfer portal before determining in January that he would come back to Illinois.
Those two and other returning Illinois seniors have been afforded an extra year of eligibility by the NCAA in response to the COVID-19 pandemic.
«I am excited for Jake to come back to the Fighting Illini family,» Bielema said in a statement. «During my conversations with Jake, it was easy to see how passionate he is about the game of football, his teammates and the University of Illinois. We've got an outstanding group of seniors that have chosen to come back to Illinois, and I am appreciative of (athletic director) Josh Whitman and our staff's efforts to make sure these young men have the opportunity to wear the orange and blue again in 2021.»
The 6-foot-1, 230-pound Hansen received All-Big Ten second-team and third-team status — from conference media and coaches, respectively — for his 2020 efforts. Those included team bests in tackles (68), tackles for loss (10), interceptions (two) and forced fumbles (two) to go with 2 1/2 sacks and two fumble recoveries.
Hansen has played in 41 games as an Illini, including 30 starts at linebacker between 2016 and 2020. He shares third place in program history with 10 forced fumbles and generated the most takeaways of any player nationally over the last two years with 14.
Hansen rejoins a linebacker room that will miss Milo Eifler (NFL draft) but returns key athletes in Tarique Barnes, Khalan Tolson and Shammond Cooper. North Carolina State transfer Calvin Hart Jr. also is joining the Illini's 2021 linebacker ranks.