That's it from me, Robyn Vinter. Here's a summary of what's been happening over the last 24 hours:
France will double the number of vaccine doses it will send to poorer countries to 120 million, president Emmanuel Macron pledged on Saturday, in a video broadcast during the Global Citizen concert in Paris.
Ireland has stopped its system of mandatory hotel quarantine for travellers arriving in the country, as coronavirus curbs continue to wind down in the Republic.
The Netherlands ended social distancing measures on Saturday, replacing the restriction with a requirement to show a Covid-19 health pass to enter hospitality and entertainment venues.
The introduction of Covid passes in the Netherlands sparked protests, with demonstrators marching against the requirement to show proof of vaccination to enter bars, theatres and other venues. Meanwhile, a cabinet minister who had publicly questioned the use of Covid health passes hours after they were introduced was sacked.
The Malaysian government expects to end its ban on interstate travel within three weeks, once 90% of the country is vaccinated. About 80% of Malaysian adults are fully vaccinated.
Israel has recorded a slight drop in the number of people seriously ill with coronavirus, with unvaccinated people making up 70% of the cases, the health ministry said on Friday.
Salvadoran health workers, vulnerable and elderly people will be offered a booster shot, President Nayib Bukele has said. The central American nation of roughly 6.4 million people has obtained 12m vaccines since February.
Northern Ireland will relax rules on Covid-19 testing for international travel from October in line with the rest of the UK. From 4 October, fully vaccinated travellers will no longer have to take a pre-departure test when arriving from non-red list countries from 4 October.
Covid cases in South Korea topped 3,000 for the first time following a three-day holiday this week. A further 3,273 infections were added to the country's tally as the outbreak continued to grow.
Mexico's health ministry on Saturday reported 9,697 new confirmed cases of Covid-19 in the country and 596 additional deaths, bringing the total number of official infections since the pandemic began to 3,628,812 and the death toll to 275,299.
Health ministry officials have previously said the real coronavirus numbers are likely significantly higher.
The Duke and Duchess of Sussex have spoken about vaccine equity with a United Nations official before they join a concert in New York set up to promote the topic.
The deputy secretary-general of the UN, Amina Mohammed, said she has been speaking to Harry and Meghan about the issue as well as other topics they "care about deeply" including climate action and mental health.
This comes ahead of their attendance at Global Citizen Live, which is being staged in New York's Central Park and around the world and calls on leaders to adopt a vaccine equity policy.
The couple were pictured in front of the UN logo alongside Mohammed on Saturday, with Meghan wearing a beige blouse and trousers with an auburn jacket, and Harry wearing a black suit and blue tie.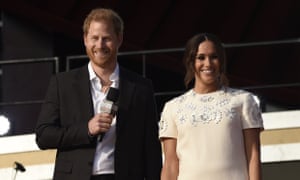 France will double the number of vaccine doses it will send to poorer countries to 120 million, president Emmanuel Macron pledged on Saturday, in a video broadcast during the Global Citizen concert in Paris.
"The injustice is that in other continents, obviously, vaccination is very late," he said. "We have to go faster, stronger.
"France pledges to double the number of doses it is giving," he added. "We will pass from 60 million to 120 million doses offered."
On Wednesday, the US announced that it would be doubling its donation of vaccine doses, bringing its total contribution to 1.1 billion.
President Joe Biden described the pandemic as an "all-hands-on-deck crisis", adding "we need other high income countries to deliver on their own ambitions".
The European Union has committed to distributing 500 million doses.
And China's President Xi Jingping, in a video message broadcast to the UN on Tuesday, pledged a total of two billion doses by the end of the year, repeating a figure already given by the Chinese authorities.
Tedros Adhanom Ghebreyesus, head of the World Health Organization, has repeatedly denounced the injustice of the massive imbalance in the distribution of vaccine doses in rich and poor countries.
"I will not stay silent when the companies and countries that control the global supply of vaccines think the world's poor should be satisfied with leftovers," he said earlier this month.
New York City schools have been temporarily blocked from enforcing a vaccine mandate for its teachers and other workers by a federal appeals judge just days before it was to take effect.
The worker mandate for the US's largest school system was set to go into effect Monday. But late Friday, a judge for the 2nd US Circuit Court of Appeals granted a temporary injunction and referred the case to a three-judge panel an an expedited basis.
Department of Education spokesperson Danielle Filson said officials were seeking a speedy resolution by the circuit court next week.
"We're confident our vaccine mandate will continue to be upheld once all the facts have been presented, because that is the level of protection our students and staff deserve," Filson said in an email.
Mayor Bill de Blasio announced in August that about 148,000 school employees would have to get at least a first dose of the Covid-19 vaccination by 27 September.
France has reported 29 new Covid-19 deaths, with 1,571 Covid patients in hospital today, compared with 1,586 yesterday.
UK government data up to yesterday shows that of the 93,392,830 Covid jabs given in the UK, 48,699,874 were first doses, a rise of 26,964 on the previous day.
Some 44,692,956 were second doses, an increase of 43,801.
The data reported on Friday has been revised for Wales and the UK as the initial data for first doses in Wales on September 23 included booster doses which should have been recorded separately.
Ireland has today stopped its system of mandatory hotel quarantine for travellers arriving in the country, as coronavirus curbs continue to wind down in the Republic.
Since late March travellers arriving from a government list of "designated states" have been subject to a mandatory two week hotel quarantine, AFP reports.
On Saturday the Irish government said health minister Stephen Donnelly "announced the removal of all remaining states from the list of states designated for the purposes of mandatory hotel quarantine with effect from today".
In a statement the health ministry said the decision was "based on the latest advice received from the chief medical officer".
As well as arrivals from "designated states" with high Covid-19 rates, travellers who failed to comply with entry requirements such as negative PCR tests have also been subject to hotel quarantine since March.
The health ministry said over the past six months nearly 10,300 people have passed through mandatory hotel quarantine.
Nearly 600 of those tested positive during their stay, the ministry said.
Donnelly said at its height the system encompassed travellers arriving from some 60 "designated states", peaking with more than 1,000 being held in quarantine in early May.
Coronavirus has claimed 5,209 lives in the Republic of Ireland according to latest official figures.
But most pandemic curbs have now been lifted in the nation of five million.
On Monday Dublin dropped longstanding advice that employees should work from home.
The reopening of society has been facilitated by a very high rate of vaccine uptake, with more than 90 per cent of adults now fully vaccinated.
Italy reported 50 coronavirus-related deaths today, compared with 52 the day before, the health ministry said, and the daily tally of new infections fell to 3,525 from 3,797.
Italy has registered 130,653 deaths linked to Covid-19 since its outbreak emerged in February last year, the second-highest toll in Europe after Britain and the ninth-highest in the world. The country has reported 4.66m cases to date.
Patients in hospital with Covid-19 – not including those in intensive care – stood at 3,497 on Saturday, down from 3,553 a day earlier.
There were 26 new admissions to intensive care units, down from 35 on Friday. The total number of intensive care patients fell to 481 from 489 previously.
Some 357,491 tests for Covid-19 were carried out in the past day, compared with the previous daily tally of 277,508, the health ministry said.
From Billie Eilish in New York to BTS in Seoul and Elton John in Paris, one of the biggest-ever international charity events will kick off today with concerts around the world to raise awareness about climate change, vaccine equality and famine.
Global Citizen Live, a series of concerts from more than 60 artists in London, Lagos, Rio, Sydney, Mumbai and beyond, will be broadcast globally from 5pm (GMT) for a full 24 hours.
Eilish, Coldplay and Jennifer Lopez will perform in New York's Central Park, where Britain's Prince Harry and Meghan, Duchess of Sussex, will also be on stage.
Stevie Wonder will play in Los Angeles, while Ed Sheeran will headline in Paris alongside Elton John, Black Eyed Peas and Stormzy.
Tens of thousands of spectators are due to attend the biggest concerts, on condition of vaccination proof or negative Covid tests.
There will also be pre-recorded performances from a huge number of stars, including BTS in South Korea, Green Day in Los Angeles, DJ superstar Alok in Rio, Kylie Minogue in London and Andrea Bocelli in Tuscany.
This week's comeback gig by The Fugees in New York – their first in 15 years – will also be broadcast as part of the event.
"Across six continents, artists will help rally citizens in demanding that governments, major corporations and philanthropists work together to defend the planet and defeat poverty," the NGO Global Citizen said in a statement.
It said it was focusing "on the most urgent, interrelated threats hitting those in poverty the hardest – climate change, vaccine equity, and famine".
Global Citizen said it wants 1bn trees planted, 1bn vaccines delivered to the poorest countries and meals for 41 million people on the brink of famine.
The organisation has been behind other high-profile charity events, including Vax Live: The Concert To Reunite The World earlier this year in Los Angeles.
That brought together musicians, actors, celebrities, world leaders and even the pope, in a united call for global vaccinations to fight Covid-19.