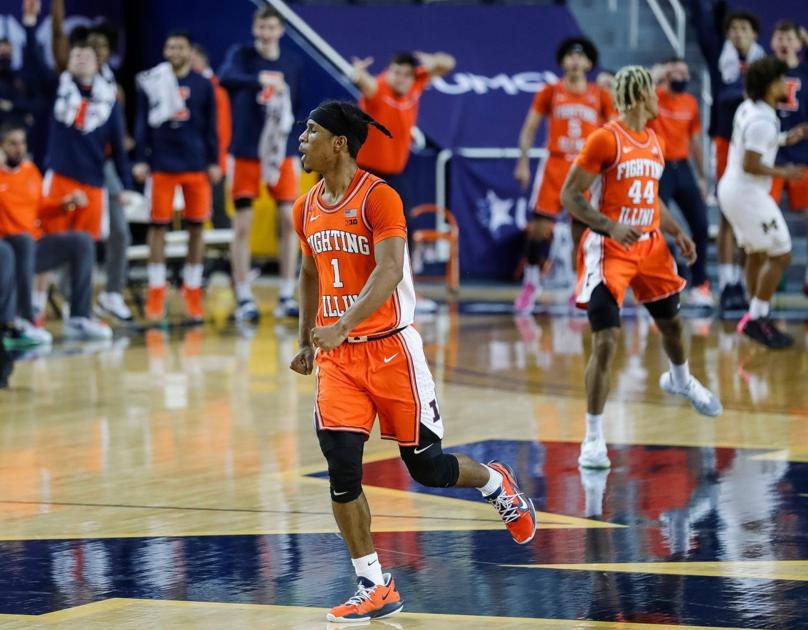 Beat writer Scott Richey's take on Illinois' historic road win against the Wolverines:
Instant reaction
What happened
Turns out Illinois is just fine without Ayo Dosunmu. Who would have thought? The Illini ratcheted up the defensive intensity to great effect Tuesday night at Michigan, putting the squeeze on a rather prolific Wolverines' offense. The result? Another road win. A big one in a matchup between top four teams in Ann Arbor, Mich.

What it means
Michigan has been recently discussed as national championship contender in the same breath as Gonzaga and Baylor. Illinois just forced its way that conversation. Aggressively. The Wolverines might still win the Big Ten championship, but the Illini can be comforted in the knowledge their national title aspirations are legitimate.
What's next
A couple days to get at least a little rest before preparations start in earnest for Saturday's regular season finale at Ohio State. A novel concept in this, as Brad Underwood would say, fast and furious finish to the Illini's Big Ten slate. Illinois has plenty to play for, too, after the Buckeyes won in Champaign back in January.
What was said
"I got hot. Coach always says when I get hot I'm a problem. I just went out there with the ultimate confidence being myself and just making the right play, the right read and doing whatever it took tonight to help my team get the 'W.'" — Illinois senior guard Trent Frazier, who scored a game-high 22 points.
---
Grades
Player of the game
Illinois guard Trent Frazier
That was "No Hesitation Trent" on Tuesday night at the Crisler Center. The Illini senior was as aggressive offensively as he's been all season. Maybe in a couple seasons. Frazier attacked the basket repeatedly — matching his career high with five made two-pointers — and knocked down a pair of three-pointers for good measure in his 22-point game to lead all scorers.
Backcourt
Illinois: A

Michigan: D-
The second half belonged to Trent Frazier. The first half was Andre Curbelo's. The Illini freshman, to little surprise, provided a spark off the bench early in the game when his team really needed it. A couple Adam Miller threes and a handful of Da'Monte Williams rebounds, and it was a solid all-around performance from the Illinois guards.
Frontcourt
Illinois: A

Michigan: C-
Neither Illinois' Kofi Cockburn nor Michigan's Hunter Dickinson did much well early. The best two centers in the Big Ten took a little time to get accustomed to someone just as physical in the paint. Cockburn solved it first, finishing with 12 points and seven rebounds. Dickinson found himself getting out-produced by veteran backup Austin Davis (nine points).
Bench
Illinois: A

Michigan: C-
Curbelo slowed down a bit in the second half because of foul trouble, pushing him out of double-double territory. Didn't lessen his impact. The Illini also got good minutes from backup bigs Giorgi Bezhanishvili and Coleman Hawkins. Save for four points from Brandon Johns Jr., the Wolverines didn't get much else beyond what Davis provided in the paint.
Overall
Illinois: A+

Michigan: D
Some key stats to look at after this Illini win. Like the fact they crushed the Wolverines on the boards and turned 12 offensive rebounds into 22 second chance points (compared to just five for Michigan). Illinois did what it had to — again — without its best player. Hustle plays. Tough defense. Tuesday night's combo meant the Illini thumped the Wolverines.
Scott Richey is a reporter covering college basketball at The News-Gazette. His email is srichey@news-gazette.com, and you can follow him on Twitter (@srrichey).