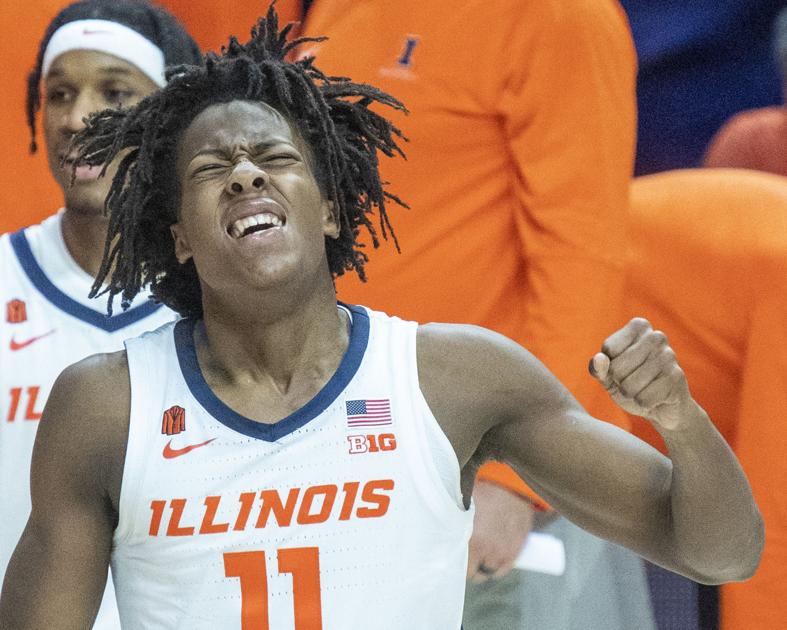 CHAMPAIGN — Andre Curbelo returned to Lou Henson Court at 9:29 p.m. Sunday. Jersey discarded, a ball in his hands.
Illinois was just 17 minutes removed from its 66-63 loss to Maryland. Another top 25 road upset for the Terrapins to pair with their late December win at Wisconsin.
Curbelo immediately started putting up a variety of floaters and mid-range jumpers at the north basket at State Farm Center. Then he switched ends and launched a series of fade-aways from the middle of the lane.
It was the same shot Curbelo missed with 19 seconds to play Sunday and Illinois trailing Maryland by three points. The freshman guard made one after another with the pressure off then spent a few minutes simply sitting under the basket.
All told, Curbelo's postgame shooting session didn't last that long before he reversed course and left Lou Henson Court down the same tunnel he had re-emerged just 10 minutes prior. While Curbelo was not made available after Sunday's game — Ayo Dosunmu was the only player brought to the postgame Zoom press conference — his action perhaps spoke of a player who felt like he had left something on the court.
The message to Curbelo from Dosunmu and Illinois coach Brad Underwood was nearly identical.
"Next shot," Dosunmu said. "That's what I told him. Next shot mentality. I trust in him a lot. I believe in him a lot. Some days the ball just doesn't go in. You just have to be aggressive and fall back on the work you put in."
"Next game," Underwood added. "The ball doesn't always go in. It's next game. He's going to see those type of coverages the rest of the way. He has to keep working on his shooting. He's got to get in the gym and shoot. He's got to learn to make floaters over size.
"(Sunday) was a tough day for him. Those are shots he normally amens and will make. (Sunday) just wasn't one of them."
Curbelo's shooting struggles weren't an aberration compared to his teammates. Illinois shot 41 percent from the field as a team — its worst through 13 games. A two-minute stretch here and a three-minute stretch there without a made field goal popped up too far too frequently against the Terrapins.
Underwood took the blame. Most of it, at least, on what he called a "tough night."
"This was allowing two consecutive days of not being very sharp in practice," the Illinois coach continued. "That's ultimately on me. It's a frustrating game."
Consistency has not been Illinois' calling card this season. Thursday's game at Northwestern was perhaps the perfect example with a rough first half blooming into easily the best half of basketball the Illini have played all season in turning a 15-point deficit into a 25-point victory.
The inconsistencies weren't so stark Sunday night. It wasn't one bad half and one good. But the inconsistencies were still present from a slew of missed layups to inopportune first-half turnovers with a chance to pull away to scouting report mistakes.
"Those are mistakes we haven't been making," Underwood said. "We missed so many bunnies and putbacks, but we did that (Saturday) and the day before. (The Terrapins) were physical. They were tough. They smacked us. They hit us."
Not allowing Sunday's loss to Maryland to grow into something more was Dosunmu's postgame message to the entire team. One loss can't become two. Not in a Big Ten that could see its championship decided by a single game in the standings.
"The Big Ten's loaded," Dosunmu said. "Every game is a dogfight. No days off, no games off. You have to come in and compete and play as hard as you can each and every game and each and every day.
"It was evident (Sunday). Maryland, 1-5 in conference and comes out here and plays hard and gets a win. I emphasized to the team how we can't turn one into two. We lost. We have to learn from it, watch a ton of film and then get ready for Nebraska. That's how the Big Ten is. We'll be fine. We just have to lock in a little bit more."