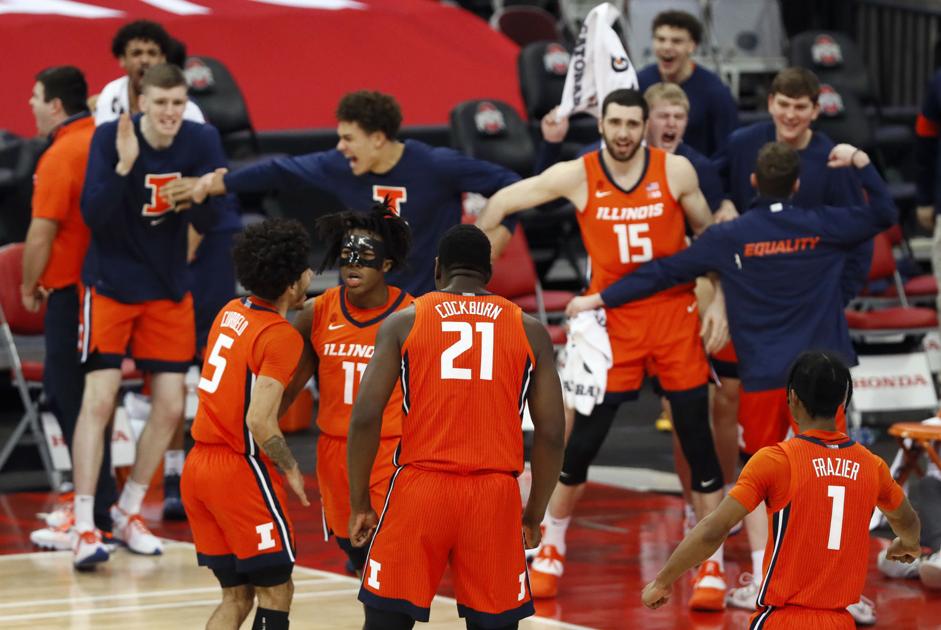 COLUMBUS, Ohio — It was a makeshift sign.
Sharpie on a legal pad. The message, though, was crystal clear.
"B1G Champs."
Trent Frazier held that sign above his head after the final buzzer sounded early Saturday evening at Value City Arena in Columbus, Ohio.
Illinois' 73-68 victory against Ohio State — a third straight win for the Illini against an Associated Press Top 25 team — meant something to them. Michigan cut down the nets after beating Michigan State on Thursday night in Ann Arbor, Mich., after being denied two days earlier by Illinois. The Wolverines were crowned Big Ten champions.
But what No. 4 Illinois (20-6, 16-4 Big Ten) did Tuesday at the Crisler Center in beating No. 2 Michigan by 23 points on its home court, followed up by Saturday's win against the No. 7 Buckeyes (18-8, 12-8), had the Illini — all the Illini — thinking about the Big Ten title race a little differently. Needless to say, Illinois will feel it has something to prove — and win — at the Big Ten tournament.
"I know we've won 16 games, and we've played all 20 of them," Illinois coach Brad Underwood said.
"We all knew that this would be a unique situation with an unbalanced scheduled in terms of not playing all the games, but I know this. Nobody's won more games than us, and we played them all."
Illinois' 16th Big Ten win Saturday at Ohio State was, in fact, a program record. An expanded Big Ten and a move to a 20-game conference schedule, of course, creating the possibility to top the 2004-05 team's 15 Big Ten victories.
Illinois got to 16 league victories by winning 11 of its final 12 games. Michigan might raise a banner next season, but the Illini know what they accomplished.
"Look at our résumé," Illinois junior guard Ayo Dosunmu said. "We lost four games. We beat Michigan, who are the champs, but they didn't play three games. Any day in the Big Ten anybody can be beat. I think we proved that we're one of the best teams in the country, and with this win (Saturday) we definitely believe we're Big Ten champions."
Big Ten title "controversy" aside, Saturday's win against Ohio State did likely lock up a No. 1 seed in the NCAA tournament for Illinois.
That accomplishment didn't escape the Illini. Not when it's been eight years since the program's last NCAA tournament berth and not when most of this group has also experienced one of the deepest lows in program history, losing 21 games just two seasons ago.
"We've been through some stuff my whole four years here," Illini senior guard Da'Monte Williams said. "Just seeing all that hard work pay off, man … but we're not finished."
Williams played a significant role in Saturday's win. His three-pointer with 1 minute, 31 seconds to play tied the game at 68, and his defense on E.J. Liddell in the final minutes shut down the Ohio State scoring leader completely.
"We made the switch to put him on E.J. down four, and he made me look like a really good coach and then steps and hits a three," Underwood said. "What a week. What a tough, tough, tough, tough, tough group of guys we have in that locker room. You scratch your head a little bit and go, 'How did we just win that?'"
The answer, as it often has this season, led back to Dosunmu.
Dosunmu returned Saturday after missing three games with a broken nose and concussion — masked up to protect against further injury for the former. The 6-foot-5, 200-pound guard felt his way through part of the first half, but he again showed why he's considered the best closer in college basketball in the final two minutes.
A dribble drive and finish that turned into a three-point play with 44 seconds on the clock was the latest in a long line of daggers Dosunmu has driven into opposing teams. He finished with 19 points, tied with Andre Curbelo for team-high honors.
"It was like 2 minutes left and I wanted to tell myself, 'Let's focus in and let's bring us home,'" Dosunmu said. "I try to always seize the moment."
Consider the moment seized. And Illinois still on a path to one of its primary goals — even if Michigan is the official regular-season Big Ten champion.
"I feel like we have a chance to win a national championship," Dosunmu said. "That's our goal. It's right in front of us. It's easy to say before the season, but actually being in these battles, we feel like we have a chance to win a national championship."