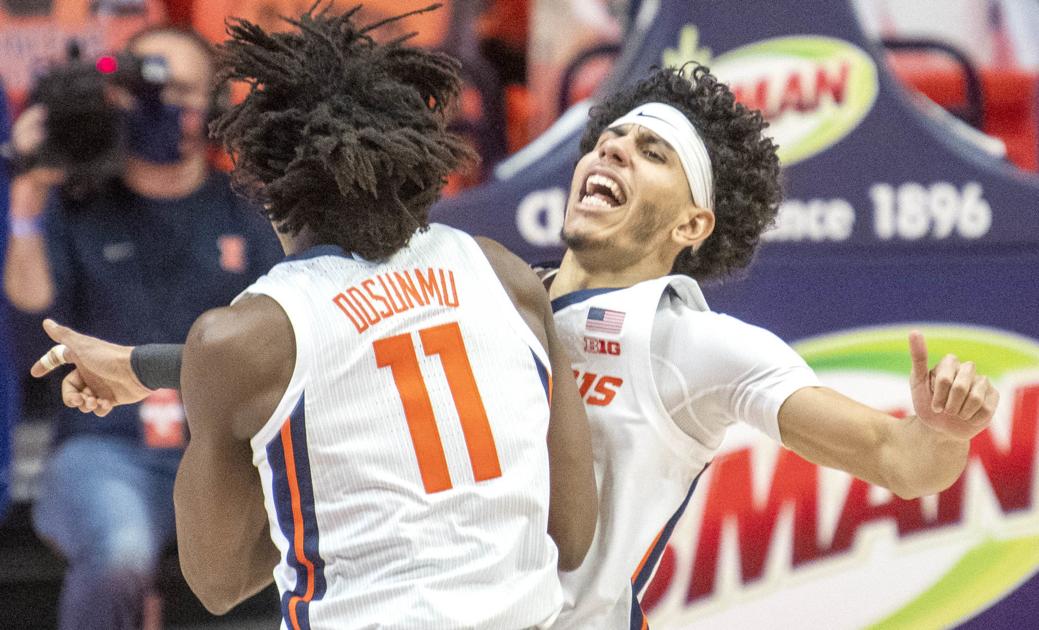 CHAMPAIGN — Penn State's 19-4 run to start the first half of last month's game? Not a problem.
Neither was the 19-0 run Purdue strung together between the end of the first half and into the second to begin the new year.
And Northwestern's 12-1 run in the final five minutes of the first half of last week's game in Evanston? Not a problem when the answer is a 53-point second-half effort.
The Illinois men's basketball team has shown an ability not to be bothered by double-digit runs by its opponents in Big Ten play.
While not always capable of a firm response — losses to Baylor, Missouri and Rutgers stand out in that regard — more often than not, the No. 14 Illini have shown a confidence in their ability to flip games back in their favor.
Brad Underwood would like to see his team not have to tap into its "get back in this game" gear. The Illinois coach still wants his team to strive for a bit more (or sometimes a lot more) consistency.
But the comeback is a tool in the Illini's belt.
"I think it's a toughness," Underwood said. "It's experience. It's never say die, for an old cliché attitude. It's also one of those things that once you've been in those situations a little bit, you know what you're capable of. You know you can come back if you do things right. I think there's a great amount of confidence our guys have in their ability to do that."
Jacob Grandison called Illinois' ability to withstand a double-digit run and then oftentimes fire off one of its own a skill. The Illini redshirt junior wing also said it's not a skill every team possesses. Sometimes an errant half — like he called the first half against Northwestern — can spiral wildly out of control.
"I think we showed we have the ability to stay in a game or come back into a game even if it doesn't look like that," Grandison said. "I think it's just the tenacity that Coach Underwood kind of instills in us in practice. Playing through his teachings and his methods of just being tough and nasty."
Grandison said the Illini regrouped at halftime in Evanston. They were "too casual and asleep" in the first 20 minutes. It was uncharacteristic of the team in his opinion.
"We just know our capabilities," Grandison said. "Before we run onto the court before the game we're like, 'Look around. We've got some dogs. This is us.' We just had to come together in a way and just shake off the first half. Everyone has bad games, bad halves, bad plays. It happens, but luckily we're able to respond."
Runs happen in a basketball game. Stopping double-digit runs from happening repeatedly, though, is something Underwood said the Illinois coaching staff is trying to figure out. They're looking at play calling. At certain lineups.
"You don't want those to happen at the wrong time," Underwood said. "I like it the other way when we can get going. We have tremendous, I'll use the word, spurtability. We have the ability to go on runs the other way."
Underwood's primary focus no matter which way the run is happening centers around effort. Blowing the doors off Northwestern in the second half didn't just happen because Illinois shot 59.4 percent from the field and 57.1 percent from three-point range in the final 20 minutes.
"It was because of the energy and the effort and the choices that we made from an effort standpoint to be great," Underwood said. "We've got to continue to try repeat those as often as we can. … I'll give you a great example — offensive rebounding. Offensive rebounding, for us, should never be a choice.
"It should be a habit. We got to the offensive glass 27 percent of the time against Rutgers. That will tell you where our effort was at that day, and there's no doubt we lost. We got to the offensive glass 77 percent of the time (against Northwestern) — we have somebody who charts every time guys go to the offensive glass — and those are effort things."
Some of those effort plays were lacking in Sunday's 66-63 loss to Maryland.
A defeat that broke Illinois' four-game Big Ten winning streak.
Confidence in what the Illini (9-4, 5-2 Big Ten) can still achieve this season — restarting with an 11 a.m. tip Saturday against No. 21 Ohio State (10-3, 4-3) at State Farm Center — hasn't waned.
"I love my team," Illinois junior guard Ayo Dosunmu said. "I love where we're at. I definitely think we can play better — we will play better — but it's just a bump in the road in the journey. We're going to have to focus up, finish the month strong and we'll be right there."