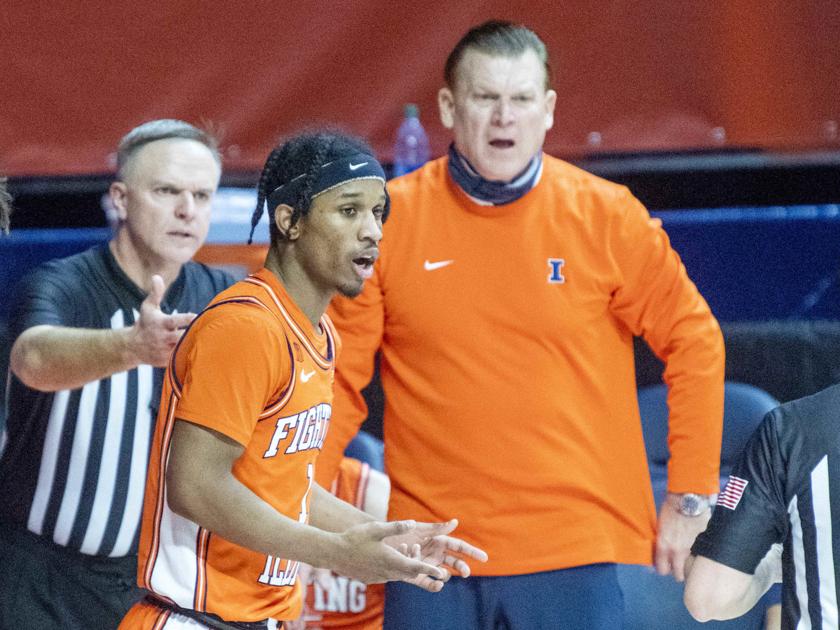 CHAMPAIGN — Brad Underwood spent a moment in the closing seconds of Tuesday night's game against Penn State dapping up his starters he'd brought to the bench. The win was in hand. The Illini reserves could finish it off.
A celebration, even a low key one, was in order. A simple dap from coach to player with a brief word of praise and encouragement. It was just one win — albeit an important one considering the context.
Consecutive home losses to Maryland and Ohio State, particularly the latter, had created questions in Underwood's mind about his team. About it's toughness. About how prepared the Illini were at the beginning of games.
Those questions were mostly answered — for one night at least — in a 79-65 victory at State Farm Center. Illinois flipped the script, using a strong start to take an early lead. A lead the Illini relinquished only for a brief tie in the first half. They never trailed.
"I liked our energy," Underwood said. "I liked our sustainability. The only negative thing — and I told our team this — was we made some scouting report mistakes in the first half."
Underwood made a minor adjustment to his starting lineup Tuesday night with Jacob Grandison replacing Da'Monte Williams. Grandison has epitomized the idea of an energy/hustle plays guy this season, including a late December win at Penn State.
Grandison brought the same Tuesday night from the jump. Offensive rebounds. Assists. Eventually some points.
"I think Jake plays for us," said Illinois sophomore center Kofi Cockburn, who led the Illini with 21 points 12 rebounds and four blocks. "He offensive rebounds well. He always bings that motor. He never gives up on a play. That's what we need from him. He's dedicated to the team and our goal. He's just dedicated to doing whatever it takes to win."
Trent Frazier spent a good portion of his Monday media availability discussing how Illinois hadn't put together a full 40-minute effort on a consistent enough basis. The Illini were showing out as a good 20-minute team. Won a few games that way. Lost two, though. It wasn't sustainable.
Frazier got what he wanted — what Underwood wanted — Tuesday against Penn State.
"When we play for 40 minutes, I truly believe nobody can beat us," said Frazier, who had 13 points. "We showed that (Tuesday), that outcome We've got to go into practice and gameday with that mindset. Just play hard, share the ball and play for each other. Just play with an all-out effort. I truly believe nobody can beat us when we play for 40 minutes."