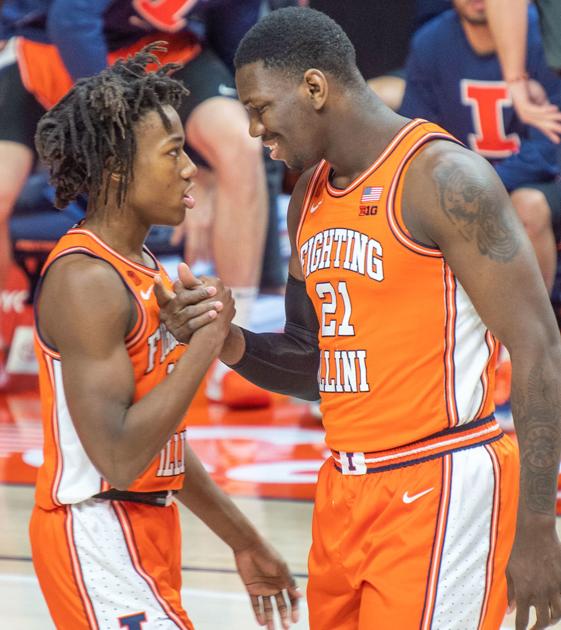 CHAMPAIGN — A box score can be revealing.
Statistics never tell the full story of a game, but much can still be gleaned from the collection of numbers.
Offensive rebounding can denote effort.
Turnovers are a measure of consistency.
But there's one statistic Illinois tracks that doesn't wind up on the box score after the game. While there's a sense of it during the game, the total isn't available until the coaching staff has a chance to review the film.
Scouting-report mistakes are just as important a metric for the Illini as any other. The goal is always fewer. That's especially true entering the final full month of the regular season, with No. 12 Illinois (11-5, 7-3 Big Ten) starting its February run with an 8 p.m. Tuesday game at Indiana (9-7, 4-5).
Scouting-report mistakes can take on many forms.
Go over a screen instead of under (or vice versa) and get scored on? Mistake.
Leave a shooter wide open in the corner? Mistake.
"You can kind of feel it when everyone's locked in," Illinois redshirt junior wing Jacob Grandison said Monday. "Once you're getting multiple stops in a row, the score isn't getting away from you. There's definitely key signs that show within the game.
"We're not talking about it within the game like, 'Don't make that scouting-report error,' but you can feel it. … Our principles are so based off defense. That's a pretty good way to gauge it."
Fewer scouting-report mistakes and playing more error-free is the goal as Illinois tries to time its level of peak performance with the stretch run of the season.
Consecutive wins against Penn State and No. 8 Iowa have the Illini alone in second place in the Big Ten standings behind Michigan.
The two losses that preceded getting back on track against the Nittany Lions and Hawkeyes are evidence, though, on how quickly the tide can change. No team is all that comfortable in its place in the Big Ten this season.
Illinois' peak hasn't hit just yet.
"You always feel like there's your best basketball in front of you," Illinois coach Brad Underwood said. "We're no different. … We know there's going to be games coming fast and furious, and we want to be playing our best. Every day we get of preparation and practice is important because we know we're not going to have a lot of them coming ahead."
Underwood considers this year's team ahead of where last year's team stood at the beginning of February. That version of the Illini entered February on a seven-game winning streak. Four straight losses followed before five wins in the final six games had Illinois at its peak. A wasted peak with the Big Ten and NCAA tournaments canceled as the COVID-19 pandemic took root in the U.S.
"We'll see how it all plays out," Underwood said. "Everything's a little bit different. I like where we're at. I like where we're at from a mental capacity. I feel like our role identification is becoming very clear. I like the way we're making fewer mistakes. All those things are a positive trend right now, and I like that."
Underwood isn't the only one seeing similarities between last year's late-season run and where the Illini currently stand. Grandison and his teammates understand the importance of peaking at the right time, and the Oakland, Calif., native has a sense of that coming down the pike.
"At any point, we don't want to fizzle," Grandison said. "Right now, I think we're in a good spot to kind of hit our peak in early, middle February and kind of start our run. We had that last year where we kind of felt we were coming into our own. I think we're in the middle of that, becoming our own, and I like where we're at."
The Illinois players are in lockstep with their goals.
The discussion is a Big Ten championship and a national championship. Those are realistic discussions, too.
"Guys understand," Underwood said. "Guys are more confident now because they understand. It's what late-season basketball is about."