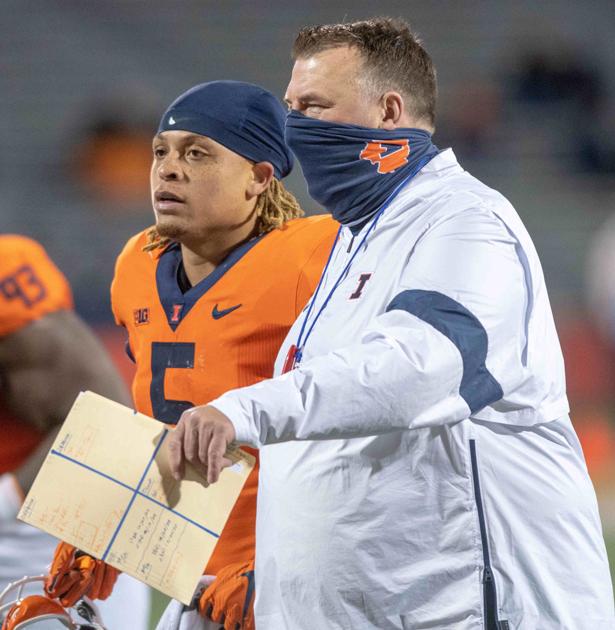 CHAMPAIGN — Calvin Hart Jr.'s focus in finding a new college home had nothing to do with what color uniform he'd look best in.
"I was looking for a place where I could be myself and be comfortable," the Illinois sophomore linebacker said. On Jan. 5, Hart verbally announced his intention to transfer from North Carolina State to Illinois after three years with the Wolfpack.
"All I wanted was an opportunity," Hart continued, "and I'm getting an opportunity here to showcase my abilities."
This mindset doesn't mean the Fort Lauderdale, Fla., native isn't willing to offer an assessment of how the Illini's threads suit him.
"Being in different colors for so long, now I'm wearing orange and navy blue," Hart said, "and, honestly, I like how it looks on me."
Hart got to see that throughout spring practices and had it highlighted on live television during this past Monday night's Orange and Blue Spring Game inside Memorial Stadium.
Hart picked up an unsportsmanlike conduct penalty early in the intrasquad scrimmage. But after a brief sideline conversation with coach Bret Bielema, the 6-foot-1, 230-pound Hart went on to record two tackles.
"It was amazing being able to experience a snippet of Illini Nation," Hart said. "It was kind of surreal."
But back to the uniform discussion.
Plenty of players comment on colors and designs. Hart's opinion on the matter, however, may be a bit more refined than most.
That's because the 21-year-old spends some of his time away from football designing clothing for a friend's brand. Using the app Procreate on his iPad, Hart creates designs for the brand before its products are manufactured in Florida.
"I was kind of doing it under the radar. … (My friend) kind of just gave me a little chip, just kind of saying, 'You can do this, it's something you're good at,'" Hart said. "I never thought about actually taking it serious until this past year, where we were kind of in quarantine and I had a bunch of ideas in my head."
Being involved with a non-football business, Hart is considering what the ongoing NCAA battle over name, image and likeness legislation could do for his future beyond athletics.
He said Patrick Pierson, Illinois' director of football branding and creative media, has helped him realize some of the benefits of NIL.
"I believe that it would just open more doors, honestly, being able to promote," Hart said. "You can really make a lot of money from the people that you meet and how many followers you have and how many people you're able to reach."
Hart is plenty focused on football, too. He was especially excited to hear that the NCAA's Division I Council approved a one-time transfer rule for all athletes on April 15, ensuring Hart won't have to sit out during the Illini's 2021 season.
"It was like a breath of fresh air," said Hart, who compiled 53 tackles, three sacks, 81/2 tackles for loss, two forced fumbles and a fumble recovery in 24 games at North Carolina State. "I was ecstatic when I heard it."
The 6-foot-1, 230-pound Hart now is part of a linebackers room that was nowhere near full strength for Monday's spring game.
The unquestioned leader in the Illini linebackers room, Jake Hansen, didn't participate in spring ball after the sixth-year senior made a late decision to withdraw from the NFL draft and return for a final season at Illinois.
Other key contributors in the past, like Tarique Barnes, Khalan Tolson and Shammond Cooper, didn't play after undergoing offseason surgery for their respective injuries.
"Even though a lot of guys are hurt, I've been able to still socialize with them, get to know them," Hart said. "A lot of great players in the room, great personalities, great people outside of the field."
Hart said he's actually familiar with many of the concepts currently taught to the Illini linebackers by the combination of defensive coordinator Ryan Walters, linebackers coach Andy Buh and outside linebackers coach Kevin Kane.
"My freshman year I had a defensive coordinator, David Huxtable, and we kind of ran a similar scheme to the scheme that we're running (here)," Hart said. "Everything is different, but there's certain concepts that you can pick up on — certain words that mean the same thing, but just different techniques to go about it."
Now that Hart's had meaningful time to settle into his new college home, he has a better grasp of what he offers to the returning Illinois linebackers.
"I just bring more of a family vibe, leadership," Hart said. "Try to show guys that's kind of younger, and even guys that's older that's coming back, just how I do things, and they've been able to help me and I help them. It's kind of been a give-and-take situation."
Hart also realizes there's a limited number of repetitions to go around for a unit that returns veteran playmakers like Hansen, Barnes, Tolson and Cooper.
"It's going to have to be some kind of rotation going on or something like that, just to have (all of the) talent on the field," Hart said. "There's no drop-off. … I don't think there's any ceiling for us, because we're just going to keep getting better."