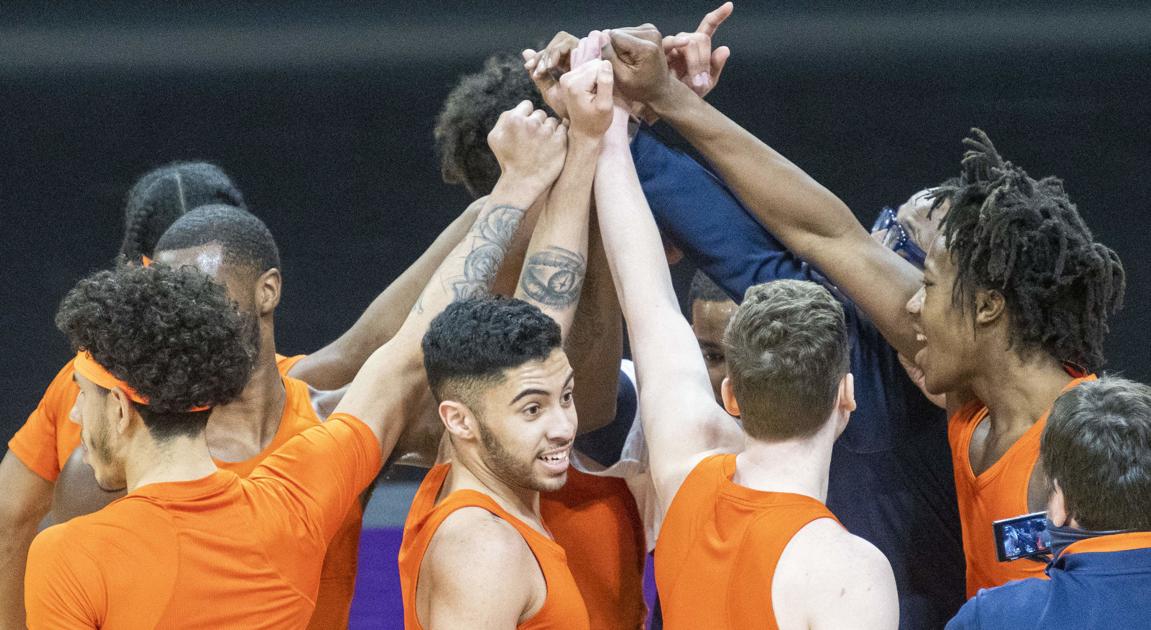 Beat writer Scott Richey will have updates all night long as Illinois takes on Maryland, and full coverage online right here at IlliniHQ.com after the game. Keep following along:
***
A few more pregame notes …
— Illinois' 5-1 Big Ten record is the program's best start since the 2004-05 season when the Illini won their first 15 conference games.
— The Illini are on a nine-game winning streak at State Farm Center. That run includes six consecutive wins against Big Ten opponents, which is its longest conference home winning streak since winning six straight from Feb. 7, 2013 to Jan. 4, 2014.
Gettin' warm. Tip-off in 3️⃣0️⃣ minutes against the Terrapins #Illini | #EveryDayGuys pic.twitter.com/6mdfA1SJsM

— Illinois Basketball (@IlliniMBB) January 11, 2021
— Illinois currently ranks sixth in adjusted offensive efficiency in the KenPom ratings. That's the highest for the program since the 2004-05 national runners-up had the No. 3 offense.
The Illini have also improved to No. 17 in adjusted defensive efficiency, which is the highest since finishing No. 14 in the 2013-14 season.
— Ayo Dosunmu is still the only player in the country averaging at least 20 points (22.3 ppg), five rebounds (6.8 rpg) and five assists (5.1 apg). The junior guard is a leading All-American candidate.
— Kofi Cockburn's eight double-doubles has him in a four-way tie for the NCAA lead with Chattanooga's Malachi Smith, Austin Peay's Terry Taylor and Western Kentucky's Charles Bassey. The Illini sophomore center has five double-doubles in six Big Ten games and is averaging 20 points (on 70.8 percent shooting) and 11.3 rebounds in conference play.
***
Some breaking news on the transfer front. Per CBS Sports' Jon Rothstein, West Virginia forward Oscar Tshiebwe will apparently transfer to Kentucky. Multiple reports had Illinois also involved along with Miami and N.C. State.
The fact the Illini didn't have an open scholarship for Tshiebwe right now made him winding up in Champaign unlikely. Certainly an interesting turn of events simply for the fact Illinois is now 0 for 2 in recruiting Tshiebwe after missing out on him in high school.
Sources: West Virginia transfer Oscar Tshiebwe has officially committed to Kentucky.

— Jon Rothstein (@JonRothstein) January 10, 2021
And now, a few pregame observations …
— Adam Miller put on a pretty impressive round of ball handling drills. Using two balls. How much control he had of both balls compared to how much I can control one is only one small reason why he's the Division I athlete and I'm writing about him.
— Of course, Andre Curbelo followed that up with his tennis ball ball handling work. Impressive as always.
— Maryland center Chol Marial is very tall (7-foot-2) and also VERY skinny (235 pounds). Of course, that weight is what he's listed at on the roster. I'd be surprised if it wasn't closer to 215.
Anyway, Maryland coach Mark Turgeon told reporters Saturday that Marial would play (he hasn't played all that much this season). Basically, the Terps are going to throw Marial to the wolves. The wolves being a wolf, really, in Kofi Cockburn. Unless Marial can use his length to bother Cockburn, the Illinois center's sheer physicality could b a huge advantage.
— Illinois is wearing its regular home white jerseys. Maryland is in all red on the road.
***
Benjamin Bosmans-Verdonk made his 2020-21 debut Thursday night in Evanston. At least technically. The 6-foot-8 redshirt freshman forward got a single minute of «action» in the final minute of the game.
Where Bosmans-Verdonk fits right now is a question. His injury was a setback. Allowed freshman Coleman Hawkins to jump him in the power forward hierarchy. And Illinois coach Brad Underwood basically going with a seven-man rotation (with either Hawkins or Jacob Grandison getting the eighth-man nod at times) has worked.
The Illini are 9-3 with all three losses coming to teams that were ranked (Baylor and Rutgers) or became ranked soon after (Missouri). The Illini are No. 5 in the NET, No. 6 in KenPom and No. 12 in the AP Top 25.
The seven-man rotation is working. Minutes for Bosmans-Verdonk are going to be hard to come by.
All that's to say I remain intrigued by the Belgian forward. He's looked the part since he arrived on campus last summer. We just still haven't gotten the opportunity to see if he can play the part, too.
***
Who's excited for some Sunday night Illinois basketball?
It's kind of a big game for the Illini. Not in the fact that it's some top-of-the-Big Ten showdown — not with Maryland really struggling right now — but for what it would mean heading into a new week.
Illinois can't usurp Michigan's place as Big Ten leader. The Wolverines are undefeated. What the Illini can do, however, is create just a little separation for itself from the rest of the contenders. A win against the Terrapins would put Illinois a full game ahead of Iowa and Wisconsin.
Considering the margin for that regular season Big Ten championship is bound to be razor thin, every win matters.
𝙶𝙰𝙼𝙴 𝙳𝙰𝚈 𝙸𝙽 𝙲𝙷𝙰𝙼𝙿𝙰𝙸𝙶𝙽The Illini take on Maryland in a Sunday night matchup on @BigTenNetwork! #Illini | #EveryDayGuys pic.twitter.com/bUwYD9xTJg

— Illinois Basketball (@IlliniMBB) January 10, 2021
A win tonight at State Farm Center would also be a fifth straight after Illinois dispatched Northwestern on Thursday in a wild game to keep the streak going. You all know the story. Down 15 at halftime. Ran the Wildcats off the court in the final 20 minutes.
It's unlikely Illinois will outscore another opponent by 40 points in a single half again. It's obviously possible, but falls more on the improbable side of the ledger.
That said, there are positives to glean from that second half effort in Evanston and apply moving forward. Like getting Kofi Cockburn playing with the right amount of energy and effort all the time. Like getting out in transition. Like making hustle plays.
Illinois coach Brad Underwood said Saturday he's always in search of the «perfect» game. Tough to come by, and even for a coach who says he's more glass half empty, what the Illini did in the second half at Northwestern was basically just that.
Can they do it again? Or come close. Because let's be honest … even 80-85 percent of that second half at Northwestern is good enough to beat most teams.