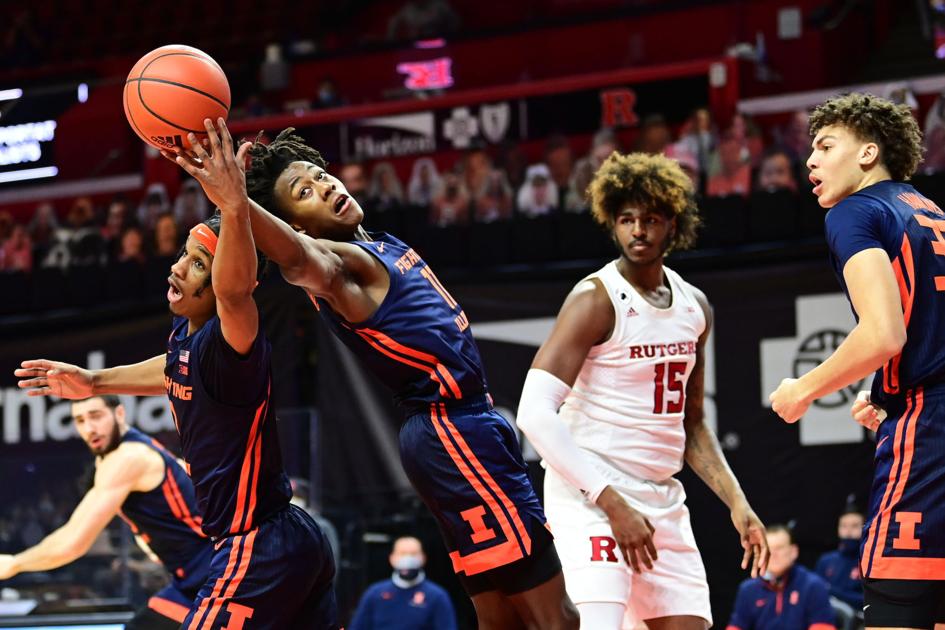 PISCATAWAY, N.J. — It was a simple statement in Steve Pikiell's postgame press conference.
The Rutgers coach knew Illinois got to the free throw line at least 24 times in six of seven games heading into Sunday's Associated Press Top 25 showdown in New Jersey. Knew that the combination of Ayo Dosunmu attacking the basket and Kofi Cockburn's physical presence around the rim led to plenty of freebies.
There was a simple remedy. At least in theory.
"You can't defend the foul line," Pikiell said. "I thought we did a great job — especially in the second half — of not fouling."
Pikiell was underselling it.
Rutgers' committed just nine fouls leading to nine Illinois free throw attempts in the final 20 minutes of Sunday's game. The Illini, on the other hand, sent the Scarlet Knights in a parade to the free throw line with 17 second half fouls yielding 26 free throw attempts.
Rutgers made most of them. Enough, at least, for a 91-88 victory in a matchup between Associated Press Top 25 teams in an empty Rutgers Athletic Center.
"We spent most of the year in the top 10 last year in foul rate," Illinois coach Brad Underwood said. "Now it's becoming a problem of epic concern. You're not going to win on the road with a 21-free throw discrepancy.
"You can't commit fouls that we're committing. You can't continually parade a team to the free throw line. Kofi's back there trying to anchor the defense and our ball screen coverage and protect the front of the rim, and we never got it that far because we fouled them before."
Sunday's foul bonanza wasn't a one-off for Illinois. Not this season. The Illini have committed at least 20 fouls in each of their last five games. That rate has been even higher in the last three games, with 25 fouls committed at Missouri, 27 on Tuesday against Minnesota and now 26 at Rutgers.
The nature of the 2020-21 schedule has played a role in that issue as the level of competition has increased.
There was very little easing into this season's schedule. Really just two games before Ohio showed why its a leading contender to win the MAC. With the UT Martin game cancelled, Illinois eking out its win against the Bobcats led directly into 23 straight games against high major opponents.
The effects have been felt more significantly on the defensive end. Illinois hit its season average with 88 points against Rutgers. Giving up 91 points — and how it happened — was the issue.
This Illinois team might have many of the same players from last year's breakout season, but there's enough difference in the rotation and there were enough pandemic-related changes to summer and preseason workouts that defensive chemistry is still a work in progress.
"You're only as strong as your weakest link in your chain," Underwood said. "Last year there were a lot of veterans out there who played a lot of minutes who knew it and were strong and physical. We've got to get them better. We didn't have the preseason to play some of these buy games where we gain a lot of confidence and they understand that chemistry. We played a brutal schedule, a hard schedule. These guys are having to learn on the fly against really good people."
Cockburn said defensive consistency will come for Illinois if there's more trust. The 26 fouls committed turning into 36 free throw attempts were, in short, "way too much."
"We have to rely on each other and know we've got each others' backs at all times," Cockburn said. «We can't be fouling. We can't be sending teams to the line. This is the Big Ten. Every team is going to be a hard win — especially on the road. We just have to make sure we sit down and guard, we lock in mentally with what the personnels are and just make sure we're not fouling and putting them on the line."
Cockburn has a view of the entire Illinois defense each possession. He's the anchor in the back. What he saw Sunday was an occasional defensive over play by his teammates.
Cockburn wants his teammates to trust that he's there. The proverbial last line of defense.
"Rely on me to help if somebody beats you," Cockburn said was what he wants. "We're playing against really good teams in the Big Ten. They're going to beat you. They're going to have good guys that can go by you. We have to rely on each other to come over and help, rotate and keep the game going instead of fouling and sending them to the line."