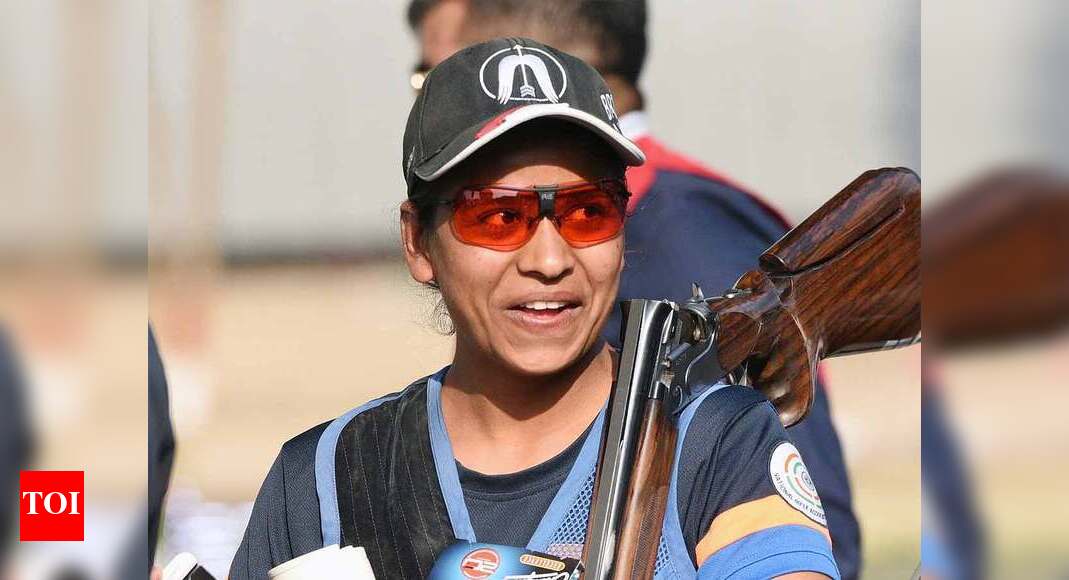 Young shooter Manisha Keer, daughter of a fisherman in Bhopal, powered India to a silver at the World Cup in Cairo on Friday. Till a few years ago, Manisha, 20, used to help her father catch fish, which they sold in a Bhopal market.
In 2013, she was picked up at a talent hunt by MP Shooting Academy. Three years ago, she had equalled the world record by scoring 115/ 125 in the trap event at the World Junior Shooting Championship in Korea.
On Friday, Manisha, Kirti Gupta and Rajeshwari Kumari made up the India trap team at the year's first International Shooting Sport Federation (ISSF) World Cup Shotgun stage in Cairo. So far, Manisha has won 12 international medals: two gold, six silver and 4 bronze; and 33 medals in national competitions.
Manisha had the highest individual score among trio
The trap trio put up a tough fight against Russia, blasting away to a fantastic comeback – from 0-4 down to tie the final at 4-4. However, they could not keep up the momentum in the final 15-shots-per-team shootout and had to be content with second-best. Manisha got the highest score – 158 out of 175. Rajeshwari and Kirti scored 143 each, taking India's score to 444. The Russian team scored 463 and hosts Egypt got bronze with 405 points.
Their effort ensured that the Indian squad finished the World Cup with two medals, with the men's Skeet team bagging a bronze medal earlier on in the tournament. Earlier in the Trap Mixed Team competition, Manisha and Kynan Chenai representing the second Indian team in the competition, shot a total of 133 to finish in ninth place out of 14 teams.
Back home, her father Kailash Keer was ecstatic. The family couldn't watch the match on TV but were thrilled when Manisha called to say Team India had got silver. «I don't know anything about shooting. All I know is she is bringing glory to the country and she's happy,» he told TOI.
Manisha's family lives in Gauragaon, a village on the outskirts of Bhopal, where he still works as a fisherman. The family grows vegetables in a small patch of land behind their hut. «Manisha still goes out fishing with me when she is at home,» he said.
Sports minister Yashodhara Raje Scindia was all praise for Manisha. «She has consistently proven herself. We are proud of Manisha. Her achievement proves that despite the Coronavirus pandemic, our players are fit and motivated.
The daughters of Madhya Pradesh are doing excellent at the international level and winning medals for the country and state.» She said, congratulating the chief coach of MP Shooting Academy Mansher Singh as well. Manisha had begun training under him after being selected for the academy.