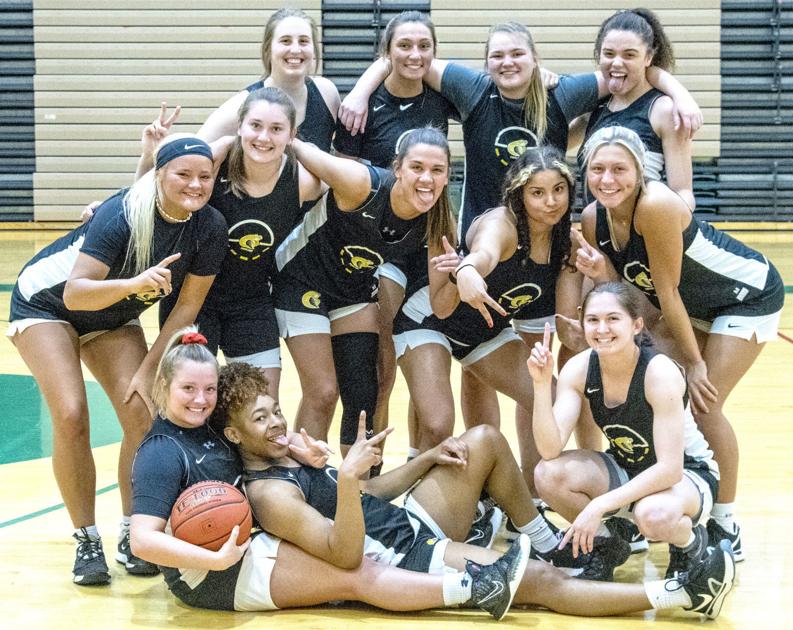 CHAMPAIGN — Parkland women's basketball faced its most difficult three-game stretch of the regular season in its run up to the NJCAA Division II Central B District championship.
Illinois Central College, then the No. 3 team in Division II, dealt the Cobras a 77-46 loss in East Peoria on March 21. Lake Land College, the new No. 3 four days later, put together a 70-56 victory at Dodds Athletic Complex.
The third game? Well, Parkland didn't even get a crack at No. 15 Lincoln Land Community College. Not only did the Cobras have to deal with a late home loss to the Lakers on March 25, but contact tracing following that game sent them into a 10-day quarantine with postseason play right around the corner.
Parkland's season was on the ropes.
The Cobras (17-3) managed to make it through that quarantine without any positive COVID-19 cases and won its division championship earlier this month, knocking off ICC in the title game on April 10 and earning the No. 6 seed in the national tournament set to start Tuesday in Hickory, N.C.
"There was definitely concern," Cobras' coach Allie Lindemann said about facing a quarantine at that point of the season. "That was a long 10 days in terms of having somebody pop up (positive), but our girls stayed disciplined to the quarantine and we tested twice to get out of it and everyone, luckily, was healthy. It was a little nerve-wracking, to say the least.
"It was brutal to go through that at that point of the season, but I think it allowed our girls to refresh their minds and step away and come in ready to go and fired up."
A veteran team has helped Parkland navigate a season in a pandemic. From the uncertainty last October if there would even be a season to handling COVID-19 once it started and putting together a run to nationals. The Cobras rely on several freshmen, but the core of the rotation is anchored by sophomores.
"We always knew we had the pieces to the puzzle to make a run and beat one of the top contenders in our region and even in the national tournament," Lindemann said. ICC was added as a replacement team for the national tournament. "That playing time experience is huge when it comes to postseason and tournament play. That's helped us to where we're at now."
Parkland will face No. 11 seed Muskegon Community College (Mich) at 10 a.m. Tuesday in the first round of the national tournament. The Jayhawks (13-2) have won six in a row heading into the matchup and boast a similarly balanced roster as the Cobras.
"The reason we're attending this national tournament is because of our defense," Lindemann said. "We have versatility in our scoring. There's not one person scoring 30 points a game or even 20 points a game for us. It's going to come from different people on different nights and different times. The one thing we definitely have to make sure of is defensively we're taking care of business and taking away things from our opponents."
Preparing for Muskegon is a bit easier this season than it would have been in year's past. The national tournament requirement that teams to post their last game online still exists, but there's more film out there this season because of the pandemic.
"A lot of teams went to live streaming games, so it's a little bit easier to find games on opponents," Lindemann said. "We have quite a bit of film, which is good for us to prepare and see what they're about. My job is to prepare our kids and not over-prepare them and overthink the game situations. I want them to focus on us and our strengths. My job is to get them prepared. Their job is just to play ball."