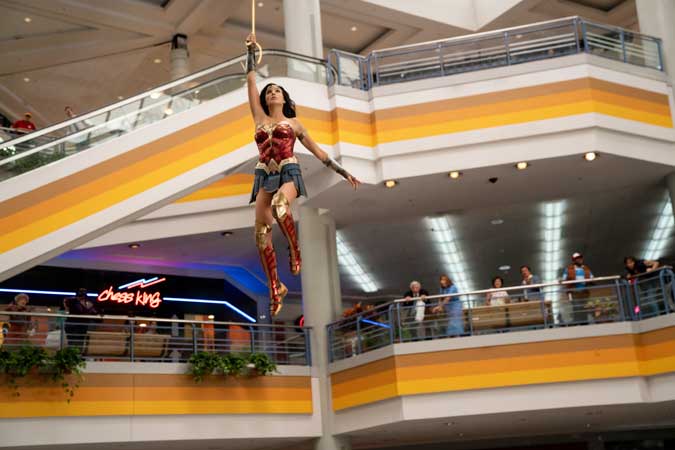 Wonder Woman 1984 premieres on HBO GO
FILIPINOS may now catch Wonder Woman 1984 which premieres on HBO GO on April 21. Based on the DC Comics character and the ninth installment in the DC Extended Universe (DCEU) films, this sequel to Wonder Woman (2017) again focuses on Diana Price (played by Gal Gadot) who is living among mortals as a museum curator. Donning her golden armor, she also returns as Amazonian warrior Wonder Woman, who has to save mankind from the greedy ambitions of Maxwell Lord (Pedro Pascal) and The Cheetah (Kristen Wiig). Reprising their roles from the original film are Chris Pine as Steve Trevor, Robin Wright as Antiope, and Connie Nielsen as Hippolyta. The film premiered internationally in Dec. 2020 with limited theatrical screenings and through streaming via HBO Max in the United States. Since its global release, Wonder Woman 1984 has earned $166 million in the worldwide box office compared to its production budget of $200 million.
iQiyi International named exclusive streamer of Miss Universe in PHL
IQIYI INTERNATIONAL will be the exclusive video streaming platform in the Philippines for the 69th Miss Universe Pageant, the company announced. The pageant airs live on May 17, 8 a.m., Philippine time. Filipinos can stream the pageant live for free on May 17 exclusively on the iQiyi International app and iQ.com. Curated pageant highlights, backstage, and offstage scenes, and glam cams will be accessible through a dedicated page on the iQiyi platform (web and app) for viewers to enjoy. The announcement comes off the back of the recent unveiling of a partnership with GHY Culture and Media to form Uni-Icon, a regional agency set up to discover Southeast Asian talents in the Philippines, Indonesia, Malaysia, Singapore, Thailand and Vietnam, and give them the platform to access international viewership. Viewers can easily access iQiyi International via iQ.com or download the app for free from the Apple Store or Google Play Store.
TikTok's new collaboration features an #AttackOnTitan Challenge
SHORT-FORM video platform, TikTok, has just launched its latest collaboration with TV animation Attack on Titan The Final Season. Kicking off the collaboration on the platform is the #AttackOnTitan Challenge, which began on April 16, commemorating the completion of the original Attack on Titan manga. Three different TikTok effects based on popular characters and scenes from the anime are now available for users to play around with as part of the challenge. To join, users must follow the official Attack on Titan TikTok account, and post a video using the original effects, with the hashtag #AttackOnTitan. The challenge period runs until May 31. Five #AttackOnTitan Challenge winners will be selected to win special gifts, including: one winner of GARRACK with Attack on Titan Collab Watch, one winner of Attack on Titan Survey Corps cloak, and three winners of Attack on Titan official tote bags. TV animation Attack on Titan The Final Season episode 76 "Judgement" will premiere on NHK General this winter.
Online fundraiser for artists affected by the pandemic
KADA Uno's COVID-19 Project enters its second phase through "BARKada-Uno: Benildean Artists Rising #BangonArtista," an awareness and fundraising campaign on April 30 which aims to help artists and cultural workers immensely affected by the coronavirus pandemic. The event will go live on April 30, from 3 to 9 p.m. on the official Facebook page of De La Salle Philippines (https://www.facebook.com/delasalle.ph/). Proceeds will benefit the non-profit organizations Movie Workers Welfare Foundation, Inc. (MOWELFUND) and the Artists Welfare Project, Inc. (AWPI). The six-hour event will feature live and pre-recorded shows and discussions. A series of short films, musical and theater performances, and workshops-seminars from the Benilde School of Design and Arts will likewise be featured at the event, to include a special screening of Frere: Life of St. La Salle, an animated film that narrates the journey of Saint John Baptist De La Salle. Lasallian East Asia District Brother Visitor and BARKada-Uno Project Head Br. Armin Luistro, FSC and Benilde Manila and La Salle Green Hills President Br. Edmundo Fernandez will discuss the impact of the previous Kada Uno efforts at 3 p.m. In "Redefining the Filipino Artisans and Creative Industries in the New Normal," designer Kenneth Cobonpue, together with Beatriz Accessories Creative Director Carissa Evangelista and AWPI Executive Director Jenny Lee Bonto will tackle how the pandemic shaped their advocacies, at 5 p.m. In "Media and the Performing Arts: Is there a New Normal?," veteran actress Boots Anson-Roa of MOWELFUND, Cultural Center of the Philippines Vice-President and Artistic Director Chris Millado, directors Paolo Villaluna and Toff De Venecia will speak on the ripple effect of the ABS-CBN shutdown both on commercial and new media, the rise of streaming platforms and alternative entertainment, the realignment of popular culture benchmarks, and the business and social impact of the pandemic in the media. They will be joined by award-winning writer-director Jose Javier "Joey" Reyes and Unitel CEO Madonna Tarrayo. The exchange will begin at 7 p.m.