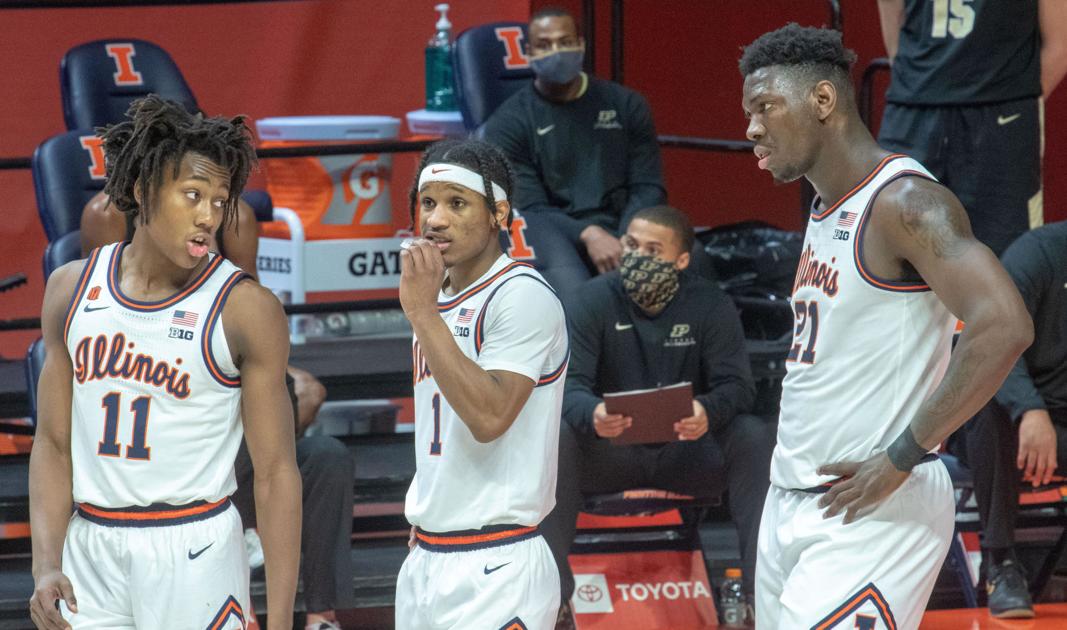 CHAMPAIGN — It's awards season for college basketball, and Illinois is bound to take home its fair share once they've all been handed out.
The Big Ten announced its postseason awards late Tuesday morning with both Illinois junior guard Ayo Dosunmu and sophomore center Kofi Cockburn being named First Team All-Big Ten. It was the second straight honor for Dosunmu, while Cockburn, last year's Big Ten Freshman of the Year, earned All-Big Ten Third Team recognition in March 2020.
Dosunmu and Cockburn are the first pair of Illinois teammates to earn All-Big Ten First Team honors in the same season since Dee Brown and James Augustine in 2005-06. Brown, Luther Head and Deron Williams all earned first team honors the year prior in the Illini's run to the national championship game.
Illinois freshman guard Andre Curbelo was also named Big Ten Sixth Man of the Year. He's been the spark off the Illini have needed off the bench and was rewarded for his efforts Tuesday.
Curbelo is averaging 8.8 points, 4.2 assists and 3.9 rebounds this season. He took his game to another level when Ayo Dosunmu missed three games with a facial injury. He had a near triple-double against Nebraska and then put up 17.7 points, six rebounds and three assists per game in his final three games to end the regular season.
Trent Frazier was the fourth Illini honored Tuesday. The senior guard was an honorable mention All-Big Ten selection by both the coaches and media, and he was also named to the All-Defensive Team as selected by the coaches.
Dosunmu just missed out on Big Ten Player of the Year honors, which went to Iowa senior center Luka Garza for the second consecutive season. Brown was the last Illini to claim that award, sweeping both the coaches and media picks in 2005.
Michigan's Hunter Dickinson kept up the run of big men claiming Big Ten Freshman of the Year recognition, while the Wolverines' Juwan Howard was named Big Ten Coach of the Year.
2020-21 All-Big Ten honors
First Team (media)
Kofi Cockburn, So., C, Illinois
Ayo Dosunmu, Jr., G, Illinois
Luka Garza, Sr., C, Iowa
Trayce Jackson-Davis, So., F, Indiana
Hunter Dickinson, Fr., C, Michigan
First Team (coaches)
Kofi Cockburn, So., C, Illinois
Ayo Dosunmu, Jr., G, Illinois
Luka Garza, Sr., C, Iowa
E.J. Liddell, So., F, Ohio State
Trevion Williams, Jr., C, Purdue
Second Team (media)
Marcus Carr, Jr., G, Minnesota
E.J. Liddell, So., F, Ohio State
Joe Wieskamp, Jr., G, Iowa
Isaiah Livers, Sr., F, Michigan
Trevion Williams, Jr., C, Purdue
Second Team (coaches)
Trayce Jackson-Davis, So., F, Indiana
Joe Wieskamp, Jr., G, Iowa
Hunter Dickinson, Fr., C, Michigan
Franz Wagner, So., G, Michigan
Isaiah Livers, Sr., G, Michigan
Third team (media)
Franz Wagner, So., G, Michigan
Aaron Henry, Jr., F, Michigan State
Duane Washington Jr., Jr., G, Ohio State
Ron Harper Jr., Jr., F, Rutgers
D'Mitrik Trice, R-Sr., G, Wisconsin
Third Team (coaches)
Marcus Carr, Jr., G, Minnesota
Aaron Henry, Jr., F, Michigan State
Duane Washington Jr., Jr., G, Ohio State
Ron Harper Jr., Jr., F, Rutgers
D'Mitrik Trice, R-Sr., G, Wisconsin
Honorable mention (media)
Trent Frazier, Sr., G, Illinois
Jordan Bohannon, Sr., G, Iowa
C.J. Fredrick, So., G, Iowa
Eric Ayala, Jr., G, Maryland
Darryl Morsell, Sr., G, Maryland
Aaron Wiggins, Jr., G, Maryland
Teddy Allen, Jr., G, Nebraska
John Harrar, Sr., C, Penn State
Myreon Jones, Jr., G, Penn State
Myles Johnson, Jr., C, Rutgers
Jacob Young, Sr., G, Rutgers
Honorable mention (coaches)
Trent Frazier, Sr., G, Illinois
Jordan Bohannon, Sr., G, Iowa
Eric Ayala, Jr., G, Maryland
Aaron Wiggins, Jr., G, Maryland
Geo Baker, Sr., G, Rutgers
Scott Richey's All-Big Ten ballot
First Team
Ayo Dosunmu, Jr., G, Illinois
Franz Wagner, So., G, Michigan
E.J. Liddell, So., F, Ohio State
Kofi Cockburn, So., C, Illinois
Luka Garza, Sr., C, Iowa
Second Team
Joe Wieskamp, Jr., G, Iowa
Isaiah Livers, Sr., F, Michigan
Trayce Jackson-Davis, So., F, Indiana
Trevion Williams, Jr., C, Purdue
Hunter Dickinson, Fr., C, Michigan
Third Team
Marcus Carr, R-Jr., G, Minnesota
Duane Washington Jr., Jr., G, Ohio State
Aaron Henry, Jr., F, Michigan State
Ron Harper Jr., Jr., F, Rutgers
Micah Potter, R-Sr., C, Wisconsin
All-Freshman Team (coaches)
Andre Curbelo, G, Illinois
Keegan Murray, F, Iowa
Hunter Dickinson, C, Michigan
Zach Edey, C, Purdue
Jaden Ivey, G, Purdue
Trent Frazier, Sr., G, Illinois
Darryl Morsell, Sr., G, Maryland
Aaron Henry, Jr., F, Michigan State
Jamari Wheeler, Sr., G, Penn State
Myles Johnson, Jr., C, Rutgers
Player of the Year: Ayo Dosunmu, Illinois
Freshman of the Year: Hunter Dickinson, Michigan
Coach of the Year: Juwan Howard, Michigan