Face masks will mostly no longer be required across the Netherlands and other restrictions will ease from next week, after a drop in Covid-19 cases, Prime Minister Mark Rutte said.
Most limits on group sizes will also be lifted from June 26, as long as people can keep at least 1.5 metres (5 ft) apart, he told a news conference. Reuters reports. No new limits will be set on the number of guests allowed in stores, bars and restaurants, Rutte said, as long as they keep their distance, or show that they have been vaccinated or have a negative test. People will still need to wear masks on public transport and in airports, where distancing is not possible.
The Palestinian Authority (PA) cancelled a deal on Friday to receive soon-to-expire Covid-19 vaccines from Israel after an initial Israeli shipment showed an expiration date sooner than had been agreed, the PA health minister said.
Israel and the PA announced a vaccine swap deal earlier on Friday that would have seen Israel send up to 1.4 million Pfizer-BioNTech doses to the PA, in exchange for receiving a reciprocal number of doses from the PA later this year, Reuters reports.
The doses were due to "expire soon", Israeli Prime Minister Naftali Bennett's office said in a statement announcing the deal. The PA said they had been "approved in order to speed up the vaccination process" in the occupied West Bank and Gaza.
"They told us the expiration date was in July or August, which would allow lots of time for use," PA Health Minister Mai Alkaila said.
"But (the expiration) turned out to be in June. That's not enough time to use them, so we rejected them," she said.
The PA cancelled the deal over the date issue, a PA spokesman said, and sent the initial shipment of around 90,000 doses back to Israel.
The US administered 316,048,776 doses of Covid-19 vaccines in the country as of Friday morning and distributed 377,935,390 doses, the U.S. Centers for Disease Control and Prevention said.
Those figures are up from the 314,969,386 vaccine doses the CDC said had gone into arms by June 17 out of 377,215,060 doses delivered, Reuters reports. The agency said 176,290,249 people had received at least one dose while 148,459,003 people are fully vaccinated as of Friday.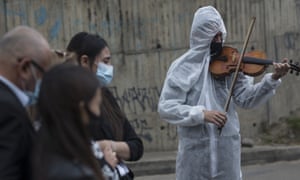 French president Emmanuel Macron, at a joint press conference with German chancellor Angela Merkel in Berlin on Friday, said European Union countries need to better coordinate their border reopening policies.
"Some countries have reopened their borders earlier for tourist industry reasons, but we must be careful not to re-import new variants," Macron said.
My colleagues Jessica Elgot and Aubrey Allegretti have written up a piece about UK prime minister Boris Johnson's enthusiasm for domestic Covid passports, which were ultimately deemed unworkable.
A "huge number" of poorer countries have had to suspend their coronavirus vaccination programmes due to a lack of doses, the World Health Organization said Friday.
AFP reports:
The shortages often mean people who have received one dose of Covid-19 vaccine have to wait too long before they can get their second jab.

"We have a huge number of countries that have had to suspend their rollout of their second doses of vaccine," said Bruce Aylward, the WHO's frontman for the international Covax scheme which provides vaccine doses to poorer countries.

"If I remember correctly, it's over 30 or 40 countries that could have been targeted for second doses of AstraZeneca vaccines, for example, who will not be able to do that," Aylward added.

The countries affected by this problem are spread throughout the Indian subcontinent, sub-Saharan Africa, Latin America and the Middle East, the WHO expert said.

Countries around India, like Nepal and Sri Lanka, have been "particularly hit hard" and face "a severe wave of disease", he added.

The Serum Institute of India (SII), producing AstraZeneca doses, was supposed to be the backbone of Covax's supply chain – but India restricted exports to combat its own devastating coronavirus surge.

"We are now urgently trying to work with AstraZeneca itself, as well as SII, the government in India to restart those shipments so that we can get those second doses into those populations because we are running to a longer interval than we would have liked in that regard," said Aylward.

He bemoaned that "only countries right now that have got the financial resources, who are producing the products, actually have access to vaccines".

On Monday, the WHO warned that coronavirus is moving faster than the vaccines, and that the G7 nations' vow to provide a billion doses for poorer nations is simply not enough.

In Africa only about one percent of the population is fully vaccinated, according to WHO figures.

As of Thursday, the Covax scheme had provided just 88 million vaccine doses, spread out over 131 countries, far less than originally planned.
As a three-day coronavirus travel ban came into force around Lisbon on Friday afternoon, drivers stopped by police asking them their reason for travelling said they felt concerned about the worrying rise in infections.
Reuters reports:
People living in the 18 municipalities of Lisbon's metropolitan area will be banned from leaving from 3 p.m. on Friday until 6 am on Monday. Those living outside the area will not be allowed in.

Portugal, population 10 million, posted over 1,000 new Covid-19 cases for the third day in a row on Friday and the number of daily infections are back to late February levels, when the country was still under lockdown.

Most new cases were reported in the Lisbon area.
A lockdown was imposed in January to tackle what was then world's worst coronavirus surge but most restrictions have since been lifted. The jump in infections comes less than a month after Portugal opened to visitors from the EU and Britain.

On highways around the Lisbon region, police stopped drivers and asked them why they were travelling. Most had a valid reason, including work. But some of the drivers were not impressed with the new rule.

"It doesn't make sense for this measure to only be in place during the weekend – the virus circulates all week," said 43-year-old Sergio Ribeiro after the police gave him the green light to continue his journey.

Portugal's health system was on the verge of collapsing earlier this year and some hospitals in the city are already gearing up to treat more patients if needed.

The number of people in hospital has slightly increased in recent days.

The head of Portugal's Bar Association, Luis Menezes Leitao, said the measure to confine people to Lisbon's area over the weekend was unconstitutional because the country is no longer under a strict lockdown.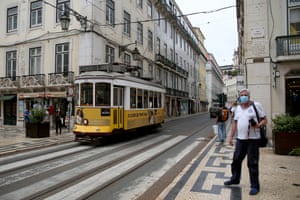 Russia believes it is expedient to resume flights to Turkey, a popular tourist destination, starting from 22 June, thanks to improved anti-Covid measures in the country, Russian deputy prime minister Tatiana Golikova said on Friday.
She also said Russia has decided to resume flights to some other countries, including the US and Belgium, Reuters reports.
Golikova added that 16.1 million Russians have been inoculated with two Covid-19 jabs as of 18 June, and that 19.7 million have got at least the first dose of the vaccines.
The US has administered 300 million Covid-19 vaccinations in 150 days, a White House official said on Friday ahead of president Joe Biden's scheduled update on his administration's vaccination programme.
I'm taking back over from my colleague Rachel Hall now, please don't hesitate to get in touch with relevant updates or if you have anything else to flag you think we should be covering, I'm on Twitter @JedySays.
Italy has reported 35 coronavirus-related deaths on Friday against 37 the day before, while the daily tally of new infections fell to 1,147 from 1,325.
Reuters reports:
Italy has registered 127,225 deaths linked to Covid-19 since its outbreak emerged in February last year, the second-highest toll in Europe after Britain and the eight-highest in the world. The country has reported 4.25 million cases to date.
The World Health Organization has warned of surging Covid-19 cases across Africa, with new more contagious variants spreading amid dangerously low vaccination rates.
AFP reports:
"It's a trajectory that is very, very concerning," WHO's emergencies chief Michael Ryan told reporters from the organisation's headquarters in Geneva.

According to WHO data, the number of new Covid-19 cases in Africa rose to over 116,500 in the week ending June 13, up from nearly 91,000 the previous week.

Ryan stressed that in terms of absolute numbers, the region did not necessarily look like it was in bad shape, accounting for just over 5% of new global cases and 2.2% of global deaths last week.

However, he warned, across the continent, the trajectory was pointing straight up, with over 100% increases in a range of countries, and over 50% in others.

"This is a phenomenon occurring across the continent," he said.