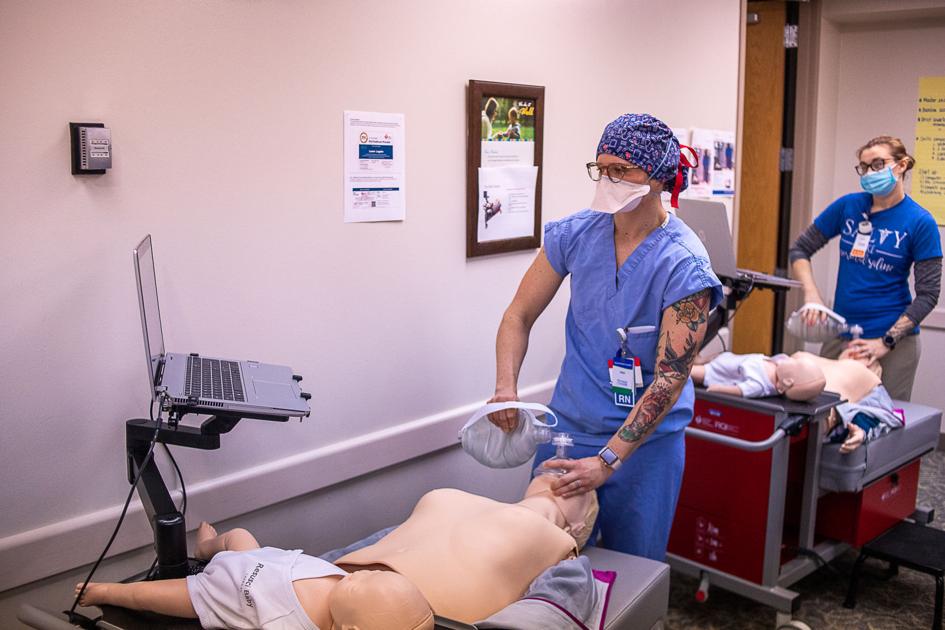 Normally CPR, or cardiopulmonary resuscitation, certification would be completed every two years by medical staff; however, Comanche County Memorial is using technology to continue education and certify every three months.
"This program is something that's been available for a while, but we just recently got it," said Leann Legako, an education nurse at Memorial. "I'm very excited that we finally got it in. We'll see how we're improving and it gives you a lot of analytics so that you can analyze what you need to work on."
Instead of training every two years, Legako explained staff would get "low doses" of training at a higher frequency, which she said translates to better patient outcomes.
Until 2015 the American Heart Association required CPR certification every two years in order to stay in compliance with their guidelines. Now the organization is recommending retraining and certification once per quarter.
"Two-year retraining cycles are not optimal. More frequent training in basic life support and retraining in advanced life support may be helpful for providers who are likely to encounter a cardiac arrest," said a statement in the 2015 AHA Guidelines Update for CPR.
To help meet this requirement and stay in compliance with AHA guidelines, Memorial has purchased simulation stations that will allow their staff to certify at any time.
The new program will begin Monday when staff will be able to access the stations, said Legako. Staff will use online training, then go to a station and practice mask ventilation and chest compressions with real-time feedback from the mannequin and computer combination. She said staff will be able to do this every three months.
"Come Feb. 1, all of our staff that have CPR cards will be put into the system," Legako said. "We have four stations situated around the hospital, so there will be easy access 24 hours a day and staff will be able go and do their skills training and assessment.
These stations are deployed within the hospital at locations that are conveniently accessed 24 hours a day by staff, allowing quarterly training modules to be completed. Each station contains an adult and infant manikin and a laptop with an internet connection."
During the skills assessment, staff are provided real-time audio and visual feedback through the laptop, and performance data is archived in a learning management system. The system tracks compressions of adequate rate and depth, full chest recoil, minimal interruption to compressions and avoidance of excessive ventilation. This data is used to track and document individual performance.
Each simulation session will take less than 30 minutes to complete, minimizing the amount of time staff are off the floor, Legako said.