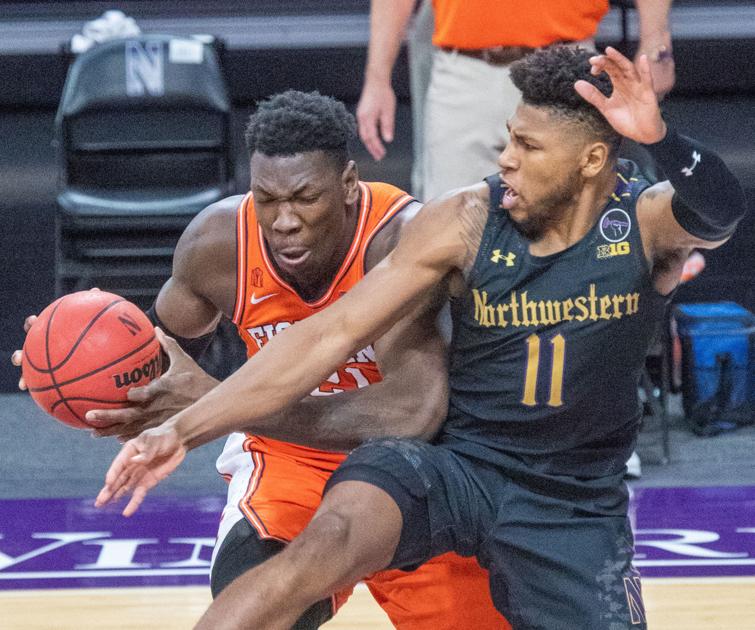 EVANSTON — The socially-distanced bench setup at Welsh-Ryan Arena put Kofi Cockburn's chair directly behind Illinois coach Brad Underwood.
That was Cockburn's vantage point through a significant portion of the end of the first half of Thursday's game in Evanston. Underwood was not thrilled with Cockburn's energy and effort. Or his production.
So Cockburn found himself in the line of fire. All it took for Underwood to express his displeasure was a half turn in his chair.
Cockburn's teammates upped the ante at halftime. Ayo Dosunmu told the 7-foot sophomore center he needed to step up his game. Giorgi Bezhanishvili echoed that sentiment. So did Tyler Underwood.
"He basically told me, 'I know what I'm getting from you this half. You're going to go out there and you're going to put up the most dominant second half in the country,'" Cockburn said was Tyler Underwood's halftime message.
Turns out the younger Underwood was a bit prescient. And hit Cockburn with an "I told you so" after the game.
Cockburn finished Thursday night's 81-56 Illinois victory with a game-high 18 points and 12 rebounds. Most of that — 13 points and 10 rebounds' worth — came in the second half as Cockburn led the way in the Illini's come-from-behind victory. As in turning a 15-point halftime deficit into a 25-point win.
All with a little push from his coach.
"The one thing I love about Kofi is I can really challenge him," Brad Underwood said. "I tell him my expectation for him is much higher than it is for himself. I'm never going to let him be satisfied with anything to be very honest. I'll tell him when he does great things, but Kofi's potential is untapped.
"He's so receptive to coaching. He wants coaching. He knew I wasn't very happy in the first half. There's a young man who cares and cares about his teammates. That was a dominant second half."
Cockburn had a three-point play in the middle of Illinois' 8-0 run to start the second half that changed the entire dynamic of Thursday's game. After making the shot and being fouled by Northwestern's Miller Kopp, Cockburn turned to the Illini bench, let out a primal yell and flexed for good measure.
"It felt good showing that, 'Yeah, I hear you coach. I've got you,'" Cockburn said explaining his reaction. "Showing him I'm capable of doing it, which he knows I am, is a great feeling."
The way Underwood pushed Cockburn on Thursday night in Evanston was exactly why the Kingston, Jamaica, native picked Illinois.
"I knew what I was signing up for when I came to the University of Illinois," Cockburn said. "Coach, he expects great things from me. He knows that I'm capable of doing great things. Whenever I do mediocre or settle down and think I did enough, he always pushes me to go beyond. It's always great to have a coach like that pushing you past your limits."
Cockburn's second half pushed Northwestern past its limits in trying to slow him down. The Wildcats have now lost three straight games and had to face big men like Iowa's Luka Garza, Michigan's Hunter Dickinson and now Cockburn in that stretch after starting Big Ten with three straight wins.
"Those are three of the best players in the country, let alone in the Big Ten," said Northwestern coach Chris Collins. "They're big guys and they're skilled and they're good. The thing that makes it very challenging is the supporting cast around those guys. If you put too much attention on those guys, then you get hurt by the rest of the team.
"You've got to try to do your best work and not give those guys easy baskets. Try to make them work hard for what they get."
Northwestenr managed to do that in the first half against Cockburn. Not so much in the second, as he made all six shots he attempted and hauled in four offensive rebounds that led to some immediate second chance points.
Cockburn simply answered the call from his coach and his teammates.
"It's a lot of trust in our locker room," he said. "We take positive criticism. … We trust each other and we love each other, so we don't take it the wrong way. We got out there and do it for our teammates — do it for the guys beside us."