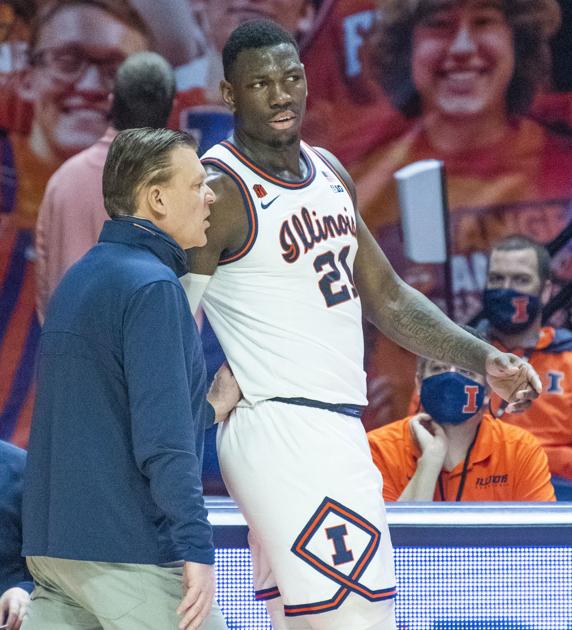 CHAMPAIGN — Not much has changed for Kofi Cockburn since he declared for the 2021 NBA Draft on Sunday afternoon.
For one, the Illinois sophomore center is still on campus. Cockburn went through a workout on Monday morning, and he was on the field at Memorial Stadium on Monday night as the Illini's Big Ten tournament championship team was honored at halftime of the spring football game.
Cockburn did not indicate whether his decision to enter the NBA draft was a permanent one.
The 7-foot, 285-pound Kingston, Jamaica, native went through the draft process last spring and summer before ultimately returning to Illinois for his sophomore season.
Brad Underwood and the Illini coaching staff will provide the same support this spring and summer. While the NCAA has not set its deadline for early entrants to withdraw from the draft and return to college, Cockburn likely has until the first full week of July given the NBA draft combine is set to run from June 21-27.
"My approach is no different than it's always been," Underwood said Monday afternoon. "We're going to do everything we can to help him reach his dream. We were down on the court (Monday) morning and talking to him. It's all about helping him. It's best to try to advise and help and answer questions he has. We're working him out, trying to get him in the best place he can be as he's got decisions to make here in the next couple months."
While dates are set for the combine, draft lottery and draft itself, what is still unknown at this point is when teams will be able to hold individual or small group workouts. Or even if those workouts will happen. The COVID-19 pandemic wiped those out a year ago, and Underwood said there are no current dates set.
"We're hearing all sorts of things," Underwood said. "One of the things that I know we're trying to do with all of our athletes is get them double vaccinated. We've heard such things that there will be no workouts if you don't have a vaccine. I think there's a lot of things that are still on the table that we don't know, so we'll have to take a lot of those things as they came to us."
This year's draft process will be different for Cockburn, though, in the fact he's got another full season of college basketball experience. After earning Big Ten Freshman of the Year honors for the 2018-19 season, Cockburn had a breakout sophomore campaign. He averaged 17.7 points and 9.5 rebounds this past season, was an All-Big Ten selection, made the Big Ten All-tournament team, wound up a finalist for the Kareem Abdul-Jabbar Award given to the nation's top center and was a consensus Second Team All-American.
"Basketball took me places that I wouldn't dare to dream of as a boy," Cockburn wrote in the note he posted to social media to announce his decision to declare for the draft. "It taught me lessons in life. The NBA has been a lifelong dream of mine, and I am ready to go to the next level and see what's in store for me. This journey is really special to me, and I appreciate everyone who played a part in getting me here."
Cockburn helped himself with his on-court production during the 2020-21 season. He was as efficient (shot 65.44 percent to rank fourth nationally) as he was productive (16 double-doubles to tie for third most in the country).
"You've got a new set of standards for him that were different than last year," Underwood said. "He improved his game — he improved in certain areas — and you just want to go see how all of that is translated and looked upon by the next level guys. I would expect the same type of information and possibly being in some workouts and being able to let people see him firsthand."
Cockburn's still to be determined decision on his final draft status leaves Illinois in roster limbo. The addition of transfer guard Alfonso Plummer from Utah, which was made official Monday, currently fills 12 scholarships. Cockburn would be No. 13 — the max.
Underwood and the Illinois staff will remain diligent throughout the next few months in keeping their roster options open.
"I think you always look," Underwood said. "We're in a situation in today's world with the transfer portal and we have no drop dead date when kids can leave. I think we'd be foolish to not continue to look. We could bring guys in here in August and they transfer out.
"We're going to have another wave in the portal. All these guys that have declared for the draft and want to go back to college, some of them will be in the portal. I think it's about continuing to build the best roster you can. It's our new culture. It's our new world. We'll be at 13 when school starts — or 12 or 11 — but we won't be over."