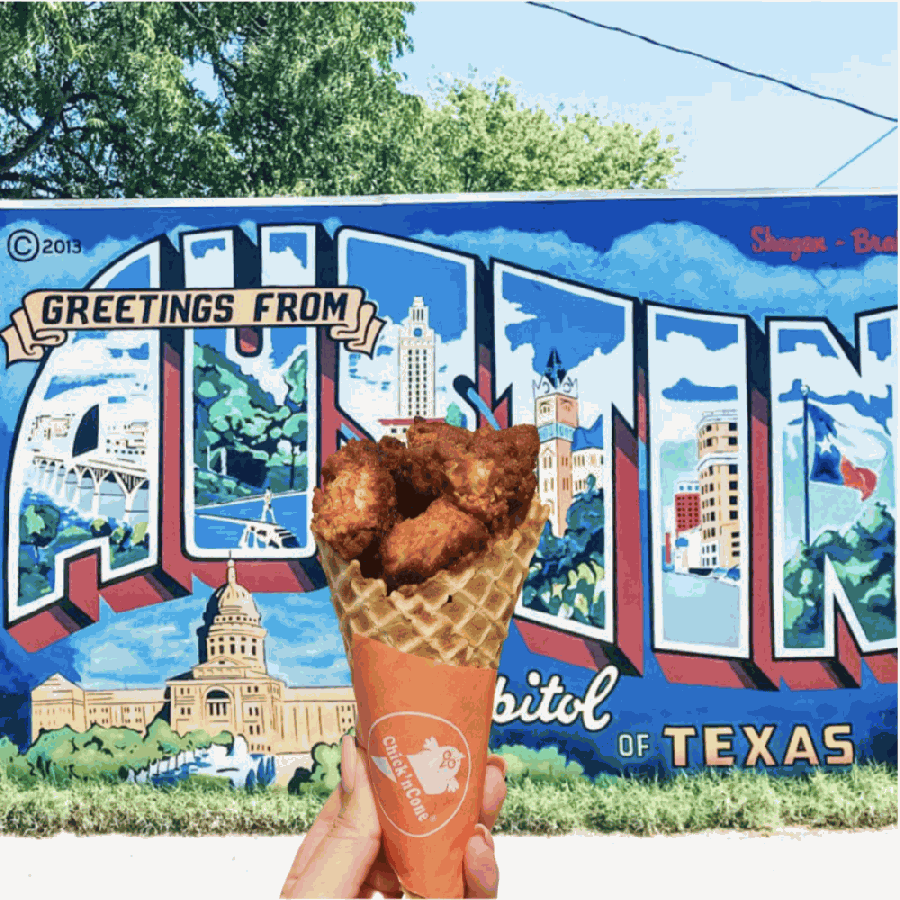 Chick'nCone recently opened a location near UT Austin. (Courtesy Chick'nCone)
1.
Banger's Sausage House and Beer Garden
opened a sub shop in December at 79 Rainey St., Austin. The menu includes deli staples, such as BLT, roast beef and turkey club sandwiches, as well as vegetarian options. Takeout and catering services are available. Dine-in customers can request a «secret» menu with the sub options as well. 512-386-1656.
www.bangersaustin.com
2. The Blanton Museum of Art, located at The University of Texas at 200 E. Martin Luther King Jr. Blvd., Austin, announced plans for a grounds redesign Jan. 12. In between the museum's two main buildings, a new patio framed by 15 petal-shaped structures will highlight views of Ellsworth Kelly's «Austin,» which is located on the grounds, and the Texas State Capitol, which is across Martin Luther King Boulevard and 15th Street. The Capitol Complex Project, which will create new state office buildings and a new pedestrian mall leading to the Capitol, is scheduled to finish in 2022. 512-471-5482. www.blantonmuseum.org
3. Chick'nCone UT Austin opened at 2348 Guadalupe St., Austin, on Jan. 23. The restaurant, which serves air-fried chicken in waffle cones, will initially open at 50% capacity in accordance with state coronavirus guidelines and will offer takeout and delivery. www.chickncone.com
4. Core Group opened its national sales office at Northwood Tower at 114 W. Seventh St., Austin, on Jan. 13. Headquartered at 925 S. Capital of Texas Highway, Core Group offers "elite property restoration" and specialty contractor services. "We absolutely have plans to expand in Austin," CORE Group CEO Daniel Cassara told Community Impact Newspaper. 877-219-6168. www.gowithcore.com
5. San Jac Saloon, located at 300 E. Sixth St., Austin, had its fifth anniversary Jan. 16. The live country music bar is currently operating as a restaurant at limited capacity and plans to celebrate five years in business sometime in February. 512-782-2216. www.sanjacsaloon.com