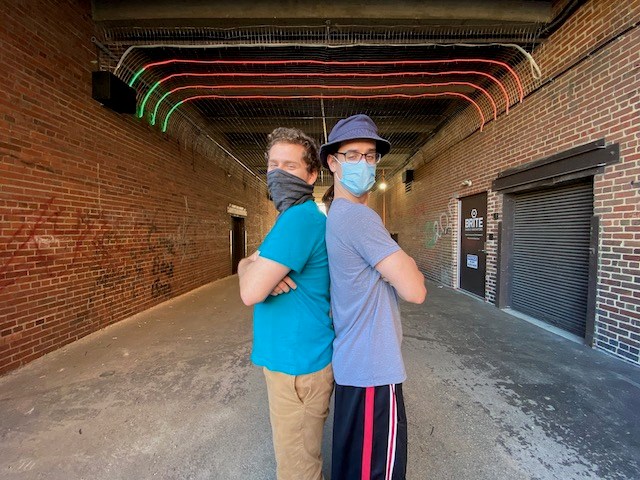 YOUNGSTOWN — Andrew Boyer, a senior majoring in computer digital electrical engineering at Youngstown State University, is the winner of this year's John Burgan Entrepreneurship Prize and will receive $2,400 to help continue his start-up lighting, sound and networking technology business.
The John Burgan Entrepreneurship Prize is awarded to the winner of the YSU Williamson College of Business Administration's Entrepreneurship Center Business Plan Competition, which seeks innovative business ideas from students. The prize was created in honor of entrepreneur, businessman, salesman and community leader John Burgan by his son, Patrick, a YSU graduate and second-generation broker-owner of Burgan Real Estate.
Boyer and fellow YSU student John Galvin of Howland founded Chromaticity Technologies in 2018. The company provides special effects lighting, sound and networking technology.
The company was contracted by BRITE Energy Innovators last Fall for a project on David Grohl Alley, a small street just a block off Courthouse Square in downtown Warren. The alley is named after rock star and Warren native David Grohl, founder of Foo Fighters and former drummer of Nirvana. The project featured a 70-foot-long canopy of 26,000-LED lights as well as a four-speaker system synced to the LEDs.
A $500 honorable mention award was presented to Annabelle Himes, a freshman business major whose start-up company called Heroes and Tiaras brings popular characters to life at parties and special events.
"We are constantly impressed with the talent and passion the students delivered with their entries and wanted to reward two individuals this year,» Patrick Burgan said in a news release. «Andrew clearly separated himself, continuing to serve as a testament to the talent and passion YSU continues to foster in its students. We are excited to assist Andrew and Annabelle with a financial award for all of their hard work in representing the spirit this award was meant to recognize."
Mahoning Valley Manufacturers Coalition partners with YBI
YOUNGSTOWN — The Mahoning Valley Manufacturers Coalition and the Youngstown Business Incubator on Tuesday announced a new collaboration.
Though the initial focus of the agreement is on shared business services, the long-term vision of the partnership is to find opportunities for future collaborations, a news release states.
"We see this as a great opportunity to help make the Mahoning Valley stronger," Joe Colletti Jr., president of Marsh Bellofram Group of Companies and president of the MVMC, said in the release. "Technology adoption and workforce development are both critical areas of importance to our members. This partnership will allow MVMC to focus on its core mission while still keeping an eye on new opportunities to serve the Valley's manufacturers."
Barb Ewing, CEO of the YBI, said the collaboration will help expand the YBI's manufacturing influence.
"Working with the MVMC will open new doors for the YBI to more deeply engage with our manufacturing base and to expand our footprint into new areas," Ewing said. "The MVMC is a great organization that really understands the needs of their members. We're excited for the opportunity to collaborate with them."
The MVMC provides a network for Mahoning Valley manufacturers to identify common needs and problem-solve with its partners by sharing ideas and resources to develop a skilled workforce.
The Youngstown Business Incubator supports the commercialization and adoption of new technologies, with a focus on additive manufacturing, as well as the growth of minority-, female- and veteran-owned businesses.
Valley businesses celebrate openings with ribbon-cuttings
BOARDMAN — Glass Gallery & Wellness celebrated the opening of its new location at 48 Boardman Poland Road with a ribbon-cutting ceremony Tuesday.
Glass Gallery & Wellness, founded in 2013, has eight locations in the Pittsburgh and Morgantown, W.Va., areas.
It carries high-quality brands of CBD, e-cigarettes, vape juices, dry herbs and concentrate vaporizers for medical marijuana patients.
For more information, visit its website or call 330-953-0468.
Two other Valley businesses are celebrating their openings with ribbon-cutting ceremonies this week. They are:
CertaSite donates more than 4K animal supplies to humane societies
KENT — CertaSite Serves, the charitable arm of CertaSite, has collected more than 4,400 animal supplies for humane societies in the 16 markets where the company has offices.
The amount exceeded the company's original goal of 1,000 due to the efforts of its Youngstown and Kent branches, which collected more than 200 items, and Bettendorf, Iowa and Fulton, Ill. branches, a news release states.
"We can't thank our Kent and Youngstown branches and Purina enough for their gracious donations to our humane society donation drive," Jeff Wyatt, CEO of CertaSite, said in the release. "Humane societies rely on the generosity of their supporters. These donations will go a long way in supporting humane societies and the wonderful care they continue to provide their animals."
The donation drive ran from March 10 to April 15, and one of the local humane societies CertaSite partnered with was the Columbiana County Humane Society.
Carey Jaros appointed to Boys & Girls Clubs of Northeast Ohio board
Boys & Girls Clubs of Northeast Ohio has appointed GOJO President and CEO Carey Jaros to its board of directors.
"I look forward to being part of this outstanding organization and working with such a talented team," Jaros said in a news release. "Boys & Girls Clubs play a crucial role in the lives of not only the kids they serve, but their families, neighborhoods and the broader community. The way BGCNEO pivoted during the last year to address the urgent needs created by the pandemic is testament to the organization's commitment to its mission, strategic agility and operational capability."
Jaros joined GOJO, the maker of Purell, in 2016 and became president and CEO in January 2020.
Gasoline prices decrease 3 cents in Northeast Ohio
YOUNGSTOWN — The average price for gasoline across Northeast Ohio is 3 cents lower this week at $2.67 per gallon, according to AAA East Central's Gas Price Report.
The average price for unleaded self-service gasoline in the Youngstown area is $2.64 per gallon.
— Do you have a business announcement you'd like to share? Email news@mahoningmatters.com.