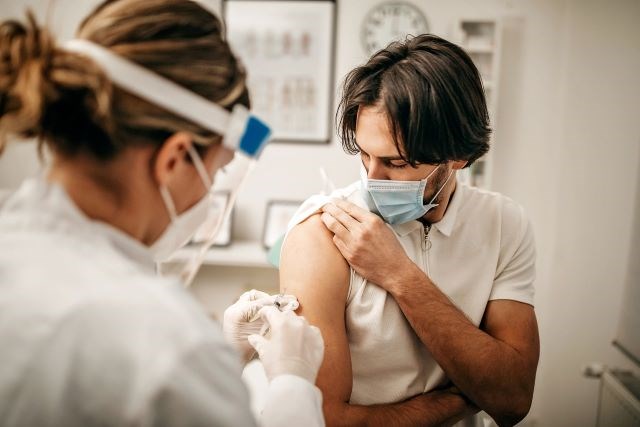 YOUNGSTOWN — The Youngstown/Warren Regional Chamber is joining with Mahoning County Public Health and the Trumbull County Combined Health District to encourage employers and their employees and families to get vaccinated against COVID-19.
The Trumbull County Combined Health District is offering on-site COVID-19 vaccine clinics to Trumbull County businesses for their employees and family members. By vaccinating on-site, the health district said it hopes to improve vaccination rates, provide for a safe workplace and keep Trumbull County businesses open. Smaller businesses are encouraged to collaborate and host a clinic at one location to vaccinate at least 50 people. If you are interested in hosting a COVID-19 vaccine clinic at your business, call 330-675-7807.
Mahoning County Public Health is scheduling appointments for its next mass vaccination clinic Friday at the former Dillard's store at Southern Park Mall in Boardman. The Moderna vaccine will be administered at the clinic. For more information or to register, click here.
The regional chamber joined Ohio's Coalition to Stop the Spread earlier this year in an effort to protect its own employees and to help its members speak to their employees about the importance of practicing safe protocols, not just at work, but in family and other social settings, a news release states.
"We know that many of our member businesses have been struggling through this pandemic," Guy Coviello, president and CEO of the regional chamber, said in the release. "We strongly encourage businesses to remind their employees to practice safety protocols and guidelines both at work and in social settings so that businesses can continue to reopen and stay open."
Boak Garage Sale Giveaway set for May 22
YOUNGSTOWN — Boak & Sons is teaming up with the Rotary Club of Canfield to host the Boak Garage Sale Giveaway from 9 a.m. to 4 p.m. May 22.
Every item will be free. Attendees will be allowed to bring one box and will have 30 minutes to fill it with items, such as household appliances, clothing and tools. Items will be restocked throughout the day.
Boak & Sons employees have been donating items in preparation for the event at the company's warehouse, 75 Victoria Road, Youngstown. The public is encouraged to drop off any items they'd like to donate to the giveaway at the warehouse from 9 a.m. to 4 p.m. weekdays. Items must be clean and in working condition.
Any monetary donations will go to the Youngstown Salvation Army, Red Kettle or Beatitude House.
Masks and social distancing will be enforced, and attendees will be sent inside in small groups.
For more information, call 330-793-5646.
Former Richard Brown Memorial United Methodist Church to be auctioned
YOUNGSTOWN — The Former Richard Brown Memorial United Methodist Church on the North Side will be offered for online auction at byceonline.com.
The 4,400-square-foot stone building at 1205 Elm St. was built in 1905 and was designed by architect Charles Owsley. The building is currently rented and used as an event center and floral shop.
Previews of the property will take place from noon to 1 p.m. April 27 and May 23. Final bidding and closing for the online auction will be at 4 p.m. May 24.
— Do you have a business announcement you'd like to share? Email news@mahoningmatters.com.