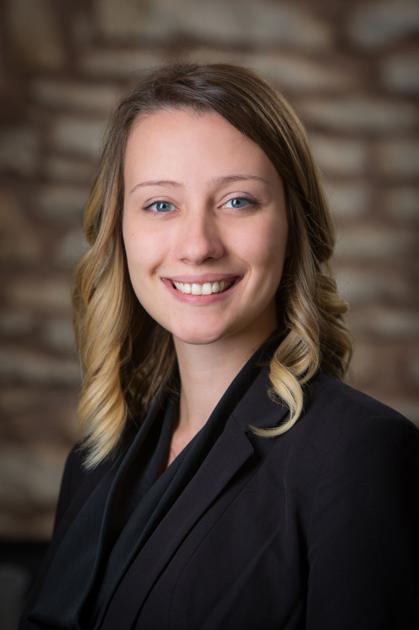 Varney & Associates adds two new staff members
Varney & Associates CPA's LLC has added two new staff accountants, Ami Albert and Ashley Rowe.
Albert holds a bachelor's degree in business administration with an emphasis in accounting and a master's degree in business administration from the University of Kansas. Albert comes to the team with almost four years of local government accounting experience.
Rowe holds a bachelor's degree in accounting and a master's of business administration from the University of Phoenix. Rowe comes to the team with eight years of experience in accounting with non-profit businesses.
employee receives CFP® certification
Nicola Cyr of CGN Advisors has been authorized by the Certified Financial Planner Board of Standards (CFP Board) to use the certified financial planner and CFP® certification marks in accordance with CFP Board certification and renewal requirements.
In her role as manager – advisor services & investments, Cyr is responsible for assisting advisors with financial planning, managing the paraplanner team and portfolio management. In addition, Cyr prepares and files tax returns for CGN clients, having attained the enrolled agent designation.
The CFP® marks identify those individuals who have met the rigorous experience and ethical requirements of the CFP Board, have successfully completed financial planning coursework and have passed the CFP® certification examination. CFP® professionals also agree to meet ongoing continuing education requirements and to uphold CFP Board's Code of Ethics and Standards of Conduct.
CGN Advisors is an office of Garrett Investment Advisors, LLC, a locally-owned fee-only financial planning and investment management firm located at 1107 Hylton Heights Rd. in Manhattan.
MFD announces retirements
Manhattan Fire Department Captain Clint Castor and Doug Parker, driver, have retired.
Castor retired with a total of 25 years of service. Castor was hired by the City of Manhattan on May 22, 2005 and rose through the ranks serving as a firefighter, driver and captain. He retired as the captain at Firehouse 4 on C Shift.
Driver Doug Parker was hired February 7, 1988 and served as a firefighter and driver over the last 32 years. Driver Parker retired from Firehouse 4 on A Shift.
Manhattan Area Housing Partnership opens Canyon Creek duplexes
Canyon Creek duplexes are up for lease now at 800 Wild Oak Drive.
The Manhattan Area Housing Partnership has introduced the new senior housing development for those aged 55 years and older. The duplexes will be maintenance-free housing including all appliances, a garage and safe room.