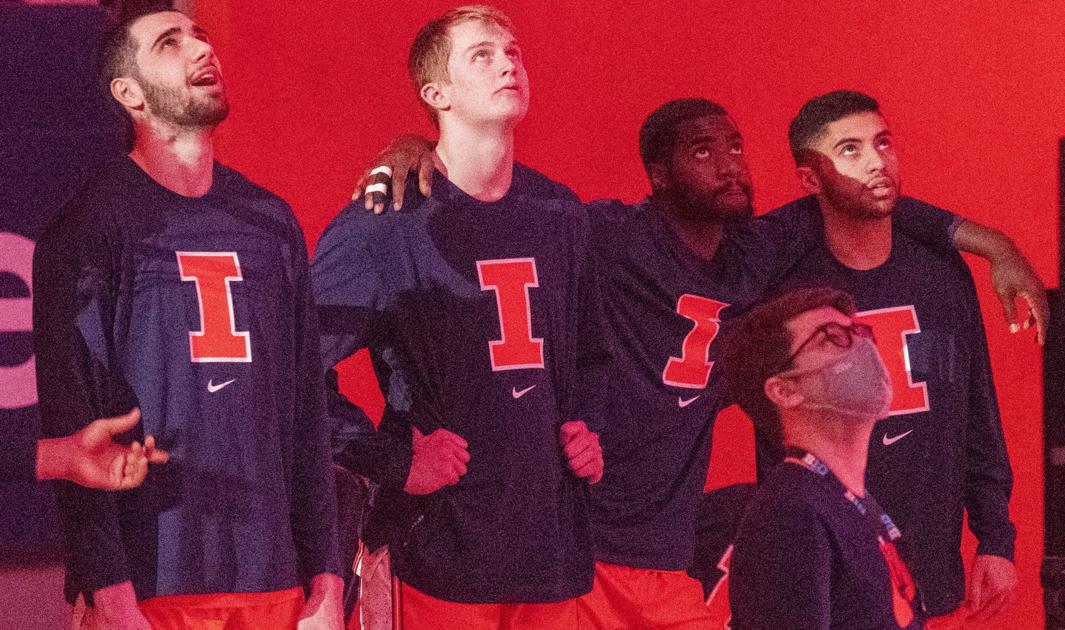 CHAMPAIGN — Ayo Dosunmu texted his teammates after he found out the specifics of the injury he suffered at Michigan State.
The message was simple. Dosunmu wanted his teammates to step up in his absence.
Another team-wide text went out from Dosunmu this week. Another simple message. This one from a point of pride.
"He just texted us a couple days ago, 'Hey, you guys really did it for me and the team,'" Illinois junior forward Giorgi Bezhanishvili said.
Illinois has run its record to 3-0 without Dosunmu, beating Nebraska in its final regular-season game at State Farm Center and then winning two straight on the road against Associated Press Top 25 opponents. Tuesday's 23-point win at No. 2 Michigan, of course, the most noteworthy. Dosunmu's status heading into Saturday's 3 p.m. game at Ohio State is still "day-to-day" according to Illinois coach Brad Underwood. The junior guard remains in the team's concussion protocol — the result of the facial injury he suffered against the Spartans — so the fourth-ranked Illini (19-6, 15-4 Big Ten) could wrap up the regular season against the seventh-ranked Buckeyes (18-7, 12-7) without their top player once more.
"When you go through the protocols, there's I don't know how many steps, but you can't rush those," Underwood said of Dosunmu progressing through the concussion protocol. "You don't question those. You just move forward. We'll see what reaction is gone and how he handles those individual steps."
No "silver lining" exists to missing one of the best players in the country, but Underwood has become comfortable with the role changes that are necessary with Dosunmu sidelined. It wasn't just freshmen guards Andre Curbelo and Adam Miller that had to step into bigger roles. More has been asked of senior guard Trent Frazier, too, in addition to the other veterans in the Illini rotation.
Underwood has seen their comfort level and confidence rise, too.
"There's no doubt you get confidence when you have success doing something you maybe haven't had to do or been asked to do," Underwood said. "I don't think there was any doubt about that. It's more the mental piece. I use the world 'alpha' all the time, but it's one of those things that not everybody can be that guy. Not everybody has the game to do that, nor does everybody have the mental capacity to do that. When you do it and you're asked to do it, you gain confidence. There are a lot of positives in that."
Bezhanishvili has seen much the same. The Illini knew what not having Dosunmu the past three games meant and what they had to do in his absence to keep the team moving forward toward its long-stated goal.
"We all know Ayo is one of the best players in the whole of college basketball," Bezhanishvili said. "When a player like that goes down, everybody has to step up. I feel like everybody has. … Our goal has been and is and will be to go win it all. We knew right away when the season started what kind of players we have and what kind of talent we have. We kind of know that our potential is limitless. Right now there's no changing our mind. We want to go win it all."
Dosunmu's progression through the concussion protocol ahead of his eventual return meant getting back on the court Tuesday for the first time. He participated in at least part of Illinois' shootaround in Ann Arbor, Mich., which was his first basketball since the injury a week prior.
The rest of this week has featured more of the same.
"Tried to get back into shape, for one, on Wednesday because our team was off, and he went through an individual workout," Underwood said. "(Thursday) there was some participation in practice. Some. We monitored that very closely."
Friday was mostly a repeat of Thursday. Another step closer, at least, toward Dosunmu's return. A return Underwood is anticipating where he can reinsert a national player of the year candidate back into a team that improved and found some other options that work in his absence.
No hiccups expected.
Illinois is approaching its peak with the Big Ten and NCAA tournaments right around the corner. Bezhanishvili said he feels like the Illini are playing some of their best basketball, but he left the door open for more. For better.
"We know how March goes," Bezhanishvili said. "Teams get really, really hot. I feel like we can play even better. … We're always looking for more as a team because our potential as a team is limitless I feel like. Why not get hot in this tournament and be even better on both ends of the floor and be even more connected and have even more fun? Why not?"