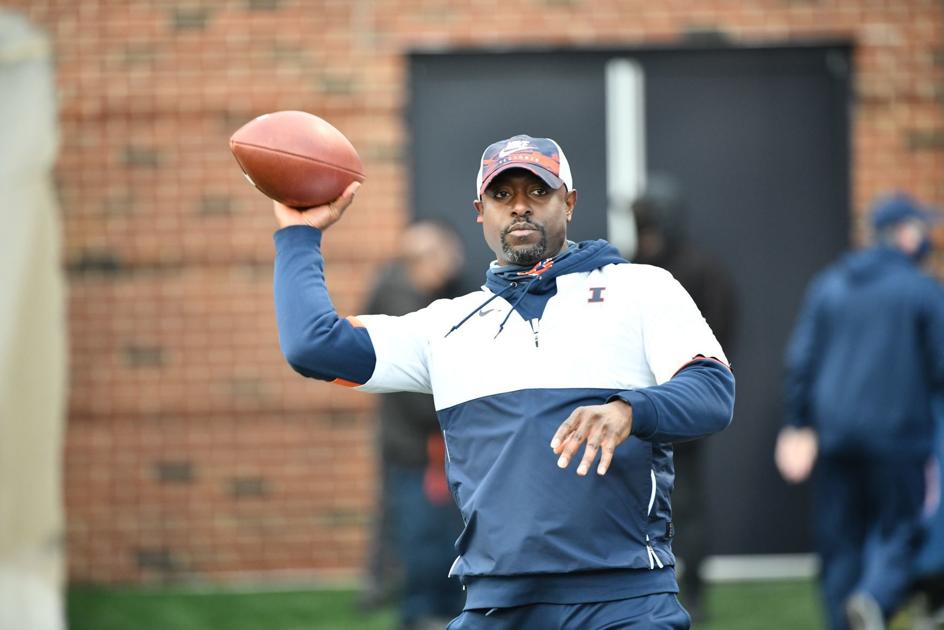 CHAMPAIGN — It is way too early to judge the 2022 college football recruiting classes.
But let's take a peek anyway.
In the Big Ten, Ohio State is currently ranked No. 1 in the conference (and No. 3 overall), according to Rivals.com. The Buckeyes have 10 committments, including nine that are rated four- or five-star prospects.
Because of its tradition, facilities, coaching and support staff and location, Ohio State recruiting is on different level than the rest of the league.
Four of the future Buckeyes are from the state and the other six are from the Sun Belt or Sun Belt-adjacent. Surprise, Rutgers comes next on the Big Ten list followed by, no surprise, Penn State and Michigan.
Give the Nittany Lions and Wolverines credit for trying to hang with the Big Ten's recruiting beast, Ohio State. And for what Greg Schiano is doing during his second stint in New Jersey.
Sitting there at No. 8 — and No. 38 nationally — is Illinois. That's ahead of West rivals Northwestern, Iowa, Purdue, Nebraska and Wisconsin.
So far, new coach Bret Bielema and his staff have commitments from five players. Two of the five are locals: Iroquois West offensive lineman Clayton Leonard and Rochester wide receiver Hank Beatty. A third recruit, offensive lineman Hunter Whitenack, is from New Carlisle, Ind.
A fourth, offensive lineman Joey Okla, is from Hartland, Wis. The only current commit from outside the Midwest is quarterback Donovan Leary of Sicklerville, N.J.
The next signing day is more than eight months away. Illinois is off to good start in what figures to be a very large recruiting class.
All those current super seniors are moving on after 2021 and will need to be replaced. Look for Bielema to get close to the yearly maximum of 25 signees. But he will likely hold a few spots back for any late additions.
Plenty of flexibility exists for the new staff. Illinois didn't get close to the max number for 2021, so any early 2022 enrollees can count backward.
Bottom line: Illinois is going to go from a very old team in 2021 to a much younger model in 2022.
A leg upNine of Bielema's 10 assistants are new to the program. One, Cory Patterson, is not.
Now in charge of the running backs, the former high school coach at Trinity Catholic in St. Louis spent three seasons on Lovie Smith's staff.
Patterson is the lone coach who Bielema retained. And he's already seeing a difference.
"I've probably learned more in these past couple months with Coach B than I have in the past three years," Patterson said. "It's rolling. Everybody's working. Everybody's grinding. It's amazing to see how much work goes on every day as far as recruiting."
Bielema's initial staff has a wide range of experience, with assistants who have seen much of the country.
Linebackers coach Andy Buh spent 2020 at Arizona and has served on staffs at Cal, Nevada and Stanford.
The Big Ten isn't new to him. He has worked at Rutgers, Maryland and Wisconsin.
Recruiting is going well, Buh said.
"I think Coach B has brought in a pretty good plan," Buh said. "The plan when we first got here was to recruit the building.
"We did a great job with that. We got to know the players, the people within the organization and their parents."
Bielema's staff is making a concerted effort with high schools in Illinois. The reception has been positive.
"It takes a little grooming to get things right," Patterson said. "I don't think it was that people were negative about Illinois before. It was just more of coaches taking those relationships and being able to build on them. I think Coach B steps up as a leader. He helps us do that."
The recruiting arrows are pointing up, Patterson said.
"I think you can tell now it's going in the right direction," he said. "You see a lot more attention coming to the program as far as the recruiting goes. We'll tell in December."
Buh said one key to recruiting is finding players who fit the team.
"We want smart, good-character guys that play football really well," he said.
Patterson has obvious strong ties in the St. Louis area. He maintains connections with all the coaches there.
"It's really about the relationships," Patterson said. "You can't just have relationships at one place. If you've got relationships in one place in St. Louis, you're dead in recruiting. You've got to know people and know where the guys are."
Helping handsWhile Patterson is the only holdover among the assistants, Bielema kept Pat Embleton on the staff.
And promoted him to executive director of personnel and recruiting. Embleton originally joined Tim Beckman's staff and stayed with Bill Cubit, Lovie Smith and now Bielema.
"Guys like Pat are invaluable because there are so many things that they can do," Patterson said. "Pat understands how to get guys in school. He understands what needs to be done. He understands who we need to be talking to.
"The things that he can do, there's not very many guys that understand or know what happens at the University of Illinois as far as academics. Just having a guy like Pat and his staff around here, that's one of those things you can't put a price on."
Buh is an Embleton fan too,
"Pat's unbelievable," Buh said. "The one thing about recruiting at different schools is figuring out what works for this school. Pat shares the same vision that Coach Bielema has for this team. That was the reason those two are really cohesive and putting a plan together that works for us."