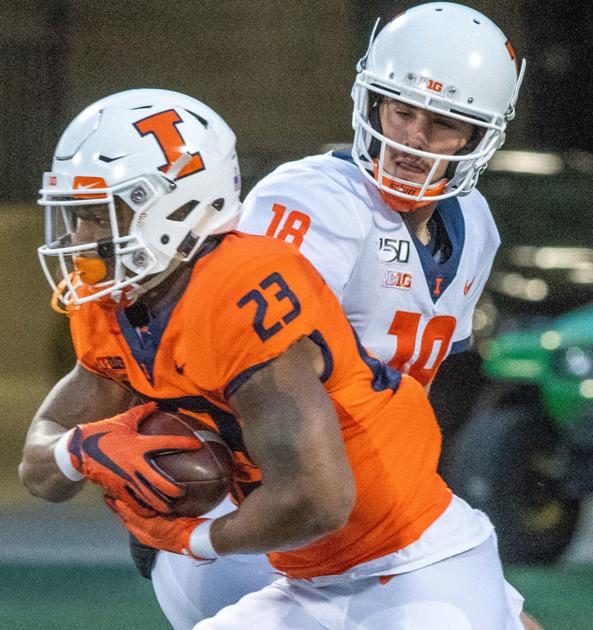 CHAMPAIGN — Illinois plays its football opener in 122 days. On a Saturday night against Nebraska.
Who who will take the first snap at quarterback?
Brandon Peters.
Period. End of story.
No matter what you hear from the Illinois coaches in the coming weeks and months.
And they aren't making a commitment yet.
"We're not making any decision," Bret Bielema said Monday night. "We're not done with spring ball yet. Obviously, Brandon has continued to be impressive."
Working with the starters in Monday night's spring game, Peters picked apart the reserves. He threw the ball long and short. To a bunch of different targets.
Hard, accurate passes. The kind that put smiles on the coaches' faces.
Early in the workout on a chilly night at Memorial Stadium, Peters hit Donny Navarro for 44 yards.
Later, he found Khmari Thompson for a 29-yard touchdown.
Peters hit 8 of 11 in the first quarter for 182 yards and finished 12 of 18 for 291 yards during the two-hour scrimmage. Might want to save that yardage for the opener.
This is Peters' first spring practice at Illinois. He joined the team too late to participate in 2019 and last year's workouts got scrapped because of COVID-19.
The current spring session is important for Peters, who is set to play a rare sixth year of college football.
This will be his third season at Illinois, which is as much as time as he spent at Michigan. Might be time to stop referring to him as a former Wolverine.
After a much-less-than-satisfying 2020 season, Peters has a chance to finish with a bang in Bielema's first campaign.
Having Peters back is a great deal for Bielema and first-year offensive coordinator Tony Petersen. Peters is a steady hand who understands the commitment needed to play at a high level in the Big Ten. Two years ago, he was part of a bowl team.
Peters gives the team the best chance to return to the postseason in 2021. With a friendly schedule and a roster loaded with super seniors, six or seven wins is possible.
Peters showed why Monday night. He'll need to stay healthy and protect the football. Both are doable.
Next in lineIsaiah Williams drew a tough assignment Monday night, working with the reserve offense against the starting defense in the first half. He switched sides after the break and fared better.
The former Trinity Catholic start out of St. Louis has dynamic athletic ability and a strong arm.
Williams isn't as accurate as Peters, which explains why he is behind on the depth chart.
Can he someday be the starter? Absolutely. Williams has time on his side. He is still listed as a redshirt freshman, meaning potentially four more seasons at Illinois.
Williams isn't going to displace Peters now. He can watch and learn in '21, getting valuable snaps whenever possible.
Williams also gives opponents something to think about. He played enough Monday that Nebraska coaches (who were certainly watching) will have to prepare for No. 1. Just in case.
It's going to be interesting to see what happens with the rest of the Illinois quarterbacks. Matt Robinson, Coran Taylor and Deuce Spann saw limited snaps Monday.
Will one or two of them considering moving on? Maybe. Those decisions will be made in the coming weeks after long talks with the staff.
History lessonAs a 32-year observer of Illinois football, I have learned that what happens in the spring doesn't always carry over into the fall. Especially, when it comes to quarterbacks.
Oh, sure, the obvious guys kept their jobs. Once Jeff George, Jason Verduzco, Kurt Kittner, Juice Williams and Nathan Scheelhaase established themselves, they used the spring to refine their games and take command of the offense.
But those many times when Illinois entered March and April with a question as to who would be QB1, the spring actually made it more confusing.
Unfortunately for the coaches, the spring also sometimes provides a false sense of security. They watch a quarterback dominate the defense in the spring, not realizing that said defense might not be very good.
I can think of a handful of times in the last three decades when the team left the spring confident it had the right guy at quarterback. Only to find out the player either wasn't ready or never had the goods to begin with.
When a winner is on the field, it is obvious. They just look different. Kittner is the one who comes to mind first for me. Even after he struggled as a freshman starter, he showed an immense amount of confidence his second year. And it paid off with eight wins.
Is there another Kittner on the current team? Bielema and Petersen sure hope so.
Nothing that happened Monday night tells us for certain. We won't know until Aug. 28 when every play counts and the opponent isn't wearing the same helmet.
Bob Asmussen can be reached at 217-393-8248 or by email at asmussen@news-gazette.com.