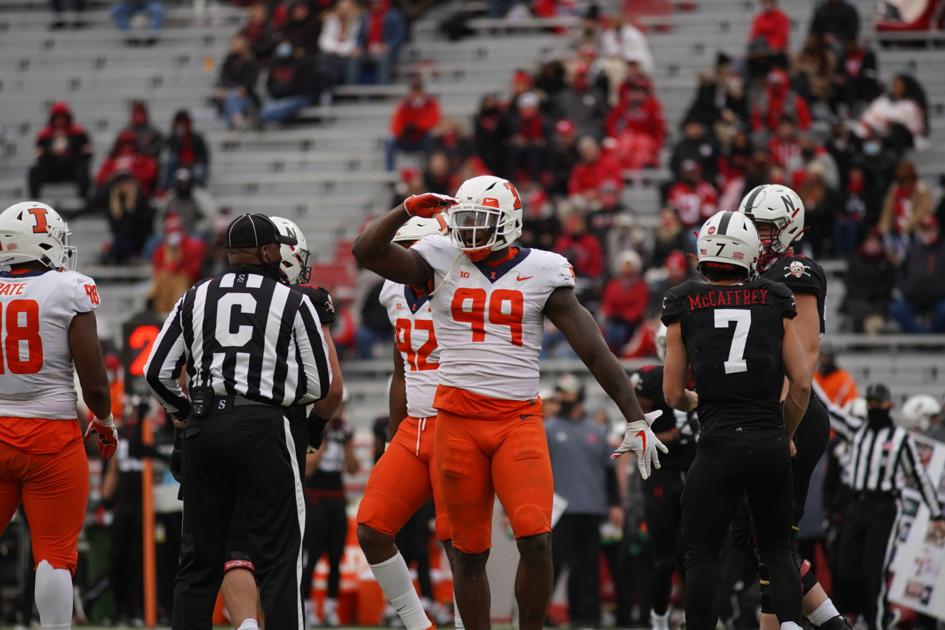 On Saturday at Nebraska, Illinois put together its first winning streak in more than a year with a victory at Memorial Stadium. Here's what I am thinking after the 41-23 romp:
➜ 1. Move over Red Grange. The Galloping Ghost was on the field the last time Illinois won in Lincoln. Until Saturday. I promise not to ever bring it up again.
➜ 2. Mr. Grange would have been proud. So was the Illinois coach, who called Saturday's win the best performance by the Illini during his five years in charge.
"That's a pretty good point Bob," Lovie Smith said. "I would say so, all three phrases. Going on the road, tough place, all that. It would have to be right up there for sure as a total team win."
➜ 3. After an 0-3 start, including a pair of lopsided losses to Wisconsin and Minnesota, there was some understandable heat on Smith. That is gone now, no matter what happens the rest of the season. And what might have been projected as likely losses against Iowa and Northwestern now seem winnable. Interesting what a couple victories can mean for a team.
➜ 4. Next up for Illinois is a home game against, gulp, Ohio State. The third-ranked Buckeyes edged No. 9 Indiana 42-35 on Saturday. Illinois' last win against Ohio State came in the 2007 at Ohio Stadium in Columbus. Juice Williams led the school to its first win against a No. 1 team in more than 50 years.
➜ 5. The Illini just ended a 96-year skid. Why not the first victory against Ohio State in 13 years? In 2020, strange things continue to happen.
"Ohio State's a great team and they've beaten us a lot of times," Smith said. "We're just excited about winning two in a row with a great opportunity ahead of us to try to get a third."
➜ 6. Illinois has consecutive Big Ten road wins for the first time since 2007, when it beat Minnesota and Ohio State. I was at both of those games, which came late in the Rose Bowl season. Yes, the Illini were impressive in Columbus, but they were equally dominant in Minneapolis that year.
➜ 7. As expected, Brandon Peters returned to the lineup for Illinois. It was his second start of the season (the other came in the opener at Wisconsin almost a month ago). His first pass after three weeks off from a positive COVID-19 test was right on target to Brian Hightower. Yes, Isaiah Williams played well at Rutgers. But Peters gave the team its best chance to win.
➜ 8. Forget about any kind of quarterback controversy. Peters will be the guy the rest of the season. He kept his team calm and confident on the road. His ability to run is a huge asset. And he is, by far, the best passer on the team.
➜ 9. I loved the fake punt and subsequent run by Blake Hayes, which kept Illinois' first drive in the second half alive and led to a field goal. Hayes is a big guy with great speed … for a punter. Nebraska had absolutely no clue it was coming, sprinting back to block for the return.
➜ 10. Lots of well-deserved praise for Illinois offensive coordinator Rod Smith from Fox Sports 1 analyst Robert Smith. The third-year assistant kept Nebraska's defense guessing the entire game.
➜ 11. I have been to Nebraska's Memorial Stadium many times over the years. When it is full, which it has been for 375 consecutive games, it is one of the toughest places to play in the Big Ten. Without the fans, it just seems strange. Perfect fit for 2020.
➜ 12. Of course, had the fans been there Saturday, they would have made a rare noise in Lincoln: boos. Directed at the home team. Nobody in Nebraska is happy about the state of the once-proud football program.
➜ 13. Nebraska's troubles started on the first play from scrimmage, when Luke McCaffrey threw sideways. The ball was ruled a lateral, which Illinois recovered.
Fox Sports 1 officiating expert Mike Pereira said he thought it was a pass. Illinois took advantage of the Nebraska error, scoring on Chase Brown's 3-yard run three plays later. It was the kind of start the Illini coaches have been looking for this season.
➜ 14. While quarterback questions at Illinois are moot for now, there might be a quarterback controversy at Nebraska. McCaffrey was not the answer against Illinois. Adrian Martinez, who had big games against Illinois in 2018 and 2019, didn't play until late. Don't be surprised if he gets another look.
➜ 15. Despite being without starting right tackle Alex Palczewski, the Illinois offensive line led the charge in the early going. After scoring no points in the first quarter the first four games, the line helped the Illini to 14 this week, with Danville native Julian Pearl getting his first-ever start in place of Palczewski.
➜ 16. Going into the game, I said Illinois had to win the turnover battle to win. At halftime, the Illini led in takeaways 3-0. It got two more in the second half. Hard to lose with a plus-5 in turnovers.
➜ 17. Josh Imatorbhebhe had a drop early in the second quarter that ended Peters' consecutive completion streak. Important to note that Peters kept going back to his top receiver and was rewarded with a 28-yard touchdown grab that gave Illinois a 21-7 lead.
➜ 18. With Mike Epstein coming off major knee surgery and Brown playing his first full season, there were some questions about the Illinois running game. Not now. They combined for 223 yards and three scores.
➜ 19. Rumors of Nebraska turning the corner have been greatly exaggerated. The offense couldn't move the ball consistently and made endless unforced errors. The defense looked lost. Way too many penalties. Lots of hand-wringing and pained faces in Lincoln.
➜ 20. And the folks in Nebraska are a bit touchy about social media comments. They responded to a tweet from @IlliniAthletics (the official account for Illinois athletics) that read "Good game Nebraska. Thanks for bringing back B1G football." The first comment read: "I suppose you have to take shots whenever you can when your program is that bad." Within minutes, there were 11,000 likes and 3,500 retweets before it was apparently deleted early Saturday evening.
The Illinois athletics department has now deleted their great tweet thanking Nebraska (who they beat 41-23 today) for bringing back Big Ten football. But the tweet is preserved in a screencap here: https://t.co/hMDPSIBEk2

— Awful Announcing (@awfulannouncing) November 21, 2020