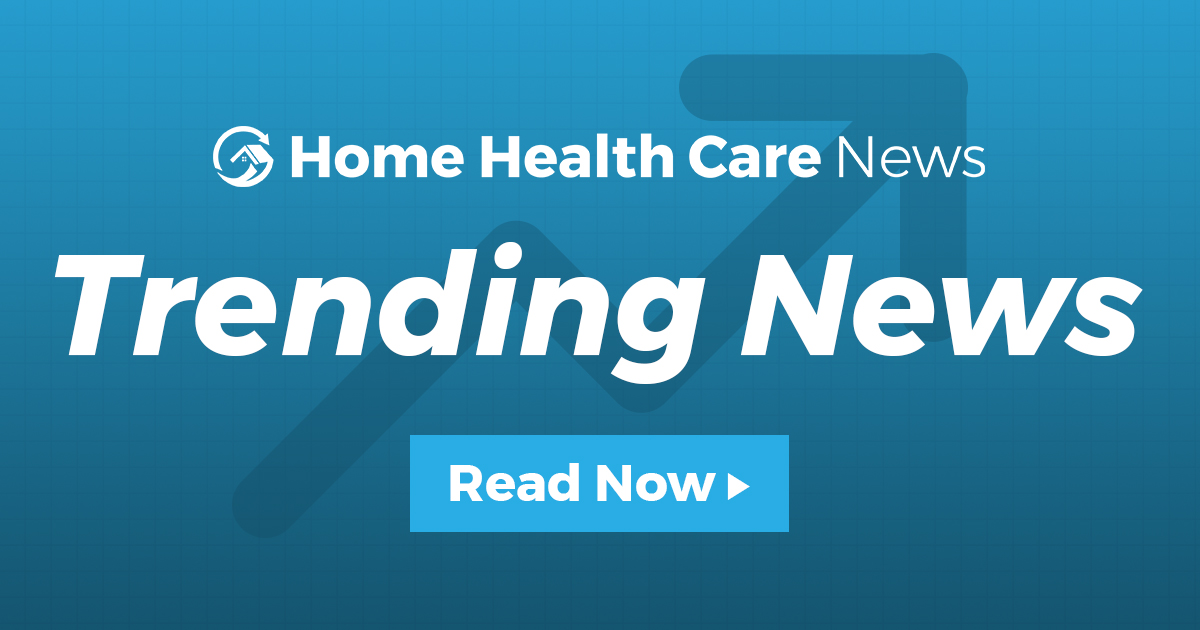 A panel of U.S. Food and Drug Administration (FDA) advisers voted on Thursday to recommend that the Pfizer-BioNTech vaccine be authorized for emergency use during the coronavirus pandemic.
Originally, it was believed the FDA — which typically follows the guidance of its advisers — would move forward with authorization on Saturday. That timeline has likely been pushed up to even sooner now, with the White House reportedly pressuring FDA's leader to give the greenlight to the vaccine or step down.
Early Friday, President Donald Trump compared the FDA on Twitter to "a big, old, slow turtle," and urged the agency's commissioner, Stephen Hahn, to "stop playing games and start saving lives."
While the general public is following those developments closely, home health operators are paying particularly close attention. Many are currently in the process of crafting their COVID-19 vaccine protocols, including whether or not to mandate employee vaccinations.
David Totaro, chairman of the Partnership for Medicaid Home-Based Care (PMHC), touched on the issue Thursday during the Home Health Care News Capital+Strategy event.
"The next thing that we're trying to address right now is whether or not vaccines should be mandatory among our staff," Totaro said. "And that's a very, very complex issue. We're taking it very seriously."
Broadly, home health stakeholders agree that their patients — especially high-risk seniors with multiple complex medical conditions — should be prioritized for early vaccine access as part of the first wave. That is in line with U.S. Centers for Disease Control and Prevention (CDC) recommendations finalized last week.
Ultimately, decisions around prioritization come down to the state level.
In a similar vein, decisions around mandating vaccinations for home health staff will likely be made by individual providers, Totaro said.
"We're evaluating from the standpoint of legal implications there," he said. "There are state regulations, religious considerations — so many things to consider. But I think in the long term, and we haven't made a decision yet [as an industry], I think it'll be up to individual providers."
As home health operators debate vaccines mandates, there's little legal precedent to consider.
In fact, some of the organizations that health care providers would normally look to for clarity have been quiet on the issue thus far.
"The Equal Employment Opportunity Commission (EEOC) has not yet spoken to whether employers may mandate that all employees take a COVID-19 vaccine when one becomes available," Elaine Turner, a shareholder at the national law firm Hall Estill, told HHCN in an emailed statement. "However, during the H1N1 public health crisis, the EEOC determined that, during an influenza pandemic, employers could not mandate that all employees take a flu vaccine regardless of employee medical conditions and religious observances."
While home health operators wait for the EEOC and other government entities to speak to the vaccine question, employers should evaluate whether their businesses are legitimately in need of a mandatory COVID-19 vaccine policy, Turner noted.
For some, encouraging workers may be a better alternative to mandatory vaccinations.
"Under federal law, employers must have a reasonable belief that a mandatory vaccine policy is required because an employee's ability to perform essential job functions will be impaired by COVID-19 or an employee will pose a direct threat due to COVID-19," she said.
If home health providers do mandate or strongly encourage COVID-19 vaccination for staff, it could end up shaping the attitudes of their patients.
In a Transcend Strategy Group survey of 599 individuals, 65% of respondents said a provider's COVID-19 status will have "some" or a "significant" impact on their willingness to receive care from them.
Home health operators still have time to hammer out their strategies around staff vaccinations.
Once the FDA authorizes the vaccine for emergency use, the federal government can start distributing the vaccine to states. But even then, additional steps would still need to be taken by the CDC before actual vaccinations can start.
Additionally, it's important to note that, once that happens, it's not the end of America's battle with the coronavirus. In actuality, the worst of the public health emergency is likely coming up, with many home health agencies preparing for a post-Thanksgiving spike that may only become exacerbated after the winter holidays and family gatherings.
"At least the first quarter of the new year is going to continue to be a very COVID-challenged environment," Joanne Cunningham, executive director of the Partnership for Quality Home Healthcare (PQHH), said during the Capital+Strategy event.
The two-shot Pfizer-BioNTech vaccine has already been cleared by Britain, Canada, Bahrain and Saudi Arabia, according to The Washington Post.
It has been shown to be 95% effective in randomized trials.