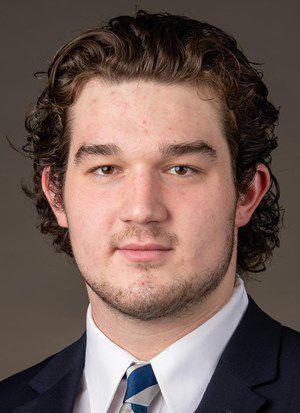 Luke Ford could be on the brink of a breakout season this fall after a fairly disappointing first three years split between Georgia and Illinois. But how have the rest of the top-10 prospects in the Class of 2018 from Illinois fared? Staff writer Scott Richey offers an update:
Quincy Patterson, QB, Solorio Academy
Patterson hit the portal this offseason after three years at Virginia Tech and transferred to North Dakota State. The 6-foot-4, 245-pound quarterback played in 11 games in three seasons with the Hokies with a single start and has completed 22 of 52 passes for 359 yards, four touchdowns and one interception in his career.
Devin O'Rourke, DL, Lincoln-Way East
O'Rourke's role at Northwestern has been limited in his first three seasons. The 6-foot-6, 265-pound defensive lineman appeared in just five total games in his first two years in Evanston before playing in every game in the pandemic-shortened 2020 season. He has four career tackles in 14 games.
Jack Sanborn, LB, Lake Zurich
Sanborn broke into Wisconsin's starting lineup as a sophomore after getting backup reps as a true freshman. The 6-foot-2, 232-pound linebacker led the Badgers in tackles in 2019 with 80 and tied for the team high that year with three interceptions. He currently has 139 tackles, 61/2 sacks, four interceptions and three forced fumbles for his career.
Micah Jones, WR, Warren Township
Jones will graduate this month from Notre Dame and then play potentially as many as three more seasons at Illinois State. The 6-foot-41/2, 219-pound wide receiver was stuck behind future pros like Chase Claypool and Miles Boykin and didn't catch a single pass while appearing in just five games.
Jamaal Teague, DL, Marist
Teague signed with Minnesota after fellow in-state defensive lineman Noah Shannon decommitted and flipped to Iowa. The 6-foot-3, 310-pound defensive tackle opted out of the 2020 season because of personal and COVID-19 reasons, but prior to that he recorded 24 tackles and one sack (against Illinois in 2018) in 20 games.
Jeffrey Jenkins, OL, Prairie Ridge
Jenkins reportedly toyed with the idea of giving up football after redshirting at Iowa in 2018 and getting buried on the depth chart in 2019 and ultimately left Iowa City following his second season with the Hawkeyes. The 6-foot-4, 270-pound offensive lineman opted to enter the transfer portal instead last May, but didn't appear to find a landing spot.
Bryce Effner, OL, Metea Valley
Effner redshirted at Penn State as a true freshman in 2018 after landing in State College, Pa., as a consensus three-star recruit. The 6-foot-5, 296-pound offensive lineman played in four games in 2019 in spot duty on the line and then appeared in eight games in the 2020 season playing mostly on special teams.
Mike O'Laughlin, TE, Fenwick
O'Laughlin's college footballcareer started with a season-ending torn ACL during training camphis freshman year. Following the necessary redshirt season in 2018, the 6-foot-5, 257-pound tight end has split starts at the position and has 21 career receptions for 161 yards and one touchdown for West Virginia.
Wyatt Blake, DL, Crystal Lake Central
Blake flipped to defensive line after arriving at Northwestern and redshirted the 2018 season. The 6-foot-4, 305-pound defensive tackle appeared in six games in 2019 in a backup role and played in five games in 2020 — recording the first three tackles of his career — while still relatively low on the Wildcats' depth chart.
Scott Richey is a reporter covering college basketball at The News-Gazette. His email is srichey@news-gazette.com, and you can follow him on Twitter (@srrichey).